Soundwaves
New dance collections by Joe Bermudez, Roland Belmares, Mike Cruz, Warren Gluck, Wendy Hunt, Peter Rauhofer, plus Chus Esteban's free podcasts
Gifts to dance by... Looking for the perfect gift for your dance-music lover -- or even just yourself? Happy Holidays are here.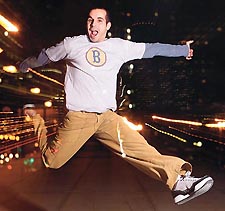 Joe Bermudez
Mainstream dance... The ''mass'' in the title of Joe Bermudez's Nervous Nightlife Presents Mass Movement implicitly refers to Bermudez's Boston base. But it also accurately reflects the 14 tracks here: There's something for everyone, whether you prefer your dance music hard or soft, sweet or sad, vocal or instrumental, inspired by rock or soul, colored by new tech-house or old-school techno -- or creative dance-pop that splits the difference. Bermudez does a nice job of running the gamut of emotions a clubgoer experiences, from obsessive, even creepy lust, to the thrill of meeting someone new or the pain of parting with someone old, to the desire to escape and dance. A straight, satellite-radio DJ who spins regularly in gay clubs, including in D.C., Bermudez straddles the genre's styles with aplomb. And his track selection is fresh, with several exclusive remixes and few tracks previously released. If you've heard more than two of these before, you're probably already a Bermudez fan....
Cruise keepsake... Two months ago, Centaur Records released its first one-disc compilation featuring two DJs. Roland Belmares and Mike Cruz's Global Groove: Live 2 is an accomplished set that would satisfy any regular gay clubber/circuit lover -- if they don't already own it. But Centaur's latest --
Warren Gluck and Wendy Hunt's White Party 8 -- is more noteworthy. In fact, White Party 8 is Centaur's most noteworthy release in years. Also a tag-teamed, single-disc compilation, this is better than you'd expect from either Gluck or Hunt alone. Together, they've created exactly the kind of unspeakable joy and exhilaration you get from a gay cruise -- no surprise, since cruise veteran Gluck set the standard. The uplifting, energetic vocals here are as close to gospel heaven as gay dance music can get without selling its soul to divas who are (not-so) secretly anti-gay. From Jason Antone to Brian Kent to DJ Scotty K featuring Knockhopper, the set is loaded not just with male vocals -- yes, really -- but gay male vocals. Yes, really. Some of the best gay newcomers around, too, particularly Peyton, the food and drink gay on the UK edition of Queer Eye for the Straight Guy. His work with ATFC on ''Beautiful'' is as inspiring as a sunrise at sea amongst a thousand or so kindred spirits....
Serious club... Peter Rauhofer just released his second set this year and the third in his I Love series, this time I Love Montreal. But his Star 69 Records released months ago what is probably this year's best compilation -- Stephan Grondin and DJ Vibe's Stereo Sound 001 -- which also honors that world dance music capital to the north. It was a popular year for that, actually, but this is the one Montreal set to bother with. Every track across this two-disc set that repeats on Rauhofer's are better in form and presentation here, most especially ''Reaction.'' Cold and creepy in the Martin Accorsi remix Rauhofer presents, Medway & Austin Leeds featuring Jennifer C.'s original is warm and charmingly sassy. You've probably heard even more of the tracks here, since several others repeat from Victor Calderone's Evolve. You must hear these again. Not only are the versions here better, this whole compilation is what we had hoped to hear from Calderone in 2007: tribal music that has evolved to include, but is not all-consumed with, minimal and tech-house. DJ Vibe's set, in particular, is closer to the full-throttle fierceness of a live Calderone set in New York (or Montreal). Meanwhile, the gay Grondin's set proves why he's increasingly in demand beyond his home base at Montreal's Stereo nightclub. A Stereo Sound 002 is in the making. Here's hoping a D.C. visit for Grondin is, too....
Free my love... Okay, so you've just shelled out money for gifts for others. Fortunately, the best gift for yourself doesn't even cost a penny, provided you have iTunes or can listen to podcasts. In the past year more DJs have turned to podcasts as a tool for promotion. And the best one yet started in July. DJ Chus Esteban is most popular as the lead half of the Spanish DJ/remix team Chus & Ceballos, responsible for one of the all-time best two-disc compilations, last year's Back 2 Back. Chus has so far created five installments in his hour-long podcast series, most of which have been recorded live from gigs around the globe; all of which include regular voice-over promos, identifying the set as his. They are assembled on DJ Chus's In Stereo. Podcasts 2 and 4 especially find Chus in peak form, weaving his way through snippets and layers of tracks, keeping the beats and rhythms interesting and varied. Every time, you'll discover at least one track worthy of downloading at Beatport or your favorite dance music site. On podcast 2, the standout is the glorious, chiming Remode Mix of Axwell's ''I Found U,'' though there's also John Made's remix of ''Sweetest Day of May'' by the Joe T. Vannelli Project. Any day is a sweet day when a track like that plays. It's got a full-fledged gospel choir! Perhaps Gluck will play it on your next cruise -- or at the MAL Reaction Dance next month. Till then, hear it here....
---