Soundwaves
Donna Summer, Erin Hamilton, Lula, Michelle Williams of Destiny's Child
DONNA SUMMER'S NEW HOT STUFF... A gay household name for more than 30 years, Donna Summer has had a couple club hits during the past two decades. She's also brought the house down at select performances, including one on American Idol four years ago and another at Gay Disneyworld's One Might Party last year. But Summer hasn't released an album of all-new material since 1991's Mistaken Identity. That album failed to make the Billboard Top 200 Album Chart or produce any hits, so it's no wonder you probably don't remember it. But now, touts a press release, ''The Queen Is Back.'' Actually, that's not just the release's headline. It's the title of an actual song on her new album, Crayons, due May 20.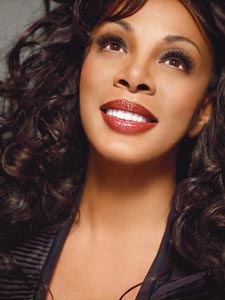 Donna Summer
''I'm making fun of myself,'' Summer says of the song in a lengthy article posted to her just-created MySpace page. ''There's irony, it's poking fun at the idea of being called a queen.'' The press release takes pain to identify her as more than just ''The Queen of Disco,'' noting Summer has also had success with rock, R&B and gospel in addition to dance and disco. All those genres are represented on the new album, according to the release, which also notes she wrote or co-wrote the set's 12 songs and worked with noted producers who've worked with Rihanna, Shakira and Fergie. She also worked with producers of hits for Pink and Natasha Bedingfield on several tracks, including ''The Queen Is Back'' and the official first single ''Stamp Your Feet,'' described as a ''powerhouse stadium tub-thumber.''
Currently, Summer once again sits atop the Billboard Hot Dance Club Play chart with album track ''I'm a Fire.'' Yes, she's actually comparing herself to one of nature's elements on this peppy, pleasant but predictable song. ''I'm a furnace, come burn in me,'' Summer sings. The song reached the top spot quickly, just over a month after release, and its success proves that clubbers in general -- and gays in particular -- hunger for more Summer. She seems to have overcome any lingering animosity for allegedly making anti-gay remarks two decades ago. Summer adamantly, even tearfully, denies actually having said that AIDS was God's way of punishing gays. In any case, these days, according to Wikipedia, Summer is an active supporter in the fight against AIDS, playing benefits and donating proceeds to the cause. ''I think that my actions and the person that I am speak louder than somebody else's misgivings or lies about me,'' Summer told a Canadian newspaper two years ago when asked about the controversy....
A BIGGER FLAME THE SECOND TIME... Summer's club hit is just the latest chart burner to take that concept literally. Just one week before ''I'm a Fire'' reached Billboard's Club Play summit, Carol Burnett's bisexual daughter scorched the top with ''The Flame.'' Erin Hamilton's fiery cover of an overdone Cheap Trick ballad was originally produced almost a decade ago, when it didn't even crack the club chart's top 10. It was re-released with all new remixes this year, which obviously turned out to be a smart move. According to Hamilton's MySpace page, she has nothing else on the immediate horizon. ''I am just now beginning to get back into the groove,'' the mother of two young children says, adding that the new material she's slowly starting to work on will be in a folk/rock bent akin to Sheryl Crow or Lucinda Williams. ''But, don't worry dance fans,'' Hamilton writes, ''we can always remix!'' This is followed by a smiley-face emoticon....
LULA BURNS THE SPEAKERS... Even further underground, at clubland's indie edge, you'll find the fieriest song yet. ''Fire and Burn'' is as fierce as you'd expect from the Austrian avant-garde artist Lula and her counter-culture label home Kult Records. ''The speaker is hot,'' Lula says in her trademarked thick accent and slightly menacing tone. ''What a lovely way to burn.'' Indeed, especially with either the beat-based Tribal Tarante Mix or Giangi Cappai's moody Alma Matris Mix. Familiar to followers of Danny Tenaglia (''Read My Lips'') or Peter Rauhofer (''My Empire''), Lula is said to be working on a full-length album. Should be a tribal inferno....
DANCE DESTINY... ''It's a pop and dance record, but don't call it dance.'' Uh, okay, Matthew Knowles. What's wrong with calling something dance? Beyonce's dad was talking to Billboard about the new album from Destiny's Child's Michelle Williams. Knowles's Music World Entertainment will release Unexpected August 12 in conjunction with Columbia Records. Billboard reports that it's hard to classify the album as anything but dance, given its reliance on synthesizer and bass samples, electronic keys and heavy drums. It's a clear departure from Williams' previous two solo sets, both gospel-leaning. Based on a preview, Billboard reported that one track featured ''pulsating beats,'' another had ''a martial drum pattern,'' still another echoed Technotronic's dance classic ''Pump Up the Jam,'' and on and on. It's enough to make even a non-fan pumped....
From YouTube: Donna Summer: I'm a Fire
---