Soundwaves
'This Is Ultimate Dance'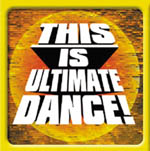 Various Artists
This Is Ultimate Dance
J Records
Various Artists
This Is Ultimate Dance
J Records
Remember Ultimate Dance Party? Arista Records produced the popular, short-lived album series of Top 40 hits at a time when the music industry was cracking down on producers of fast-selling, non-sanctioned dance compilations of top recording artists (think MasterBeat). Arista helped satiate a disgruntled dance music market, while at the same time showcasing the diva talent at its beck and call. And it seemed to work. At least in those few pre-Napster years, before music shareware got the industry all in a tizzy. Now, after knocking out Napster and severely cutting back on the production of CD singles, the industry is fumbling around to reverse diminishing profits.
Do we care to see Ultimate Dance Party revived? We last heard from it in 1999 -- before Madonna's Music, before Thunderpuss thundered, and just as Cher and Britney began rolling the dance floor. It's a crowded market these days, with nearly every bold-name DJ and remixer producing his own product and several small dance labels successfully established enough to be serious competition. Undeterred is Arista Records founder Clive Davis, responsible for Whitney Houston, Deborah Cox, Sarah MacLachlan, Dido and others. Through his new label, J Records, formed in the past year, Davis has renewed, and improved, the Ultimate Dance concept, bringing back the same team of producers, who now call the franchise This Is Ultimate Dance.
A big failing of This Is Ultimate Dance is that This Is Ultimately Dated. Half of the songs could have starred on a 2001 edition, and a couple others a 2000 edition. And in nearly every case, Sunshine Anderson isn't the only one who's "Heard It All Before," since most of these remixes have appeared on other compilations. Most, but not all -- This Is Ultimate Dance is worth the purchase for the edited Thunderpuss version of Mary J. Blige's "No More Drama," one of the best remixes produced so far this year and one heretofore unavailable (well, officially) in domestic release. Then there's the also-rare and also-classic "Get Ur Freak On" from Virginia's very own Missy Elliott, though SuperChumbo's remix isn't at all as super as Timbaland's raw original.
This Is Ultimate Dance includes one brand-spankin' new song worth mention, from a new Davis discovery, Lamya. Her pleasant voice, slightly rough-edged, is intriguing, and "Never Enough" is a debut that leaves you looking forward to her future. The album also includes Davis's darling, Grammy-winning Alicia Keys. It's hard to understand the hype heaped on this 21-year-old whose vocal chords release by way of her nose and whose vocal stylings keep on fallin' in and out of key, fluttering about like the "Butterflyz" on this track. And though the Ultimate Dance reincarnation almost exclusively focuses on remixes and uptempo tracks -- unlike its predecessor's inclusion of nondanceable tracks -- it still suffers from a lack of DJ blending. Songs crash into each other, sometimes at deadly speeds, and several of the remixes even cave in on themselves, as they are reduced to a radio-friendly tally of less than five minutes.
J Records seems to have a firmer sense of its target market than Arista ever did, concentrating on true dance marvels and even throwing album release parties at gay clubs or gay-friendly dance parties (in New York, at least). If only D.C. had a dance radio station. If only Napster, even a decent pay version, were available. If only the industry would better tend to us danceheads.
---