Soundwaves
Dance radio, bond, Duran Duran, Cher, and Rauhofer does Madonna
DANCE ON THE RADIO… "For dance music to flourish in America, acts need more radio play," according to one of dance music's biggest movers, DJ Paul Oakenfold. "For the scene to develop" as it has around the world, Oakenfold continued in an interview with Billboard magazine, "it needs faces and characters and songs. That's one reason why hip-hop is as popular as it is." Working to test Oakenfold's hypothesis, radio stations devoted to dance music are slowly sprouting around the country, with enough of them sticking to it to convince Billboard that it should create a Dance Radio Air Monitor chart. An inaugural seven stations will report their most played tracks to the magazine when it soon debuts the chart. Washington, however, is still MIA on this front…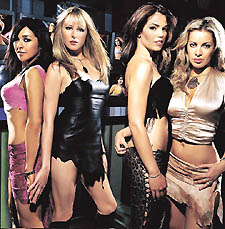 bond
ROLL OVER BEETHOVEN… Surely none of these dance radio stations will play the latest from bond. And why should they? No one would want to hear it -- neither queer eyes (or ears in this case) nor straight guys, no matter the record label's TV advertising blitz aimed at us. Vivaldi set to a hyper club beat? The James Bond 007 movie theme souped up more than a Bond sports car? Uh-oh. The mere idea of remixing classical music as dance music is absurd. Other artists are intrigued by incorporating dance elements into jazz and do so with considerable success, both commercially and artistically. Newly released examples include Verve Remixed 2 (Verve) and Koop's Waltz for Koop: Alternative Takes (Palm Pictures). But artists who toil to add dance elements to classical music rarely succeed. And bond's Remixed (Decca) is a failure. It's not fair to say that bond, a classically trained, model-posturing girl group from the UK, merely reworks classical music standards. bond (spelled with a lower-case b to avoid copyrights, which they avoid as a matter of course) creates its own music, plucking its own super-syrupy strings, merely sampling Vivaldi and co. from time to time. Which is one thing to commend the quartet, if you need to hear a kind word. But even if you somehow can conjure more than one kind word to say about bond, there's no need to bother with Remixed -- just stick to the group's first two albums, which were just fine, as pop/classical crossover attempts go.
TOURIN' DURAN… In conjunction with the November 4 release of its Greatest (Capitol) two-disc DVD anthology, Duran Duran will tour around the country on a 25th Anniversary Tour, stopping in D.C at the Warner Theatre on November 9. It'll be the first performance with all five original members of the Britpop group in almost two decades. And it'll happen all over again next year, when the group plans to tour amphitheaters for the release of its first studio album as a big happy family. If you can get yourself to Australia in December, though, you'd get an extra treat, since Duran Duran will open for Robbie Williams in Melbourne (December 10) and Sydney (December 13-14)…
TRICK OR TREAT… Cher's really, truly saying her last goodbye with her 'til-now-thought-to-be never-ending Living Proof Farewell Tour. Not that's she leaving for good, what with her headed back to the studio next year to produce a new album. But her tour is shutting down after a year and a half and 200 shows, and in the same place it started: Toronto. And if that's not spook-tacular enough for you, she's making it a disco-themed event, with guest appearances from the Village People, Sister Sledge and -- why, this woman has sure made the rounds this year -- Thelma Houston. Those queens in Toronto are quite lucky, eh?…
GET INTO THE GROOVE… Peter Rauhofer has just remixed Madonna twice -- "Get Into the Hollywood Groove," the medley from her Gap ad with Missy Elliott, and "Me Against the Music," her new collaboration with Britney Spears. The video for that song premieres October 13 on MTV. If you happen to be in New York, you could hear both Rauhofer remixes at the Roxy this Saturday, October 11, where he'll premiere them for his Madonnathon party. But hey, might VelvetNation snag a copy to play at its own Madonnarama party, also this Saturday?…
Doug Rule can be reached at drule@metroweekly.com.
---