Pastor Larry Burks earned a reputation at his Southern California church for his fire-and-brimstone rhetoric about homosexuality. He was an upstanding, married member of the clergy on the rise.
Not only did he have a congregation, wife and conservative reputation; he also had a secret. Pastor Burks was gay. While he maintained the lie well, he decided in 2010 that he would do it no longer and left the pulpit in early 2011.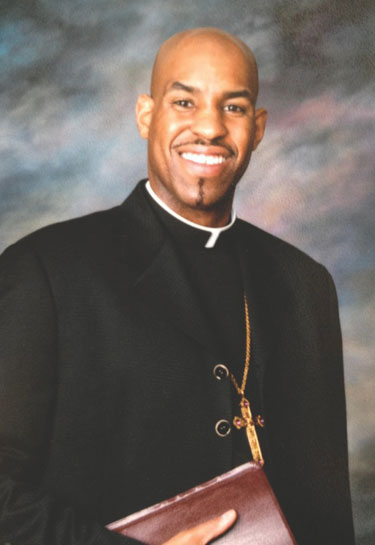 Larry Burks
''I'm running away from the ministry like someone set a fire behind me,'' he jokes with a friendly laugh. It's no joke, however, he points out. When Burks left the ministry, he left much behind. Today, at 35, he's in the process of building a new life for himself. But it takes time.
''When I tell you I left, I left,'' says Burks, who no longer considers himself a member of the clergy. ''I'm a civilian – 'Mister Burks' is fine. I completely left my old life behind and started new. It's been a big struggle for me, even out here in California – I live in Santa Monica and West Hollywood is about 10 minutes away from me. But it's been a struggle for me to try to connect with new people, form new friendships inside the LGBT community. That's been very, very difficult for me. I still struggle with that.''
Though that struggle may be Burks's particular cross to bear, he is moving forward. In February, he shared his story at the Center for Black Equity conference in Houston. This weekend, he'll be telling his tale again, this time as part of DC Black Pride. Maybe even more important, there's a good chance he'll get a good head start on forming those missing LGBT friendships.
METRO WEEKLY: Describe your journey of faith.
LARRY BURKS: I come from a Christian family. I wouldn't say extremely religious, but we did attend church with some regularity.
At about 16 years old, I entered the ministry. There was a minister who heard me do a couple of talks at our church. He asked me if I would actually come preach a sermon. He noticed a gift in my ability to present the Gospel. Not too long after that, I really just went full-bore into the ministry. I was mentored by a couple different Baptist ministers. At 21, I began pastoring my own church.
MW: What were your first impressions of becoming a pastor? Were you certain you were on the right path?
BURKS: I was absolutely excited about it. I definitely felt this was God's call for this time in my life. As I saw it then, I was beginning a lifelong journey of pastoring a church.
MW: How did you navigate the disconnect between your spiritual, professional life and your sexual orientation?
BURKS: That's a good question. I knew at the age of, I'd say 12, that I definitely had feelings other than for females. It did not really dawn on me until around 18 that, ''You know what? This is not going to be easy for you. You're going to have to keep this a secret.'' I just basically repressed those feelings.
That's not to say I was not curious and adventurous with my sexuality. As a matter of fact, at 18 years old, that's the first time I had an experience.
MW: With a man?
BURKS: With a man, yes. And it was traumatizing for me. I felt like I had done the worst thing in the world anybody could ever do. I had this internal turmoil, so it was not a pleasurable experience. It was a struggle. I was 18, my hormones were raging. I had these desires, yet at the same time I had this faith system that tells me these desires are absolutely wrong.
MW: And that it was a choice?
BURKS: Absolutely. I felt it was a choice. I felt that I was choosing this, and that it was my own fault that I had these feelings -- these wrong feelings. That it was my own lack of willpower that kept me having these desires.
MW: How did that play out in the pulpit?
BURKS: I was an abuser from the pulpit, because I hated that I was attracted to males. I hated that within myself. I certainly didn't want anyone else to fall into sin like I had to deal with, so I pounded from the pulpit that this is wrong, this is damnable, God is not pleased with this. My stance was no secret in the community.
MW: And the message was well received?
BURKS: The message was very well received by my congregation. I never received any pushback from anybody within my congregation.
MW: Were you fairly certain you had gay congregants?
BURKS: Oh, definitely. Over the years, I definitely had gay congregants. Just through observation, I would assume they were.
MW: Were you afraid they might turn their own ''gaydar'' on you?
BURKS: I had that constant fear of being found out in the back of my mind for years, until the time that I left.
MW: And what made you leave? What was the turning point?
BURKS: I'd gotten married. Obviously, it didn't work out. We ended up separating, which put me in a place of really rethinking my entire life.
During that time, there was a young lady who came to me. Her name was Virginia, friend of one of my very longtime members, hadn't been attending my church very long. She came to me and said, ''Pastor, I want to speak with you in confidence.'' She went on to tell me she was married to the daughter of one of my members, that she was a lesbian. In tears, Virginia went on to tell me how she'd been dismissed from another church when the pastor found out she was a lesbian. She was sitting in my office with her eyes full of tears. I looked at her and a sense of just complete shame came over me. I was completely ashamed of myself as I sat there looking at this pretty, pretty young lady who was obviously broken. She just wanted to be affirmed by someone she thought was an authority figure, someone she thought she could respect.
I was formulating my response in my mind – ''This is wrong.'' ''I understand where you're coming from, but….'' – but I couldn't get those words out of my mouth. It was at that point that I said, ''I cannot continue to lie like this. I just can't.'' I looked at Virginia and said, ''I accept you, and I accept your wife.'' And she literally fell out of the chair onto the floor, sobbing. That is what really helped me make up my mind that I had to change.
That happened in the middle part of 2010. By 2011, I resigned.
MW: Did your congregation know why you were stepping down?
BURKS: No, no, no. They didn't know anything. I didn't say the reason why. They were completely shocked. I had made up my mind in December of 2010. I believe I stepped down the fourth Sunday in January 2011. I had already spoken with some of the leaders in my church, had told them I wanted to move on and do something else. I didn't tell them why. It was extremely difficult for me to resign. Keep in mind that at that point I still had some sense of guilt, the same sense that I was living a ''wrong life.'' I still hadn't come to the point that I'm at now, that I'm not in sin, that God is not mad at me. I just knew I could not continue to live a lie as a pastor and be gay.
MW: Starting that new year on a new path, what were your first steps?
BURKS: The first thing I did was I realized I needed to reassess the way I was looking at interpreting the Bible. I read a book by Charles Freeman called AD 381. That book, in particular, did so much for me to help me put into focus how the Bible really should be interpreted. I really studied how the Bible was compiled, how we actually go to the Bible as it is presented today. I came to the conclusion that I'd been duped, that the Bible could not and should not be taken literally, based on how it was compiled, based on the politics of which books were included, what doctrines were accepted, what doctrines were dismissed. There were a lot of political considerations, social considerations. I came to the conclusion that there was no way I could say the Bible was a reliable source of information that we should still look at in a literal sense. That relieved me.
Another thing I did was read My Descent into Death by Howard Storm, an Episcopal pastor who had a spiritual experience. I actually wrote Pastor Storm. I had never spoken to another minister about my sexuality. I gave him a brief summary of my story. He wrote me back and he stated, ''I've had a lot of spiritual experiences'' – I'm paraphrasing – ''and in all of my experiences I've never been impressed by God that being gay was wrong.'' That was liberating. I'd never had another pastor, a colleague, say, ''It's okay, there's nothing wrong with you.''
Shortly after that, I spoke to a family member, my mother's sister. She's liberal, always been very open. Her brother-in-law is gay. So I went to her. ''I'm gay.'' She said, ''Oh, how wonderful,'' and started crying. It was the best thing ever. [Laughs.]
The combination of those things got me to a point where I could say, ''I'm okay, this is okay and I'm going to be okay.''
MW: Where do you stand today, spiritually?
BURKS: I wouldn't consider myself, in a traditional sense of the word, a Christian. I believe now that that we are all spiritual beings, that each of us has to find our own spiritual path. If that path includes you being a Christian, that's good. If it includes you being a Muslim, that's good. If it includes you being someone who follows new-age philosophies, that's good. I hold dearly to the philosophies of Christ – do unto others, love your neighbor – the humanitarian philosophies Jesus expounded, but as far as following the dogmas and doctrines of Christianity, I just don't. I'm also not ready to jump on somebody and tear them apart if they do.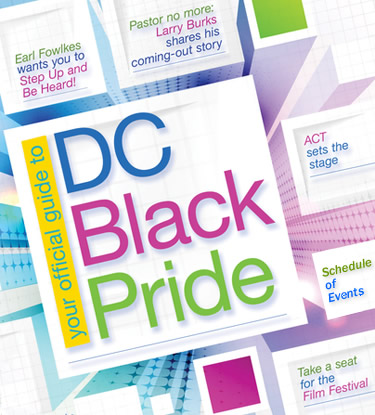 I pray daily. I meditate daily. I still read portions of the Gospels. I read a lot of new-age literature. I think our spirituality is a very individual thing.
MW: For people who may not get a chance to see you during DC Black Pride, do you have any message for them?
BURKS: There's no reason why we should go sit in a place and be verbally abused, psychologically abused, emotionally abused, and then turn around and open our wallets, give them our money and then allow that pastor, the board of that church, to take that money and maybe support causes that are in direct contradiction to our best interests. We need to pull our money out of these churches, pull our bodies out of these churches and pull our spirits our of these churches.
MW: Do you have any regrets about leaving the pulpit?
BURKS: The only regret I have is that I should have done this sooner.
Larry Burks will facilitate the DC Black Pride community town hall meeting Saturday, May 25, 11 a.m. to 12:15 p.m., at the host hotel. The topic is ''Are We Prepared To Address Homophobia in the Black Church?''