Youth Pride 2012: Youthful Measures
This year, D.C.'s special day marks its sweet 16th birthday with vibrancy. But since its birth, Youth Pride has thrived.
By Will O'Bryan
Photographs from the 2011 Youth Pride celebration at Dupont Circle by Ward Morrison
Published on April 26, 2012, 6:30am | Comments
Celebrating LGBT youth pride seems to gain traction with every passing year. People come out younger. Institutions working with youth – like schools, nonprofits, local governments, religious groups – cater to LGBT and questioning youth in ways that might have seemed unthinkable a decade ago.
Then again, it's not as though LGBT youth have managed to altogether escape bullying and harassment, or keep from being disproportionately affected by homelessness.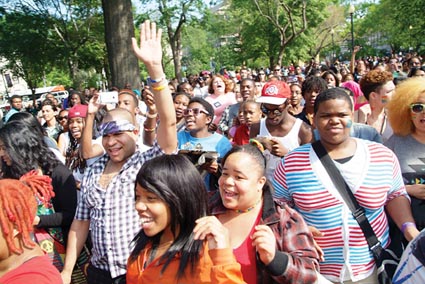 As progress is made in some areas, more problems might be revealed, or resources can shift to address problems that have gone largely ignored.
Whether it's celebrating the good or countering the bad, Youth Pride Day has it all, a very rare pride event dedicated to LGBT youth. This year, D.C.'s special day marks its sweet 16th birthday with vibrancy. But since its birth, Youth Pride has thrived.
''We had about 900 people show up for the first year,'' says Christopher Dyer, looking back to 1997, when he was 27. ''I think I was expecting 200 or 300. It was quite fun. The second year we had about two thousand. From that point on, the event just sort of took off. And the organization took off.''
Dyer, who directed Mayor Adrian Fenty's Office of GLBT Affairs from 2007 to 2010, was a main figure in launching Youth Pride Day and its sponsoring organization, the Youth Pride Alliance. He recalls that it took a couple years for what was initially intended as some fundraising efforts for D.C.'s Sexual Minority Youth Assistance League (SMYAL) to evolve into the Youth Pride Day locals enjoy today.
''In 1995, the whole LGBT youth movement was really just beginning,'' he says. ''The National Youth Advocacy Coalition had just gotten formed. There wasn't a lot going on for LGBT people. … Since I'd been involved with Capital Pride folks – I volunteered in '95 for backstage security – I thought, yeah, we could do a Youth Pride Day. We put a group together to try to organize it – God love everyone who sat around these meetings – but we were more interested in adopting bylaws and a mission statement and it just sort of never took off.''
At least not right away. The idea for a Youth Pride Day had taken root. Soon, Dyer was prompted to give it another shot, and more meetings were called.
''I had my first organizational meeting in October '96 at Café Luna,'' Dyer says. ''I had the second and third meetings around my kitchen table. We sort of came up with 'Youth Pride Alliance,' I think, around that table. And we started figuring out what to do.''
With other community members as eager as Dyer to get the idea off the ground, the crucial elements came together. To Dyer, that meant someone who could craft the young organization's message, people to raise money, and an engineer who knew his way around a stage and its attendant wiring. That first Youth Pride Day, in Dupont Circle, also had some luck on its side. Rudy Galindo, the famous gay ice-skater, was in town to sign his 1997 biography, "Icebreaker." That was enough for the Youth Pride Alliance to get Galindo to serve as the first Youth Pride Day's keynote speaker, adding some celebrity to the event.
From its start in Dupont Circle, Youth Pride Day rolled down to the wide lawn of P Street Beach. But, with last year's 15th anniversary, Youth Pride Day returned to its Dupont Circle roots.
Eboné Bell got her first taste of Youth Pride Day at P Street Beach – as E-Clef, her drag alter ego. She's guessing it was sometime in the early 2000s.
''I was probably 21 or 22,'' Bell, now 30, says of her first Youth Pride Day appearance. ''The first thing I thought was, 'How did I not know about this sooner?' It was really cool to see all these LGBT organizations coming together for the greater good of the community and for youth. It was a way for me to find out about a lot of other organizations that cater to the community. Youth Pride does a great job of bringing all these people and resources together. It was an amazing effort.''
That orientation, the chance for her to learn about so much of her community at once, likely helped get Bell where she is today, heading her own B.O.I. Marketing & Promotions and a very well-known face around D.C.'s LGBT community. (Bell also hosts Metro Weekly's popular video series, Outspoken.) And while Youth Pride caters to the kids, Bell sort of works at the other end of that, with B.O.I. producing the annual Queer Prom, offering a second chance to LGBT adults to enjoy prom on their own terms.
''A lot of us, when we were younger, weren't able to be ourselves,'' she says. ''I completely admire these kids who are coming out in middle school, in high school, really being open with themselves, not being afraid of who they are. With a lot of the guests at the prom, it was a different time, a different culture.
''Looking at Youth Pride, I think what it shows is how we've just grown leaps and bounds. I mean the LGBT community, but American culture as well has really, really grown. What's cool about Youth Pride is to go and see how far we've come.''
Brian Watson, a former Youth Pride Alliance board member who manages Transgender Health Empowerment's Wanda Alston House, one of only a handful of transitional homes in the country dedicated to LGBT youth, is reminded daily that there is still a long way to go. At least Youth Pride Day is a bright spot for the 30-year-old's eight residents, whatever trials they may be facing.
''The kids always have a wonderful time,'' he says, adding that one resident, Zion Lopez, has even participated as Youth Pride Day emcee. ''Every year there's something new, something different.
''Kids don't really have anywhere to go. Adults, we can always go have a drink at the Fireplace, or go to Town or Cobalt. The kids don't get this on a daily basis. This one day out of the year is really when they get to come out and celebrate their identities with one another. Young people really need that.''
Jayden Lovee and Aaron Lewis are two such young people. And while the Youth Pride Day is certainly a celebration, the 20-year-old Lovee is looking for more than that at his first Youth Pride Day, which will have him volunteering with SMYAL.
''It's more important than a celebration,'' he says. ''It's also camaraderie. It shows that other people support us. It shows youth that they're supported and loved.''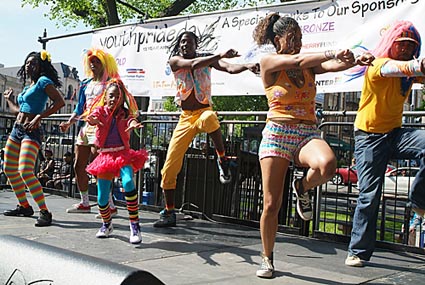 For the 19-year-old Lewis it's also about education, giving non-LGBT youth a chance to feel more comfortable about sexual-minority issues.
''Last year was my first time. I had fun, but I also learned a lot and networked,'' says Lewis, a senior peer educator at Metro TeenAIDS, who plans on bringing others to Dupont Circle this year for their first Youth Pride Day. ''A lot of people in our generation may not be gay or curious or bi or whatever, they may not understand youth who are.''
The celebration, the networking, the education – it's all exactly what Nikisha Carpenter, the 33-year-old president of the Youth Pride Alliance, says the day should be.
''It's all the performances and the dance afterward is great," says Carpenter. "But it's also an opportunity for a lot of organizations to see a lot of youth in our community. It's a great way to find out what's out there, like the Human Rights Campaign, SMYAL, the [National Gay and Lesbian] Task Force.'' She adds that when she joined the board in 2005, the intention was to grow both the alliance and its signature event. To that end, the most notable news these days is not the move back to the circle, but ways D.C. authorities have stepped up support.
''Support from [Advisory Neighborhood Commissions] 1A and 2B has been great," notes Carpenter. "And support from the D.C. Office of Human Rights. That's really helped us move forward and grow the last two years. Our goal next year is to put on 10 to 14 events during the year.''
Dyer is certain Youth Pride Day has made its mark – and will continue to do so.
''Youth Pride has been effective in the sense that it provides a safe space for young people to come together,'' says Dyer. ''The issues we were addressing 16 years ago – like LGBT homelessness and suicide ideation and depression and substance abuse and all these challenges that young people face – they're still facing now. Things are still ridiculously tough for LGBT people as they come out, but I'm struck by the resiliency of the community.
''And I'm incredibly proud," he continues. "It amazes me that what was just a crazy idea, they've been able to maintain every year. Youth Pride Day has become part of the cultural landscape of D.C., the kick-off for Pride season. It's just absolutely amazing.''
Youth Pride Day is Saturday, April 28, in Dupont Circle, noon to 5 p.m. Rain date is Saturday, May 12. Infatuation Dance, April 28, is 5 to 9 p.m. at Patty Boom Boom, 1359 U St. NW, 21 and younger, $3. For more information, visit youthpridealliance.org.
See our Scene archive for hundreds of Youth Pride photos from 2011, 2010, 2009, 2008, and earlier years.
Also, video from the 2011 Youth Pride Day:
---