Mo'Nique at the HRC National Dinner [video]
The Oscar-winner presents Lee Daniels with HRC's Visibility Award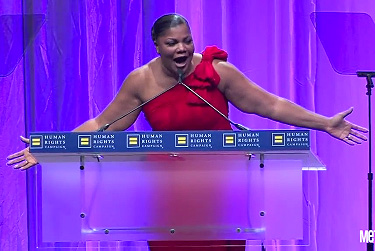 Mo'Nique at the 2010 HRC National Dinner
(Photo by Aram Vartian)
A very spirited, joy-inspiring and emotional Mo'Nique presented filmmaker Lee Daniels with HRC's Visibility Award at the 14th Annual Human Rights Campaign National Dinner, held Saturday, Oct. 9, 2010. Daniels directed Mo'Nique in the drama Precious, for which she was awarded an Oscar.
During her remarks, the clearly overcome Mo'Nique noted that throughout the evening people had been thanking her for supporting the LGBT community.
"I shouldn't be thanked," she said to the crowd of 3,000. "I want to thank you all for accepting me into a community that often times struggles to be accepted by the world. So thank you all so much, baby, for letting me be a part of your world, and in your community."
---