Cory Booker at the 2012 HRC Dinner [video]
Mayor of Newark and rising Democratic star connects LGBT rights to the ''spirit of common ancestry''
Cory Booker, the mayor of Newark, N.J., and a rising star in Democratic politics, spoke at the Human Rights Campaign's National Dinner Oct. 6. Booker's speech centered on the theme that the "spirit of our common ancestry" propels the nation to seek out equal civil rights and inclusion for all citizens despite "what some thought were insurmountable odds." He added: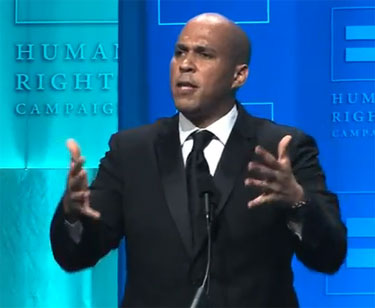 Cory Booker
(Photo by Aram Vartian)
"I get into weird conversations with my friends. 'Why you always talkin' about gay rights?' I said, 'I'm not talking about gay rights, I'm talking about human rights. I'm talking about my rights. I'm talking about your rights. ... This is what I was taught in my childhood. ... 'Never forget that we need each other. You have to understand that you're here are a result of a community of courage. You are the result of a mob of hope. You are the result of a conspiracy of love.'"
Booker seemed to indicate that he might be running for governor when he promised to legalize marriage for same-sex couples.
"I'm going to declare right now that the state of New Jersey, with all the fiber of my being, with my allies left and right, that we will ensure that marriage equality is signed into law in the state of New Jersey. And when that bill is signed, I may have a very good seat for it."
---