Ellen DeGeneres wins Mark Twain Prize [video]
Jimmy Kimmel, Jane Lynch and Lily Tomlin share their thoughts on Ellen's coming out and career
On Monday, Oct. 22, the John F. Kennedy Center awarded Ellen DeGeneres the Mark Twain Prize for humor at its 15th annual event. Several of the celebrities who presented at the event including former Mark Twain Prize recipient Lily Tomlin, Jane Lynch, Steve Harvey, Jimmy Kimmel, Kristin Chenoweth and the awardee herself spoke briefly with Metro Weekly editor-in-chief Randy Shulman about the importance of Ellen's legacy both as a humorist and, more importantly, as a comedian who courageously came out on her sitcom "Ellen" in 1997.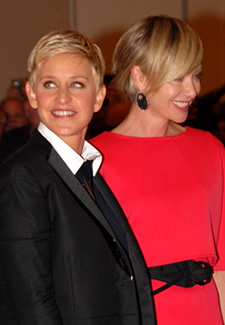 Ellen Degeneres and Portia de Rossi
(Photo by Aram Vartian)
Lily Tomlin said that, she felt jealous about Ellen's trailblazing experience, "Because I'd been around much longer, and I'm gay. And I admired her. At the same time, I thought, 'Oh, darn. I wish that would have been me. I would like to have left that legacy.'" Jane Lynch said, "She had the courage to stand up and be counted when everybody else was kind of afraid to do that. I really think she took one for the team." Lynch added, "I know she doesn't like to think of herself as brave or courageous -- or maybe she does. I don't know. She's quite a humble person. I wouldn't have the career I have today if it weren't for her."
Ellen DeGeneres said, "I know it helped a lot of people. I did it selfishly. I did it because I didn't want to live in shame anymore. I wanted to free myself from all that self-hatred and realized that that was heavy to carry around." The comedian and talk show host was accopanied by her wife, actress Portia de Rossi. "It made me aware of how many other people were suffering out there the same way I was was," DeGeneres added. "It's a great honor. And I'm very happy and I'm proud if I can help other people feel better about themselves."
---