Making Connections
NGLCC brings together LGBT businesses and big corporations through its diversity initiative
It's a maxim in business: It's not what you know, it's who you know. While much can be said for the inverse, good connections are vital to business success.
Programs around the country have certified businesses owned by women or minorities to connect suppliers with corporate participants. Those programs inspired the National Gay & Lesbian Chamber of Commerce (NGLCC) in 2004 to create a Supplier Diversity Initiative for LGBT-owned Business Enterprises (LGBTBEs). Eleven corporations joined the program's launch, a number that has grown to more than 130 today.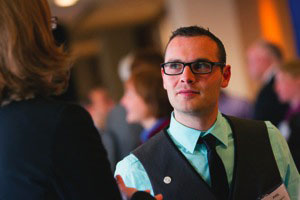 Phil Giorgianni
(Photo courtesy NGLCC)
IBM was NGLCC's first founding partner and was joined on the initiative by Wells Fargo & Co., JPMorgan Chase & Co., Motorola Inc., Travelport, Intel Corp., Wyndham Hotels & Resorts, American Airlines, American Express Co., Ernst & Young and the former Lehman Brothers Holdings Inc.
Nearly 300 businesses have been certified under criteria that include at least 51 percent ownership by LGBT individuals. NGLCC, which conducts the certifications, has set a goal of 400 participating suppliers by November.
''Certification means access – access to corporate decision makers and access to resources for long-term business growth,'' says Phil Giorgianni, NGLCC's senior manager for supplier diversity and outreach. ''Diverse suppliers have access to dedicated supplier-diversity professionals to be their advocates within large corporations.''
Certification also includes a site visit by NGLCC that is intended to ensure that corporate resources dedicated to the LGBT community actually get there.
IBM turned to NGLCC after having established its own diversity program but finding LGBT businesses hard to identify.
"It was like looking for a needle in a haystack,'' says Irwin Drucker, who in 1999 became IBM's first LGBT supplier-diversity program director. ''Sometimes my 'gaydar' would work, but for the most part, after three years, we had only six identified LGBT suppliers.''
For IBM, reaching out to the LGBT community was an easy call.
''We have proven, time and again, that [diversity] enables us to offer added value to our customers in areas such as innovation, time to market, and customer satisfaction,'' Drucker says.
''We are extremely proud of the fact that IBM was the first company in the world to recognize the LGBT segment in its supplier-diversity program. And since including LGBT in the program in 1999, IBM has spent tens of millions of dollars with dozens of LGBTBEs.''
On the supplier end, NGLCC points to many success stories. Among them, according to Giorgianni, was NGLCC's Supplier of the Year, Neil Cerbone, who recently completed Accenture's Diverse Supplier Development Program and was named ''protégé of the year.''
A certified LGBT promotions company also secured a contract with a well-known national shipping company less than one year after initial contact at a 2011 NGLCC ''matchmaker meeting.''
And Q&A Events, an Atlanta-based meetings company, became the first LGBT-owned firm to work for Coca-Cola Co.
In recent years, the Human Rights Campaign has made LGBT supplier diversity a key component of its annual Corporate Equality Index. It's no coincidence, then, that corporate participants in NGLCC's diversity program rate at or near the top of the CEI.
NGLCC promotes its programs across the country, most notably through its annual Business & Leadership Conference, which this year will be held Aug. 7 to 10 in Chicago.
In addition, NGLCC has traveled the nation for ''Road Shows'' to meet LGBTBEs. NGLCC and the Capital Area Gay & Lesbian Chamber of Commerce are holding a Road Show Thursday, May 24 in D.C. from 8:30 to 10 a.m. at NGLCC's offices, 729 15th St. NW. For more information, contact supplierdiversity@nglcc.org.
Fortunately for aspiring LGBTBEs, the Road Show aims to shed light on both who you know and what you know.
The Chamber means Business. For more information, visit caglcc.org.
Matt Raymond is an independent public-relations consultant in Washington, an Advisory Neighborhood Commissioner in Logan Circle, and a member of the Capital Area Gay & Lesbian Chamber of Commerce.
---