Pop-Up and Go
With creativity, flair and options, g.life will give you more to do in one day than a month full of Saturdays
To some it's a delicacy called pâté; to others it's just fancy chopped liver. ''Previously owned'' is the evolution of the used-car business. And there's the ''Pop-Up,'' which takes the transient nature of the flea market and combines it with recognizable brands to assume a new form – an art gallery, a nightclub, and most often a retail establishment – for a short period of time, sometimes just hours.
Empty spaces throughout the city as a result of the economic downturn have become perfect locations for pop-ups. It's a win-win-win situation in that landlords can make some rent money, the pop-ups get in for a small investment and residents are able to experience something new and exciting in their neighborhoods. Pop-up retail allows a company to create a unique environment that engages customers and generates a feeling of relevance and interactivity.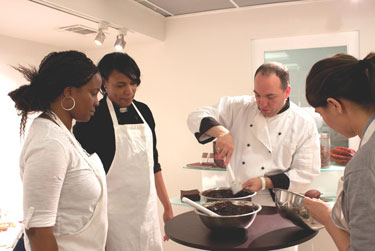 Robert Cabeca at work in Cocova
(Photo by courtesy Robert Cabeca/Cocova)
Los Angeles retailer Vacant was the first company to develop the concept of pop-up temporary shops, in 1999, exploring whether consumers would line up to purchase limited-edition products from niche retailers. Once the products were sold out, usually within a matter of hours, the store would close until the owners received more merchandise. This led Vacant to think about closing the stores permanently after the merchandise had been sold, and moving to another targeted destination. Many brands, from Target to Louis Vuitton, have used the pop-up concept as part of their campaigns.
Pop-up has substituted the notion of shabby and makeshift with creativity and an element of chic and exclusivity. CAGLCC has embraced the pop-up and will present it to thousands of attendees on Nov. 17 at g.life (g-lifeexpo.com).
Imagine a pop-up city, a metropolis, where ''streets'' are lined with storefronts of all kinds, people congregate in the ''parks,'' and outdoor performers enliven this ''One Day in DC, All Things LGBT.'' Experience art, taste great food, get ideas on how to furnish your living room, buy a shirt, get your picture taken. Planning a vacation? Got it. Looking for a new bank or dating advice? You can find it there. Hotels? Spa treatments? Beauty salons? You bet! And to stimulate your brain, you can take in a session at g.life University, where subjects will range from coming out, gender identity and marriage, to starting a new business.
Proof to the uniqueness of the g.life concept is the event's presenting sponsor, Cocova, located on 18th Street NW near U Street, where Dupont meets Adams Morgan. Considered among the finest chocolate shops in the world, Cocova features more than 850 fine-quality chocolate products from more than 100 renowned chocolate makers. True to their commitment to the art, Cocova will be hosting tastings at their pop-up, teaching participants to experience chocolate like never before, boosting their taste-bud prowess by engaging the five senses.
True to the concept of pop-up, g.life is temporary, unique and exciting. What visitors will experience on Nov. 17 would take a month of Saturdays to otherwise accomplish. You could get a lot of exercise walking all over D.C., Maryland and Virginia, but the fitness experts at g.life can give you personal tips on how to get an efficient workout in less time. Need some running shoes?
Come and go at your leisure. The doors open at 10 a.m. and the g.life pop-up metropolis will turn in to a pumpkin at 5 p.m.
CAGLCC, recipient of the NGLCC Chamber of the Year Award, means business. For more information, visit 'caglcc.org'.
Don't miss g.life, Saturday, Nov. 17: One Day in DC, All Things LGBT. To register online, visit 'g-lifeexpo.com'. Registration is free, open to all.
Ernesto M. Santalla, CAGLCC board president, owns Studio Santalla Inc., a full-service architecture and interior design firm in D.C.
---