LGBT Merchants Spread the Love
For Valentine's Day and beyond, get the goods that show you care
As Valentine's Day approaches, many gay couples are looking for something that will put a little extra ''wow'' into the season of romance and love. Just like their heterosexual counterparts, members of the Washington-area LGBT community are in search of the ultimate romantic experience, from intimate candlelit dinners to sexy underwear.
Just how should a member of the LGBT community say ''I love you'' to that someone special? Flowers are frequently a good place to start. Stephen Robinson, proprietor of Bloom Fresh Flowers of Old Town Alexandria (which bills itself as a ''gaylicious'' florist) suggests a personalized arrangement of fresh flowers straight from the giver's heart and imagination. While he still gets orders for such generic staples as a dozen red roses, many of his LGBT customers order arrangements that display a sparkling individuality.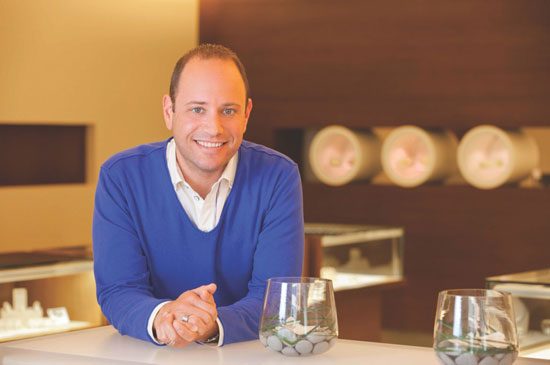 Adam Gorman of I. Gorman
(Photo by Gary Landsman Photography)
''LGBT customers like to go with more nontraditional arrangements,'' says Robinson, who uses fresh flowers delivered to his shop daily. ''One customer spent several-hundred dollars on a special arrangement with branches, orchids, exotic flowers and other plantings that took two drivers to deliver.''
Along with flowers, a delicious box of designer chocolates is also a good way to show you care. In this case, tradition continues to hold sway, according to Robert Cabeca of Cocova, a world-class chocolate shop located on 18th Street NW in Washington.
''A heart-shaped box filled with chocolate truffles is still the best way to say 'I love you,''' promises Cabeca, who has worked with chocolate for more than 25 years. ''Our customers tend to stick with the tried-and-true and order a luxuriantly wrapped box filled with fine artisan-crafted chocolates to present to the special person in their life.''
Many couples toast their romance with a bottle of fine wine. Tom Natan of FirstVine.com, an online wine importer and retailer, offers his customers an extensive selection of wines designed to appeal to a variety of tastes and price ranges. In addition, the company, which does not have a physical shop but sells exclusively online, will ship to any home or office (that permits such deliveries) in D.C., Maryland or Virginia.
When asked what wines are trendy right now, Natan answers, ''People seem to be most interested in the hardy wines from Chile in South America. There are also a number of domestic wines from the Western states, especially Colorado, Oregon and Washington state.'' Natan adds that while these wines have a large and devoted following, their robust flavor does not always go well with many types of food. He suggests a more traditional French or Spanish wine as something to sip as you gaze into your lover's eyes over an intimate candlelit dinner.
Finally, dinner is over and you want top it off with a special token of your love and devotion. Many couples consider jewelry the way to go. Adam Gorman of I. Gorman Jewelry, located on 20th Street NW in Washington, provides an assortment of rings and other sparklers to delight one's beloved. A trend he's spotted among both men and women recently is oxidized silver jewelry. The blackened look has what Gorman describes as a ''cool'' style appealing to many of his customers.
''We saw a great uptick in our business with the legalization of marriage equality in D.C. a few years ago,'' says Gorman. ''And the approval by Maryland voters of marriage brought in more couples looking for wedding rings and other appropriate jewelry.''
Maybe Valentine's Day is just the time to put a ring on it.
Winner of the 2012 NGLCC Chamber of the Year Award and ranked No. 18 for Local Chambers of Commerce in the Washington Business Journal's ''Book of Lists,'' the Chamber means Business. For more information, visit caglcc.org.
John F. Stanton, a CAGLCC member, is the president of SRP & Associates Inc., a strategic marketing and public relations firm in Northern Virginia.
---