The Color of Space
Entrepreneurs find their businesses' white space
In the art world, white space – also referred to as a void – is what surrounds an object. In business terms, if your enterprise is the object, the void represents areas of potential growth, also known as white space.
Years ago, you could only read this column in the print version of Metro Weekly, but at some point, the magazine went online, giving it another way to reach its target audience. As the Internet expanded, so have the ways to reach people, so you may have clicked on a link from a referring site, such as Facebook. You could have also landed here after searching "Ernesto Santalla" on a search engine – part ego-trip, part reality.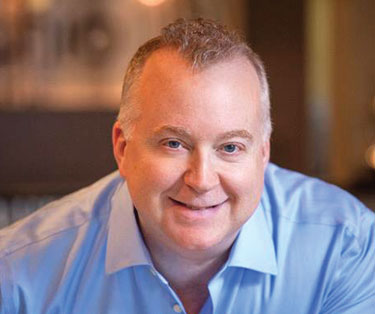 Richard Grifasi
(Photo courtesy of Richard Grifasi)
Fashion designers build reputations on runway collections, but the big money is made in ready-to-wear lines and franchise agreements. You could say they sell out, but then again, you have to have a name someone is willing to pay money for to sell it. Calvin Klein's involvement with underwear design was likely brief, though he is credited for the concept of "designer underwear."
I've worn glasses since I was 8. The statement to be made then was universal: dork. So I couldn't wait until I could wear contact lenses. Fast-forward to 2013 and we have creativity combined with necessity at L'Occhio, an eyewear boutique owned and developed by Chamber member Richard Grifasi.
Grifasi started his career in optometry in 1990 and opened his first office in 1997. By 2003 he operated three offices in Delaware providing eye care and optical services. Grifasi observed it was at his Lewes office that he found a group of clients who "search for a very high level of service and a top-quality, unique product."
Entrepreneurial skills kicked in to high gear and Grifasi rebranded his practice from Grifasi Eyecare and Optical to the L'Occhio Eyecare-Eyestyle brand. "My practice evolved into sophisticated high-end style," he remarks.
What Grifasi understood was that the mass market in eyewear was taken by national brands. Instead, he built a brand around quality. His second shop, located in Dupont Circle, focuses on personalized services providing patients and customers with state-of-the-art, unique eyewear in an elegant, relaxed environment where sophisticated staff assist in the selection of eyewear that reflects an individual's personality and lifestyle.
Sean Bugg's career path has taken him from the private sector to the world of nonprofits. Since 2000, he has lead Metro Weekly, Washington's LGBT newsmagazine, with Randy Shulman. First as editor then as co-publisher, Bugg helped guide the magazine's growth from a small publication into a nationally recognized source of news and features, both in print and online. "During my time as co-publisher of the magazine, I created the Metro Weekly Next Generation Awards to recognize the accomplishments and potential of LGBT leaders under the age of 30," Bugg recollects. The awards program has now gone "24/52/365" as the Next Generation Leadership Foundation with Bugg as executive director.
Bugg will work to achieve the goals of the organization, including: fundraising activity, administration, programming, finances, relationship building, and working with the board of directors to oversee the direction to get NGLF established as the first of its kind organization geared toward the development of LGBT youth leadership.
Both entrepreneurs have a deep understanding of their market and found the white space to implement visions that will succeed through dedication, hard work and continued creativity.
Ernesto Santalla, Chamber president, is also president of Studio Santalla Inc., an architectural and interior design firm.
Winner of the 2012 NGLCC Chamber of the Year Award, the Chamber means business. For more information, visit caglcc.org.
---