Environs
B.G. Wright's stylish houseboat on DC's Waterfront
| | | |
| --- | --- | --- |
| | Don't settle for a waterbed when you can have a water-house! This 2 BR, 2-1/2 BA houseboat drops anchor at the D.C. Waterfront, where the gorgeous views of monuments and refreshing tidal breezes will definitely float your boat. | |
When congressional staff member B.G. Wright considered the skyrocketing housing prices in D.C., he had the idea of creating a home that was truly mobile. After years of planning and some help from his old Kentucky home, his abode now floats on the Potomac River at D.C.'s Waterfront.
B.G.: I'm from a small town in Kentucky named Monticello, which is the houseboat construction capital of the world. With the high housing prices in D.C. my parents suggested I might live on a boat. I thought I would go into it as a money saving venture -- it didn't turn out as that.
I really took a big risk moving here. The longer I planned and worked on this the bigger a venture it became. In fact, it doubled from what I originally thought it would be -- not in size as much as in cost and refinement. I thought if I am doing this I should do it correctly the first time rather than do it halfway or cheaply. I was a little nervous about moving at first -- everything you own, all your clothes, all your belongings, whatever you've got that's sentimental or means a lot is floating right now.
[In the salon] The boat is custom designed just for me and was built in my hometown. I have a CAD [computer assisted design] program on my computer and I drew all the plans for the boat from beginning to end. I had certain parameters because they can only transport a certain size boat on the highways -- they had to close the interstate and drive at certain hours of the night to get it here. It was a long, long drive from Kentucky.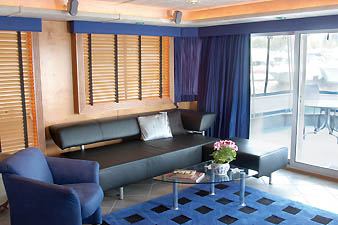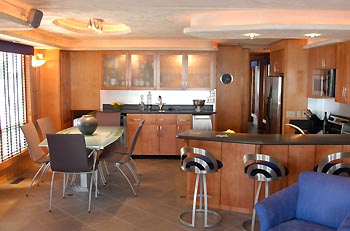 The boat is 80 feet long and 18 feet wide, so that limits what you can do with the interior. I sent the plans to the company -- they were used to building boats certain ways. When I said I wanted a marble floor they said they don't really do marble floors, they do hardwood. I finally got them to do it though. I wanted a rough texture on the floor so when people came in with wet feet they wouldn't slip and fall. They also wanted to put in vinyl ceilings but I thought with the marble floor it would echo. I went with padded ultra suede, which absorbs sound really well.
| | |
| --- | --- |
| | |
I wasn't into the modern style at all before I moved here. I was totally traditional. I had to change because certain furniture just won't fit on a boat. I had a rococo grandfather clock that was hand-carved in Italy that won't work on a boat because the boat moves all the time. I had to get rid of things -- I made my mind up that I didn't want to store all this stuff -- I gave all my family antiques to my brother because I wanted to keep them in the family. I just changed my style and went with it.
[On the deck] The best part of living here is the view. You can see the Jefferson Monument and the Washington Monument from the hot tub. It's great to sit up here and eat and look out at Hain's Point. I have a wet bar with a refrigerator and an icemaker, and a dumbwaiter next to the bar goes down to the galley. You can drive the boat from up here as well. This deck is where you have the big parties. I had twenty folks up here the other day and it seemed sparse. Sometimes after a long day I get in the hot tub and look out at the city going by. I enjoy it and you can see why my friends enjoy it too.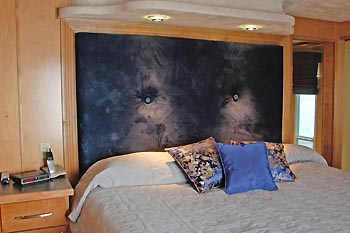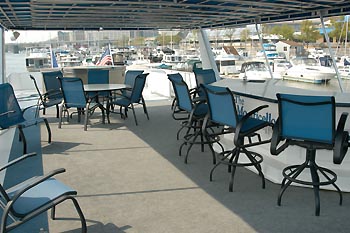 It took a while before I felt at home -- my friends helped a lot. It's not Dupont Circle, so I thought my friends would never come and see me but that has not been the case. They come often and I'm glad because I really enjoy having friends around. They have a good time here -- it's far enough away from everything else that they too can feel a little independent and enjoy the surroundings. They feel comfortable and at home here. When you live alone it takes something more to make a home. Since I've gotten rid of the things that were familiar to me, my friends have helped make this my home.
Does your house, condo or apartment have a story to tell? Let Environs know about it. E-mail environs@metroweekly.com.
---