| | | |
| --- | --- | --- |
| | Don't listen to what all the other people say! Stake out your claim to individuality, personal space with this 3 BR, 2 1/2 BA townhouse in Logan Circle. More storage than you can shake a stick at, and back yard that makes you say "Bingo!" | |
Love may be a battlefield, but it doesn't have anything on the D.C. housing market. Ben Boyd fought and lost in three bidding wars before achieving victory and planting his flag in Logan Circle. Now this communications director for Americans for Health Care can savor his townhouse triumph in his backyard with Bingo. His dog Bingo, that is.
Ben: I bought this house on July 23, 2003. My former boyfriend and I lived in Kalorama Triangle. Our breakup was the reason for the move. It was kind of a wholesale change for me -- the only homes I had owned had been with him. For the first time I was looking for a space that was all mine, which was both exciting and very nerve-wracking. There was nobody to point a finger at and say, "Why did you do that?" Very few of my friends saw the house before I finished renovations. I brought about three different groups through the house and told them what I was planning on doing and they were like, "Why are you going to do that?" I was having enough trouble with doing this on my own, so no one else got the tour.
[In the dining room] This is the fourth house I bid on. I lost three houses prior to this in the insane bidding wars of D.C. real estate. It just proves that some things happen for a reason -- this is by far the best house of the four.
I wanted a soul and a personality in a place. I'm not a new-construction kind of person. I like to take a place that has a soul and then pour myself into it. That was what I found here. A great couple lived here before, and they had taken such good care of the house. It was a great start to find a house from people that so loved it. It had all the right elements in place and wasn't too far from where I wanted to take it.
 My style is about warmth and creating a comfortable atmosphere. I love to have friends over and entertain. It's not about any one furniture style as much as it's about [different] pieces that I pull together myself, which I like for a host of reasons: They resonate, they fit together, or they have a special meaning.
| | |
| --- | --- |
| | |
 [In the basement] This is where a lot of the major renovations were done. When I bought the place it was just a storage basement. This floor is original concrete from 1904. I just power-washed it and put on three coats of polyurethane. I think the room has a great feel. Like I said, [my friends] were like, "Oh, you've got to put tile down here," or "You have to paint that brick." And I was like, "No, I don't." I just wanted a warm, cozy family room. I have to say that I had a vision for this space but it turned out a lot better than my vision. The big point of contention was the closet. It wasn't here originally, but I felt the space was so overwhelming and the closet helped to break that space up. One of my big things is storage -- I don't think a house can have too much storage. Where else are you going to put your feather boa? Everybody has to have a place for that.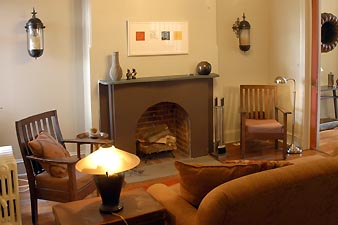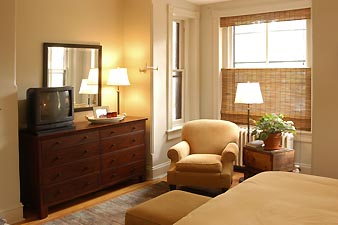 [In the backyard] My favorite room in the house is the patio, without question. I spend at least one night a week out here with friends. It wouldn't be a home if I weren't entertaining and laughing and having a good time.
| | |
| --- | --- |
| | |
When I got the house there was just slate set on sand back here. The first thing I did was lift up all the slate and then right the grade of the whole backyard so it actually drained away from the house. We took the old slate and laid it in this quilt pattern in the center of the yard. I liked that I was able to take the slate forward and incorporate it into the new design. Then I raised these plant beds to give some definition to the space and because of my dog Bingo. It keeps him out and lets him know he's not supposed to go in there. I've had Bingo since 1999. My former boyfriend and I had two dogs. When we separated they separated. It has been just the two of us for about two years. It was the hardest work I have ever done personally, but I have no regrets. I am in the best space and the best place I have ever been in my life.
---