Environs
Eric Hirshfield's Adams Morgan townhouse
| | | |
| --- | --- | --- |
| | You're soaking in it! Take remodeling to new levels in this completely renovated three-story, three-bedroom Adams Morgan townhouse. Open spaces make for expansive living, while hanging out on the rooftop is like relaxing at the beach, complete with outdoor shower, giant hot tub -- so kick back and chill. | |
As the man behind Duplex Diner, you expect Eric Hirshfield to know the old saying about not making an omelet without breaking some eggs. That adage applies to his Adams Morgan townhouse, as well -- he tore out everything and then some when renovating the decrepit structure into a modern design showcase, complete with a rooftop ready to party.
Eric: [In the basement] I bought the house about three-and-a-half years ago. I did more than a gut job -- we stripped it down to the shell and then we stripped the shell down. This used to be a two-level house. We went up one floor and then down one floor -- we dug down to make the basement. This is the TV, bar, entertainment, crash-out-on-the-sofas room. It was a crawl space before, so this is all created space.
I have a roommate, Sean, who lives down here in his own little roommate suite. Originally, I was going to make this into a separate rental unit. Then I got to thinking that maybe it would be nicer to have a roommate instead of a tenant. You can share the house with a roommate but with a tenant you have to have two separate kitchens, two separate sets of utility services. This is a little more efficient, plus it's a lot more fun having a roommate.
[On the first floor] Brian Hunt is a great architect to work with, as is John Herman, the designer and builder. We worked together look at with how I was going to use the house and my style of living -- we incorporated that into the house. You can see how the whole house flows from room to room. That's kind of my style, everything framed out with straight lines, no curves. It's like a geometric grid.
| | |
| --- | --- |
| | |
[In the dining room] The work is still going on. I moved into the house in September 2003, just when the basement was finished. I lived behind plastic sheets for about six months until I moved upstairs. [When I bought it] it was kind of like a squatter's house, so it was in some rough, rough shape. This room will be the dining room when it's finished. The dining room, the master bath and a guest bedroom are the three rooms that need to be finished. I kind of did things in order of priority: the TV room, the third floor addition, the kitchen, the bedroom, the guest bath. It's a combination of cost and priority. You know you save the master bath for last, 'cause that's gonna break the budget.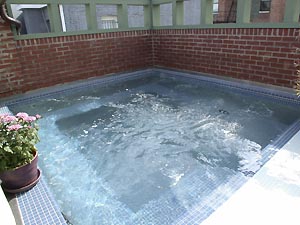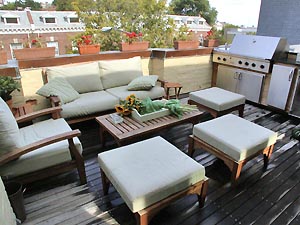 [On the second floor] This is the master suite level because it's really three rooms. I use this as an office and den but if you pull down these shades [next to the staircase] it becomes a guest bedroom. There's a guest bath here, too. When we originally designed the house, this was going to be a true bedroom with doors. But when the basement became the roommate bedroom, this became the master level.
[On the roof deck] This is the third floor play level. We have an outdoor kitchen with all the works. I really wanted to have a house you can have fun in and entertain. Being in the restaurant business I'm stuck there a lot of times and I'm not able to get away and entertain at home. This is almost like an extension of the restaurant, if that makes sense. This is actually a bigger grill than the restaurant's grill. [Laughs]
I have this great outdoor shower here that I never had to have a curtain for. Now with that big building going up over there I need one. And then this is the purple chill room. At night, the whole room glows purple and you get a reflection of the water on the ceiling from the hot tub-swimming pool.
I always save the pool for last because people see the house and then they walk up here and they're like "Oh, my god, where did this come from?" So needless to say, we've had some wild parties here. We made sure we built it safe and secure so that we know nobody can fall. That's four floors down, all the way down to the basement. The house was basically built around that pool -- it has its own structural system and four supporting columns that go all the way down to the basement. It has its own bracing, columns and beams. The engineer told me the whole house could fall down and the pool would remain standing.
Does your house, condo or apartment have a story to tell? Let Environs know about it. E-mail environs@metroweekly.com.
---