Environs
Brett and Ira's vibrant townhouse in the Shaw area of D.C.
| | | |
| --- | --- | --- |
| | Did we say "fabulous"? Of course we did! This 2 BR, 2 1/2 BA townhouse with vibrant color choices, plenty of original artwork and a cozy backyard for entertaining is nestled quietly between Shaw, Ekington and Bloomingdale. It's an abode well worth the wait. | |
Brett Abrams and Ira Tattleman, both 43, had been together for 13 years when they bought their Shaw-area townhouse, where they found remodeling their home was the most stressful they had known. "We just didn't anticipate what it would be like," Brett laughs. But after an adventure in self-contracting, their house became a home, where Ira's artwork fills the walls and both of them have taken the plunge of buying a bed.
Ira: We came to D.C. about ten years ago and we rented a one bedroom apartment for about nine years in Logan Circle, where we watched all the changes happen.
Brett: I like to tell people we were gentrified out of Logan Circle.
Ira: We decided to look for a place of our own. We had a list of everything we wanted. A back yard was very important. It took us about five weeks to find a place. The house had been renovated about ten years ago, so when we moved in there were changes that we wanted to make -- not huge changes but cosmetic changes.
Brett: [In the living room] The major concern we had was the fact that there is not a lot of light, so getting light wood and light colors was all part of the concept. You can see by looking at this wall here that Ira conceived of the place. He tried to create a unity with colors by choosing this chartreuse that is on each side wall from the basement to the upstairs.
Ira: The furniture mostly came from me. The couch and this chair are my mother's -- we had it reupholstered. That chair is my grandmother's. It was called the telephone chair because it was the chair next to a little telephone table. When we lived in Logan Circle we didn't have a couch -- I'd never owned a couch in my life. Friends would always hate to come over because we never had a couch for them to sit on. So it was a good experience for us to consent to having a couch. We were going to buy one but we decided we liked this one better.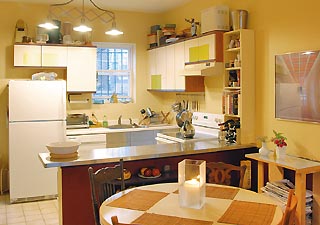 Brett: It is true that almost everything you are going to see is Ira's furniture. I am not a collector. I don't have too many things except for books. The other thing is that's a little bit different about the place is the little wooden table over there with the newspapers. I'm a religious reader of the paper and so is Ira. Ira cuts and clips and creates social calendars and travelogues -- he's got oodles and oodles of folders from various places around the world and events and activities and descriptions of those places. It just happens that you can't get through all your magazines and newspapers, so they collect. But it's all right. It's part of the environment, it's nothing to me at all.
[In the TV room/office] When we came into the house, we walked into this room and Ira, who is not a terribly possessive person, said, "Mine." There was no discussion. I just accepted it. So that's fine.
Ira: That's my desk. He has a little corner over there. The windows here looking into the staircase are new. Lots of times people put in skylights above the staircase to lighten it up. But given the fact that people do sometimes walk across the rooftops, we decided for the time being to do the interior windows. Plus, this is a little cheaper and you don't have to re-do the roof.
[In the bedroom] In Logan Circle, we had a futon on the floor. We were very happy sleeping on the floor. When we moved here, people coming to see the new house often commented how collegiate it was for us to still be sleeping on the floor. So after much chagrin and searching, we eventually bought a bed.
Brett: If you move the shade over here, you can look out the window to see the garden. We love our little garden.
Ira: [In the garden] Other people on the block have taken over the garden spot for a parking space but we prefer the garden space. We still park on the street and ride our bikes mostly. We only have one car. Brett has been growing most of the vegetables here and I've been doing the flowers.
Brett: The design of it reflects our shared nature and the way we operate. The plants grow -- we really don't know how -- they grow and they fall into each other and they all do well. We have Japanese eggplant, three different types of tomatoes, banana peppers, bell pepper, and thyme and basil.
Ira: We have squash which is happy during the summer but not so happy right now.
Brett: And we have a little patio, a four-seat table, and a grill here, and we have had tons of people over two at a time -- I call it the Noah's Ark way of returning favors from all the gifts and all the invitations we've gotten over the years.
Does your house, condo or apartment have a story to tell? Let Environs know about it. E-mail environs@metroweekly.com.
---