Environs
Thrifty gay male lands deal on lesbian-renovated, 17th Street efficiency
DITCH THE LAW, KEEP THE BED! Tastefully furnished 17th St. efficiency w/ Murphy bed, original artwork, HWFs, ceiling fan. Occupant is thrifty GM w/ skittish cat, celebrity connections.
Chad Sandhas is a Talent Relations Coordinator for National Geographic. He would like to thank his parents for instilling in him the sense of fiscal solvency that allowed him to purchase this co-op, which has a rental rate-comparable mortgage.
CHAD: The Murphy bed was the big draw, especially since my place isn't huge. It was renovated in '95 and actually appeared on the Dupont House Tour at one point in the mid-nineties. A couple of lesbians did the renovations, which, personally, I think is fabulous. It's got such a hunting lodge feel, with all of the dark wood and muted colors. It feels masculine.
I read the column you did a few weeks ago, with the guy who didn't want to have too much IKEA furniture. Personally, I love the IKEA thing. I think it's brilliant. It's one-stop shopping. As a first-time homeowner, to be able to go to one place and spend a thousand bucks and get just about everything I need is fabulous. These chairs cost fourteen bucks. It's like, get eight of them! I got a two-top table that, if need be, can become a four-top table. All of my kitchenware is from there. About the only thing that isn't is the couch. That's from Value City.
I got the place for $105K. I'm not afraid to put that out there. It was the December after September 11th and the market had softened a lot. It was just good timing. There was no bidding war. In one year's difference, I couldn't have afforded 17th Street. I know the units that are smaller than mine are going for 125 or 130 now. Some people who live here assume that I don't just because of the expense. Once I was smoking a cigarette on the bench outside and one of the residents complained to the building manager that some guy was loitering out front.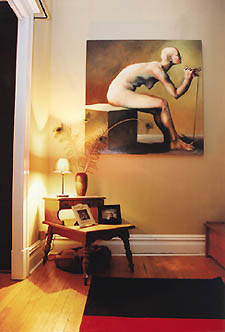 I sold my stocks to buy this. My father worked for Proctor & Gamble for the majority of his adult life. We were raised on Ivory soap and Jif peanut butter and taught very early to put money into savings. So I used to cut grass in the summers and use the money to buy stocks, which was fairly geeky, and I ended up selling most of it to buy this place. Now I only have stock in one company -- P&G. I'm on a horrific budget. I recently sat down and figured out how much money I can spend per day. It came out to four dollars and ninety cents. Not even enough for a latte. Not the size I want, anyway.
So I've become a bargain shopper. There are two kinds of bargain shoppers. There's the kind that gets the shirt at the thrift store and then acts like they paid full price for it, and then there's the kind who gets complimented on the shirt and immediately tells you that they got it for thirty-five cents.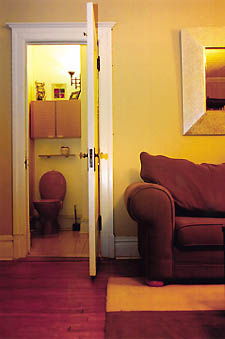 I wish I had more money. I would love to walk into a store like Reincarnations and do a whole house from the stuff that they sell there, but that will never happen. I schedule talent for National Geographic's Ultimate Explorer television series. Explorer is a series that's on MSNBC now, and Ultimate Explorer will be the new version of that show. Lisa Ling is the host. I'm basically her assistant. I've learned quite a bit about Ms. Ling. She grew up in L.A. and started out on a teen variety show called Scratch. Then she went to Channel One, a news program broadcast to high schools, where she became senior war correspondent. And then she had a good run on The View. That show did great things for her. She's a very strong woman, very focused on being a force on television. She won't let that get away from her. She's got an edge, which is why she survived on The View. I think that's the kind of attitude you've got to have.
---