Environs
Haunted home hosts lesbian parties
SCARY HOUSE IN DANGEROUS NEIGHBORHOOD but a chick-magnet nonetheless! HWF, lots of windows, slot machine and piano in living room. Site of fabulous annual party and occasional epiphany. Occupant is GF well-connected w/ lesbian community, the undead.
Sue Olsen, a computer consultant for the Department of Health and Human Services, lives with a dog named Charlie and an apparition that wanders the basement while singing quietly. Sue's friend, Brandi Hunnicutt, has stopped by for a visit.
SUE [In master bedroom]: Every housemate that I've had, including me, thinks that this house is haunted. My first housemate used to see a woman coming down the stairs out of the corner of her eye, but when she'd turn to look, the woman would be gone. And Brandi and I came home one night and the kitchen smelled like baking bread. We both smelled it, really strong. Brandi thought I was baking bread. Like I could. So she takes two glasses out of the cupboard and turns around to get some ice, and when she turns back to the glasses they're both gone.
BRANDI: They were right back in the cupboard where I got them from.
SUE: And she was like, why do you think they're back in the cupboard? And I was like, isn't it obvious? She's baking bread and you're in her way. Brandi has dreams about her all the time.
BRANDI: I think she's an older black woman. I have this dream about her coming into the bedroom, this older black woman with freckles on her face and something over her head. I follow her downstairs. She's humming this old, slow, soulful tune. She goes into the basement. The door is cracked open and there's a red light coming from down there, and I hear a woman giving birth, a baby crying.
SUE: One of the landscapers who lives around here, he's like eighty-five-years-old. He used to do this house and he said that a dentist originally built it and had his practice here. I'm guessing that it was around 1920. Apparently they were somehow connected to the affluent black world. He says their kids were friends with the Mandelas and the Nassers.
[In kitchen] You'll notice that the whole house is lime green except for the rooms I've painted. We painted the dining room and a couple of rooms upstairs, but then we stopped because it was so much work. I think I'm only going to be here through August or September. I've decided that I want to own my own place, but I want this place to somehow remain in the family. I started out living in a group house after college, but now I live alone here. This is not the safest neighborhood. My garage was broken into this morning for the second time. I don't like living alone. Especially with this big house, I wish I had a housemate. So I have people over a lot, have parties. Sometimes people just crash here for the night.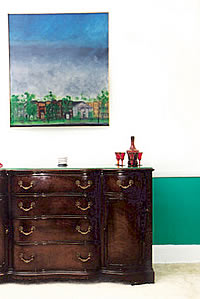 [In living room]: I've lived here for six years. About two years ago, I decided I wanted to get babes, but I had never dated women before. My friend Stephanie and I, we were in the same boat. We'd go out on the town, check out the scene, but it's hard if you don't know anyone. So we decided to have a party and we called it The 5th Annual Estrogenfest. We put up flyers all over town. We put them at the Phase, at Chaos. We had this one friend doing promo. She was running around saying to people, "Don't you remember last year's party? You gotta go! If you missed it, you gotta go!" We ended up getting like sixty women in this house and we didn't know any of them. We set up the basement as a dance floor, and we had a hot buns contest out of a second-story window. Girls hanging their asses out! I told my neighbors it was a sorority party.
I got asked out as a result of the party. I was petrified to go on a date. That was two years ago. Since then we've had The 6th Annual Estrogenfest. One of our neighbors called the police on that one. The cops showed up and wanted to help in the biggest way.
For more Environs, visit www.metroweekly.com. To have your home considered for an Environs profile, please send an email to home@metroweekly.com.
---