Environs
Studio in art-positive building home to 2 cats, Murphy bed, and a glasswork kiln
ART INTIMIDATES LIFE! Hollering heads spruce up this 17th St efficiency. HWF, original furnishings, Murphy bed. Studios in basement make this bldg ideal for those w/ creative energy to spare. Occupants are dredlocked WM, two cats w/ progressive views on gender identity.
All Jeff Zimmer needs in life is a little glass, a kiln and some fatal-if-swallowed chemical compounds. His 17th Street efficiency is not only his home, but his space for creative articulation. He shares it with two feline roommates, Tom Boy and Scout.
JEFF [In living room/bedroom]: The Murphy bed was inspired by my friend Chad. When I lived with my first lover, we had a double bed. But then my second lover needed a queen. He was five-foot-three. I have no idea why someone that short would need a queen. So I had to get rid of my double when I moved in with him and get a queen instead. I got pretty good at my Elvis swivel trying to get around the thing. So now I have the Murphy, which is great. I have this idea for a photograph of myself holding the [half-reclined] bed on my back, like Atlas.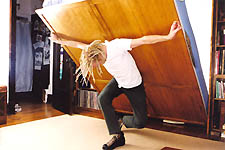 This is one of the few pet-friendly buildings around here. The only requirement is that you leave your door open and allow your pets to socialize with the pets of other residents. There's my cat, Tom Boy. The other one, Scout, is probably hiding. When I got them, Tom Boy came with the name Wags, which was horrible, and Scout was Chloe. I prefer gender-ambiguous names. They were adopted from Pets-DC [an organization that cares for the pets of people living with AIDS]. They can't get enough of the fish. There used to be more fish, but recently they seem to have conducted a die-in. Sometimes they just sort of disappear from the tank.
[In kitchen] Most of this kitchen is still probably pretty original. Whoever lived here never replaced anything. The cabinets are probably from the Teens, and the toilet in the bathroom is original. It's one of those fun kinds without the tank, so you don't have to wait for it to refill. I guess they built them to last back then.
It's a good space to work in. I guess you could technically call what I do "stained glass," but I usually try not to call it that because that makes people think of pretty things like churches and transom windows. People will say to me, "Oh, I've got this bathroom with this great window, but I don't want people to be able to look in. Could you make some sort of stained glass design for my window?" No. Unless what you're looking for is depictions of isolation, pain and screaming heads. I'm big on screaming heads. If you want screaming heads in your bathroom, I'd be happy to help you out. But most people don't want screaming heads.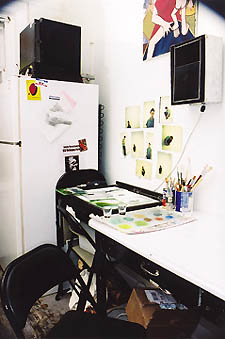 It's called flash glass because this clear layer of glass on top is flash-fused to a layer of color. I have a sand blaster in the basement and you can do all sorts of things with that. This building is so cool. The basement has artist studios, free bike rooms, and a meeting-slash-party room. It's all for the residents, all under lock and key. It's a selling point that the building uses. "Artists, come use our studios!" There's also a nude sunbathing deck on the roof.
But in the apartment, I work in the kitchen. All my stuff just kind of fit right in here. The kiln is on top of the fridge. The only reason this may be a bad idea is because the materials I use are highly toxic. I'm dealing with Chromeon and lead and all of these things that are really, really bad for you. And of course it all comes in powdered form. I have a feeling I'm going to regret it when I'm sixty and all my blood suddenly coagulates.
To have your own dwelling considered for an Environs profile, please send an email to home@metroweekly.com. For past Environs, please visit www.metroweekly.com.
---