Environs
Extra-tall legal secretary doubles his Dupont space and adorns walls with original artwork.
MAXIMUM HEADROOM!
10 ft ceilings, elevated doorjambs, deep tubs and high showers make this 2BR/2BA a dream for the vertically gifted. Faux fireplaces, original artwork, gold-leaf ceiling in foyer. Mid-17th St digs will have you screaming location, location, location!
Nigel King wanted a little more space, so he bought two adjacent apartments, knocked down the wall and renovated like nuts, doing much of the work himself. A legal secretary, he unwinds after long days at work at his expanded dwellings on 17th Street.
NIGEL [in master bathroom]: I'm six-foot-five, so I took out the tub and put in a shower that's custom built for my height. The whole bathroom was designed around this sink, which [pictorially] tells the story of Sleeping Beauty along the sides of the basin. The stained glass window I designed and built to obscure the view directly into my neighbor's kitchen, and this mirror above the sink is framed, as if to say, "You are the work of art."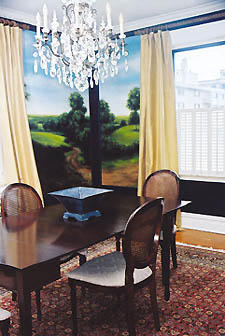 Room with a view: Dining at the center of a mural meadow.
(Photo by Michael Wichita)
[In bedroom] I don't have any professional design experience. It's just what I think about. When I'm sitting in a room, I ask myself, "What do I feel? What do I want to feel?" Like the walls of this room. I call them off-black, but really it's a very deep gray. When you turn off the lights in a bedroom, you want it as dark as possible. The lighting is low, it casts odd shadows onto the walls. This lamp shade is 420 individual pieces. I made it myself, it's a reproduction of Tiffany's Waterlily. And these paintings were done by the boyfriend of the artist who did the living room paintings, Vaslav Pisvejc. He's Czech. When he moved to the United States, he didn't speak a word of English, so every day he would read the newspaper to try to learn the language. So on these paintings, this backwards handwriting here is headlines from that day's news.
[In living room] And here, his boyfriend's paintings are acrylic on Plexiglass. His name is Roy Breimon, he's a Washington-based artist but he lives in Prague for half the year. He paints in reverse layers. I think he once said that that's just how he sees things. So this one here is a rendition of one of Lautrec's paintings, and because of the reverse layering, it's a mirror image of the original that hangs in the National Gallery.
[In dining room] So you can see that the apartment is kind of a mishmash of styles, beyond traditional. Breimon's paintings are impressionist, and these murals here were painted by a student at the Corcoran, their number one student, Verdi Hussein. He graduated last year. It was a three-year process, ten panels, all acrylic on canvas. His specialty was 3-D spherical objects, but he really wanted this job for his portfolio, so he asked me what I was looking for and I got a few postcards in this style from the gallery. The panels are painted as if you were standing in the middle of a field -- it starts here with the river, which continues around to this panel, and then there's a pathway that wraps around and leads up to this church.
A cherub keeps watch over King's dominion (left); a large gilt frame surrounding the bathroom mirror makes every guest a work of art (right)
(Photo by Michael Wichita)
[In guest bathroom] Again, kind of like being outside in here. The sink is granite, and the water falls like a waterfall into the tub, which is extra deep because of my height. I don't fit in a normal tub, although I never really use this bathroom anyway.
I would never consider moving. I like the size of these rooms, the high ceilings. I go to other people's apartments and feel gigantic. I go to Adams Morgan and feel like I need a passport. I'll be here for the next forty years, till it's time to move to Florida. Everything I need is right here or on this street.
---