Environs
Gerry and Matthew's townhouse in the Shaw are of Washington, DC
Photos by Todd Franson
| | | |
| --- | --- | --- |
| | From crack house to Townhouse -- This once run-down 2BR, 2 1/2 BA home in Shaw has found new life in the hands of a GWM couple and two spoiled dogs. Visitors expect to be spoiled too -- and don't miss your chance to play Evita. | |
On January 1, 1999, a run-down boarding house made news as the site of a drug-related double-homicide. A couple of years later developer Gerry Coates and his partner Matthew Thompson decided they would look past the house's history and make the space their own. After years of renovations, lots of red tape, and the collapse -- and rebuilding -- of the rear addition, they finally have their home.
Gerry: When I first saw [the house], it was nothing. There were no windows, the grass was overgrown, there was a cinder block wall out front, the door was broken in. Then it had a twenty-foot deck off the back. It was sitting on these little two-by-twos, and there wasn't a door so you had to walk out the window to get to it. [I thought] this is crazy, who did all this? That was prior to the homicides. No one was living here.
[In the kitchen] Matt likes to cook for me, and I like to eat. I like pork chops -- that's the other white meat [laughs]. I love chicken, green beans, collard greens, stuff like that. I just like to mix it up. I don't eat a lot of carbohydrates. I just love meat and vegetables and water. That was one of the reasons I had to have a refrigerator with a dispenser so I didn't have to keep opening it. I drink water non-stop.
[In the guest bedroom] I'm a southern boy so the guests get treated well. I've had this art deco armoire for probably twenty years or more. I got it from the Eastern Market and it's stayed with me. It has been stripped -- it was white -- and varnished. It's cedar lined, so no mothballs. I just love it. My cousin wants it, and every year she says, "Aren't you tired of that? Are you ready to trade it?"
This is my Evita balcony. It's just wonderful. I didn't need all the space of a deck. What am I going to do out here, look at cars? It's good to just to be able to open the door.
[In the master bath] I'm a stone freak. I like the permanency of it, the way it looks. When you go in a hotel what do you have? Stone. I like a little rougher looking -- I don't like the shiny look.
Two showers, two sinks, two boys. The funny thing is, Matt always uses the guest bathroom. He actually needs his space. He has a whole dresser for his cosmetics [laughs]. He uses it all. I love people who take care of themselves. You take care of yourself, I'm your best friend. You don't take care of yourself, then go. [laughs]
[In the master bedroom] Matt likes to take care of things. Not only does he cook for me, he takes care of the dogs. I don't take care of them [laughs]. The dogs sleep on the bed. I would prefer that they sleep on the floor, but compromise rules the day. Mathew likes them in the bed so they sleep in the bed. They're spoiled that way. When Matt gets up -- he gets up first -- the dogs go with him. He feeds them and then takes them for a walk. When they come back the little one, Yoshi, comes up and waits for me to wake up. He's sweet that way. Matt got them both from the shelter, and they're very attached to him. They think he's the mommy and I'm the disciplinarian.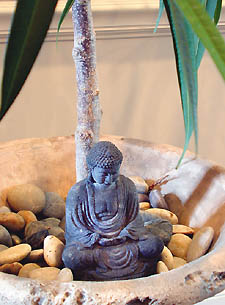 [In the dining room] The lion pieces are there because I'm a Leo. My birthday is the same as Madonna, August 16. I call her up every year, and sometimes she calls me first just to say, "Hey." [laughs] I just pick up lions anywhere I can find them. I like little lions and everything else I bought is] to complement the lions. The Buddha statues are Matt's. He's into Feng Shui and alternative sources of relaxing. I work out to relax and I'm just a happy person. He's more of a cerebral person than I am -- I'm definitely more physical. That's why we last. We come together and live in this home. We have separate lives and we have lives together. It works.
Does your house, condo or apartment have a story to tell? Let Environs know about it. E-mail environs@metroweekly.com. For more Environs, visit www.metroweekly.com.
---