Environs
Art-addicted TH owner creates homegrown gallery in Adams Morgan
Photography by Todd Franson
| | | |
| --- | --- | --- |
| | Start with the art in this 3BR, 2 1/2BA Adams Morgan townhouse, where long and tall walls make expansive vistas for a collector addicted to art and decorating. Toss in an aesthetic of clean, simple lines (and a few indestructible chairs) and you've got a home grown gallery. | |
Eric Kole needed a home for himself and his art, so when he found a townhouse in Adams Morgan, he thought he would have plenty of room for both. Ten years later, the walls were full and unhung art was piling under the bed. It was time to take action on his decorating addiction -- by opening a new home furnishing store, Vastu.
Eric: Harry Wardman, who did a significant amount of architecture in D.C., built this block in 1913. The house two doors down was built for his wife to live in while he built the Marriot Wardman. I moved in just about ten years ago. It was more house than I needed but I had an art collection and the house had space. Row houses are great for displaying art. You only have two short ends that have windows and everything in between is wall. So I filled it up as much as I possibly could. One of the great things about owning a furniture store is now we get to buy and show art at the store without having to buy it for myself.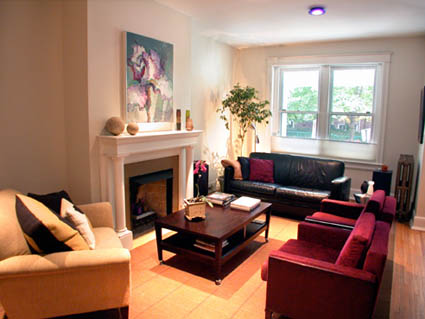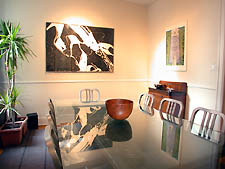 [In the dining room] This is a hammered zinc French florist table. It's about a hundred years old. The reversed bevel is so that when they would line up and cut the flowers the water wouldn't run off onto the floor. I bought it up in New York and had a piece of glass cut to make it larger. These Emeco chairs weigh nothing. They're like three pounds, and they're impervious to virtually everything, including fire. You cannot damage these chairs -- although I guess you could run them over with something. I thought they were kind of cool for a dining room.
[In the hallway] It's very difficult to find a wall that can support an eighteen by four-and-a-half foot painting, so this hallway really helped me make my decision about buying the place. Funny thing is, when I bought this painting the artist was a squatter in the building where the Spy Museum is now. He literally had no home. Then he did this piece and immediately afterwards showed something at the Corcoran, and his career took off. He came and hung this here with a couple friends of mine. There are still marks up there from where we had to put a fifteen-foot ladder. It took four of us three and half hours to hang it. It was a lot of fun, but it may have to stay with the house. I don't know if I could ever hang it again. It might be here a hundred years from now.
| | |
| --- | --- |
| | |
[In the bathroom] This bathroom is original. I've had a plumber in here to fix this toilet probably twenty times -- the guys from the plumbing company wave to me when they see me. They will not let me replace the toilet: Every time the guy comes in here, he's like, "You know this is from 1913, it's stamped on the inside." I just say, "Okay." I'm dying to redo it, of course, but I just couldn't.
[In the master bedroom] I've gotten to the point where I have so much art work. I lent a friend some art to show his house when he was putting it on the market and I just started pulling stuff out from underneath the bed. He was laughing at me because I literally have more art under my bed than most people have in their house. It's a horrible addiction.
| | |
| --- | --- |
| | |
[In the living room] I like simple clean lines but I like things to have a consistency. Particularly in townhouses where rooms kind of flow into each other you need to be able to take -- whether it's a color, a texture, a material -- and have it all work. Not necessarily matching because I really dislike the idea of matched sets of things because it always looks like you went and said I'll take this room as opposed to collecting things and putting it together intelligently as you go along. I think it's important to have consistency throughout. You can see that this aluminum here will be picked up in a lamp or an accent of a vase a little bit further over there. Your eye always sees more than one thing at a time. But I'm at the point now where I'm basically done decorating. I don't know what else I would change.
Does your house, condo or apartment have a story to tell? Let Environs know about it. E-mail environs@metroweekly.com.
---