| | | |
| --- | --- | --- |
| | Matchstick memories abound in this 2 BR, 2 BA apartment in the ever-popular Dupont Circle neighborhood. Comes fully equipped with space to sit and talk -- and plenty of items to talk about. | |
After nearly two decades of living in his Dupont Circle apartment, David de la Tour has become quite comfortable. Over the years he has filled his apartment with a bold collection of art, an anthology of matchbooks, and plenty of places to sit, talk and relax.
David: I have lived here over 17 years now. This apartment has been perfect for me. I wanted something earthy and old. This place had a fireplace and wood floors, which was wonderful. I read tarot cards and this apartment allows me to create this space where people can sit down and open up and talk for hours.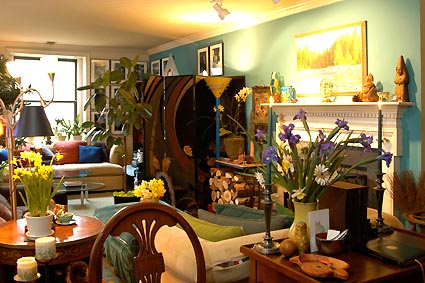 There is a lot of symbolism throughout the apartment. I am very pantheistic -- I think all religions have lots to offer. If you look around the apartment, [you'll notice that] every religion has some representation -- Buddhism, Hinduism, Christianity, Islam. I was brought up Catholic but I had an out-of-body experience when I was five years old. I was outside in the backyard playing and the next thing I knew I was looking down at this little kid and I realized that my awareness was not in that little kid anymore. That happened a few times and my parents would always tell me I was very "creative." That influences my living space one hundred percent. All the objects in the apartment are here because they struck me energetically and spiritually.
| | |
| --- | --- |
| | |
[In the living room] Most of the art in the apartment was created by artists that I have met. The art is very in your face. There are some more sedate pieces but those are all in my bedroom. I much prefer these big paintings out here. Most everything in the apartment has its own story, which can go on for a long time. For example -- a woman that I lived with did this piece of art above the couch. She started painting when she lived here and it was something that just came out of her -- it was a natural talent. She was convinced she had learned it in a past life because she had never studied art before.
| | |
| --- | --- |
| | |
[In the dining room] These are matchbooks from all the places I have been. I started collecting them when I first started going out to bars, which was when disco was coming up -- I was fascinated with it. All these big nightclubs had really impressive matchbooks and I just started picking them up. It just became a thing. This matchbook is from my favorite club in Boston. When I went to college there I went out to this club every weekend. It wasn't until I came out and later came back to Boston that I realized the same club had a gay night on Sunday [laughs]. It was called Boston, Boston. It was bigger than Tracks was here. They had three different DJs and three different rooms. I had a lot of good memories there. The matchbook is sitting on top because every time I see those matches it brings back so many memories.
 [In the bedroom] The calmer things are in here. This is an authentic Navajo dream catcher that I got from a shaman -- I was not taking any chances when I bought it. An artist friend of mine made these lamps. When he first started doing them he needed people to buy his stuff and I said sure. This model is actually named after me. I was looking for something bizarre and he worked with me to make it. He has it on his web page and it is called "The de la Tour." I don't know if it's a big seller -- I'd be afraid to know. You think the name alone would make it fantastic [Laughs].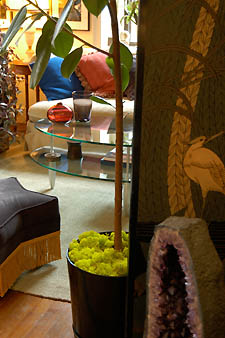 I lived in Paris for a little bit when I was 23. I had some wild and magical experiences there. What really appealed to me was the whole concept of the turn-of-the-century French salon. It was a place where artists and philosophers and radicals would talk about the issues of the day. The salons had a lot of color, a lot of furniture, a lot of little places to sit and there would always be people around. I thought that was the kind of place I wanted to create -- a place where there is lots going on and lots of places to sit.
Does your house, condo or apartment have a story to tell? Let Environs know about it. E-mail environs@metroweekly.com.
---