| | | |
| --- | --- | --- |
| | Following tradition can make you feel comfortably at home in this 1 BR, 1 BA condo in the heart of Adams Morgan. French doors, fireplace and a separate foyer make this home more than the sum of its parts. | |
After 11 years of renting in D.C., travel consultant Paul Carabello decided it was time to venture into the thicket of home ownership. With an Architectural Digest in one hand and a Home and Garden in the other, Carabello transformed his Adams Morgan condo into a traditionalist's dream.
Paul: I moved in here in September 1999. I was sharing an apartment with a friend when I finally decided to take the plunge and own a home. My great aunt had given me a dining room set a while back -- my only requirement was that any place I looked at had to accommodate that set. The first day I looked I didn't see one place that would have room for it. Then the next day I walked into this place and I almost got goosebumps. I said to my real estate agent, "This is going to work. This is it." Not only did the set fit, but the condo also had a working fireplace, French doors, a washer and dryer, a dishwasher, and a separate foyer. The next day we made a contract and that was it. Two days of looking and five years later here I am.
| | |
| --- | --- |
| | |
[In the living room] My style is pretty traditional and somewhat formal. I used to look at architectural magazines when I was a kid and I always knew what I liked and what I didn't like. When I was about 13-years-old I asked my grandmother to get a subscription to Home and Garden, honest to God. I've just always been interested in architecture and design. One of my favorite places to visit is Hillwood Museum and Garden, which was Marjorie Merriweather Post's mansion up in Woodley Park. She designed it to be a house museum after her death. It is amazing. It's my dream house and I would move in there tomorrow if I had the chance. I could see myself in Hillwood.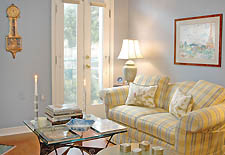 This is actually a framed Hermès scarf. I have always loved how Hermès scarves look but obviously I'm not going to wear one. I love the scenes on this scarf of people out having a good time at a horse race. I couldn't figure out what I was going to do with it and then I remembered [a childhood friend] whose parents had a beautiful dining room with two framed Hermès scarves. I always thought that was unique, so I decided to buy this scarf and get it framed. Most people don't realize it is a scarf, they think it's a print or a painting. The framer did a wonderful job.
 [In the bedroom] I have always liked illustration. When I lived in Georgetown I would walk past this shop everyday that had all these vintage magazine covers in the window. I just loved all the different colors and scenes they would show. That Vanity Fair cover is the first print I bought from there. I thought the design was striking, with the figures in the opposite corners and that great use of orange with the black. I think it's terrific.
One of the featured authors in that issue is also one of my favorites, P.G. Wodehouse, the English comedic writer. What a coincidence to be able to buy it. His books are hilarious -- you laugh out loud every other sentence. They are just comedy at its best, the way he describes people -- the way he makes comparisons between people and crazy objects is just very funny. He wrote the famous Jeeves and Bernie Wooster duo back in 20s. Bernie was this crazy -- and very wealthy -- Englishman who didn't work and Jeeves was his gentleman's gentleman, his valet. Bernie was always going around town and getting himself into these crazy disasters that Jeeves would have to get him out of. I think I often get myself in similar crazy situations but I don't have a gentleman's gentleman to extricate me.
| | |
| --- | --- |
| | |
Believe it or not, it didn't take me very long to feel at home here. It was after the first year when I realized I didn't have to sign another lease that it really hit home. Of course, after that year there was plenty of work I wanted to do to the place like put in hardwood floors, some new carpeting, and paint. But after five years I finally feel like this place is actually mine and done. It is exactly what I hoped it would be.
Does your house, condo or apartment have a story to tell? Let Environs know about it. E-mail environs@metroweekly.com. To see more photographs from this week's featured space, visit us online at www.metroweekly.com/home.
---