Surface Value
Microsoft's Surface is light, fast and good-looking, and it offers greater opportunities than any of its rivals
The Surface is a curious device, and one of firsts. It's the first device to launch with Windows RT. The first dedicated PC hardware product from Microsoft. The first tablet running Windows that anyone would actually want to buy. Seemingly stuck in a middle ground between laptops and tablets, Microsoft is marketing it as the device for everyone, to meet all needs, a hybrid of work and play, to take on Android and iOS at the game they've had two years to perfect. Can it succeed?
It's the Surface's hardware that arguably warrants the greatest praise. For a freshman effort, Microsoft has managed to produce a tablet that not only succeeds in being different from the iPad, but also one that, if anything, seems better made than Apple's device. It certainly feels sturdier, with an incredibly dense quality, and it's much better suited to surviving drops than an iPad. (At its launch, a member of the development team dropped a Surface from arm's length on the stage, then picked it up to show the lack of damage -- you won't see this from Tim Cook and Co.)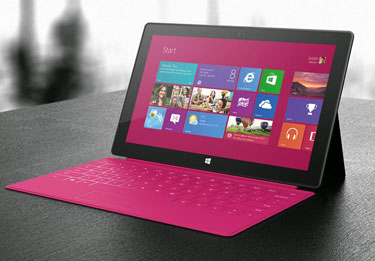 Microsoft Surface with magenta cover
It has a stark, industrial aesthetic, with hard edges, angled sides and a matte finish. Crafted from magnesium using a proprietary process dubbed VaporMG, the casing is so smooth one could almost mistake it for plastic, but flip out the kickstand and you're left in no doubt as to its metallic properties.
That kickstand alone is a standout feature. Under 1mm thick, it lies dormant on the back, forming part of the casing. Accessed through a small notch on the left-hand side, it flips out with a smooth, fast motion, locking into place with a metallic twang. Close it, and be met with a reassuring click modelled, according to Microsoft, on the noise made when closing the door on a luxury car. It's certainly satisfying, and several friends sat, flipping the kickstand open and shut, before even turning the tablet on.
Underneath the kickstand, there is a microSDXC slot for expanding storage, which is useful as the 32GB model is left with just 16GB of usable space, and the 64GB model with 46GB, the rest consumed by Windows RT and the installed apps. Around the sides are the usual volume and lock buttons, and a 3.5mm headphone jack. Also included is a USB 2.0 port, which can be used with thousands of existing devices, from phones to printers and mice to microphones. More than once I found myself browsing the Web on my Surface, with my phone plugged in and charging, while transferring recent photos to the tablet. It's an infinitely useful addition. Less so is the magnetic charger. Much like Apple's MagSafe, it uses magnets to latch the power cable into place. Very useful, and very stylish, but the charger never locks into place on first attempt. Often it requires a degree of tilting and trial and error before it will lock into place, which with frequent use could lead to scratches surrounding the port as users repeatedly fight to charge the device. Once in place, however, it is secure, and the Surface charges quickly.
The bottom of the device is home to the magnetic connector for the Touch and Type covers. Microsoft has made a big show of the way the two join, and with good reason. I tested the Touch Cover, and it snaps into the tablet with ease, the two finding each other and pulling into place with a satisfying click. The Touch Cover itself is a 3mm thick protective cover, with a felt-like texture, containing a full capacitive keyboard.
There are no physical keys (there are on the Type Cover, which is 6mm thick). Instead the keys are printed onto the cover with indentations between each to mimic the island-style keyboard popular on most laptops. There's even a track pad with buttons, though again it is capacitive and flat.
As for the actual typing experience? I'm honestly not sure. On a flat surface, such as a desk or table, it's pretty good. After an initial period of trial and error, I was able to determine the appropriate amount of pressure for presses to register – more than an on-screen keyboard, less than a physical one – and after an hour or so, found I could maintain a decent word count per minute with minimal spelling mistakes.
The keys are well-spaced and reasonably sized, and the included track pad works well for navigating desktop mode. Typing on less stable surfaces, such as using the device on your lap, produces less accurate results, and I found myself using the Surface's on-screen keyboard instead, which is excellent and takes its cues from Windows Phone's similarly superb on-screen offering. A laptop replacement it isn't, though for casual typing and note-taking, such as emails and lectures, it's more than adequate. As proof, this entire review was constructed on the device, and though it didn't take noticeably longer than on my laptop, the number of spelling mistakes was higher, and my fingers showed signs of fatigue due to the lack of key-travel. For serious typing, I suggest testing the Type keyboard to see if it better suits your needs.
The front of the Surface is dominated by a 10.6-inch, 1366x768 ClearType HD display, coated in tough Gorilla Glass 2, with a capacitive Windows logo sitting beneath it. (I'll say this, if you want the best screen available on a tablet, get the Nexus 10, with its 2560x1600 screen and over 300ppi. The iPad manages 264ppi across 2048x1536, while the Surface makes do with just 148ppi. The numbers don't tell everything, though, as the Surface still has one of the nicest screens available on a tablet, despite a lack of pixels.) Using Microsoft's sub-pixel ClearType technology, text and images look sharp from a normal distance, aided by Windows' ability to scale content across resolutions. Colors pop, and the Modern UI of Windows 8 looks glorious on the Surface, as Live Tiles flow and change on the homescreen, aided by fast response times from the touchscreen – though expect fingerprints to show as the Surface seems to lack the coatings some of its rivals have to prevent smudges from sticky fingers.
Video is where the screen really shines. The Surface has a 16:9 aspect ratio, allowing HD content to display without any black bands, filling all 10.6 inches. It's a fantastic experience, and on more than one occasion when watching Netflix in bed, it felt like I'd taken my TV with me, so full is the viewable area. Compare it side-by-side with the iPad, and its 4:3 aspect ratio, and the Surface is the much better tablet for viewing video – though several Android tablets now offer 16:9 aspect ratios, and can offer full 1080p resolution for similar money, though with smaller 10.1-inch screens.
Sound on the Surface is merely adequate, with the volume never going as loudly as you'd expect, though it's perfectly fine for watching a film or listening to music in a bedroom or living room – so long as they're reasonably quiet. It's enhanced with the addition of stereo speakers, situated on either side of the case, and the difference in sound compared with the mono speakers on many rivals is palpable, though I'd still advise an external speaker or headphones for the best experience.
Accessing your music and videos is made easy with Windows RT. RT is essentially Windows 8 designed for low-power ARM processors, the type found in most smartphones and tablets, and in this case a 1.3GHz quad-core NVIDIA Tegra 3. Powering it is a battery rated by Microsoft to offer comparable life to its rivals and in testing this has proven accurate. In an average day spent watching videos on YouTube, browsing the web, streaming music – users can enjoy free, ad-supported music streaming in the Xbox Music app (with an ad-free service available for $9.99 per month), a nice feature – writing in Word and scrolling through news stories and Twitter, I could finish the day with enough battery life to make it into the next morning. In fact, the Surface drains very little battery when sleeping, which removes the worry if you're ever away from an outlet and don't want it to die.
We've detailed Windows 8 and its many features in a prior article, but for refreshment's sake it's essentially focused on enhancing the touch aspect of the Windows OS, introducing a new Start screen, and a flattened desktop. The Start screen is now the main hub of Windows, featuring constantly updating Live Tiles for each application, which refresh with contextual information. The weather tile will show the current forecast, the People tile will display images of contacts and alert to notifications on Facebook or Twitter, the Netflix tile will scroll through your recently watched items. It's marvelous in motion, and a lot of the joy in Windows 8 can be found in simply scrolling through the Start screen, watching your live tiles throw content at you. Users can customize the layout of the tiles, grouping them into categories, and can alter the size and amount of information they display. There are also a number of themes available, which customize the color of menus, standard tiles and the background of the Start screen. Users can customize their device to how they want. Prefer to see your news and email first, then put those live tiles right at the front. Want to see all of your apps at once? Pinch and the screen will zoom out to show every live tile across the screen.
At first, it can be a little confusing to use, and Microsoft shoulders the blame by offering little in the way of instruction. During initial set-up, which takes about five minutes as the tablet installs all of the apps, a brief video is shown that simply tells users to swipe in from the sides of the device to reveal more. That's it. The less tech savvy will miss a great deal of Windows' touch inputs, simply because Microsoft hasn't said they are there. As it stands, your first hour or two with a Surface will involve setting it up, logging in with a Microsoft account – it offers the option to create one for those that have resisted thus far – downloading apps, and then learning the interface. Once you have grasped swiping in to see the charms bar, or dragging apps in from the left to multitask, it becomes very easy, and it flows together in a way that no other tablet OS can emulate. iOS looks severely dated next to Windows 8, and even Android lacks the versatility of Microsoft's system. It really is very pleasant to navigate with a finger.
It's not without issue, though, as the Tegra 3 can occasionally reach its limit and show signs of slowdown, though this is usually only in apps that haven't been properly developed – I'm glaring at you, Amazon, and your woeful Kindle app – or when there are many apps running simultaneously. For the most part, however, the Surface is fast and responsive almost all of the time.
Now to mention the elephant in the room: Desktop mode. The Surface offers up a rich, intriguing touch interface in the Modern UI, but when you try to access any of the Office 2013 apps – included free, a nice touch – it drops you straight into the desktop, which for all intents and purposes is Windows 7, albeit without the Aero graphical tweaks. It's not as jarring a transition as you'd expect, with the desktop running like a traditional app, but for those without the Touch or Type covers, it's not somewhere you want to spend a lot of time without a track pad or mouse. The desktop has been tweaked, but is only marginally more touch-friendly than Windows 7, though scrolling and resizing are smooth, as is long-pressing a finger to right-click. From a touch standpoint it's not great, but from a productivity perspective, the Surface blows every other tablet out of the water. With a cover, it transforms from a tablet into a laptop, offering file management, a desktop version of Internet Explorer, and the full Office suite. The ability to snap windows to either side of the desktop remains, which is great for multitasking, and enables some cool tricks. I was able to snap two windows together, and then drag in a Modern UI app – in this case, a third-party Twitter app – and run it side-by-side with the desktop. I had Twitter, IE and Word all open, all useable, and all taking up a third of the screen. It blew me away. This ability is available elsewhere, with users able to run two Modern UI apps on screen, with one taking a third, and the other the rest – and the ability to swap this balance. It offers better multitasking opportunities than any other mobile device, hands down.
The Surface isn't for everyone, though. When you're done being productive and just want to play, it's left wanting in the face of its rivals. Microsoft's app store is woefully underpopulated at the moment, though given it's only a month since launch this should quickly change – this is Windows, after all – but expect to see some big names absent for the foreseeable future. If it's games and apps you want, it's Apple or Android you should seek.
Who is the Surface for, then? If you want a well-made, fast, beautiful tablet, why choose this over an iPad, or a Transformer Infinity? It depends on your needs. If you need to surf the web, and play games, and that's it, then the Surface will do this with ease, though you'd be better waiting until more games are available. If you want to just write articles, and update blogs, and form spreadsheets, well, the Surface can do that too, though not as well as a dedicated laptop.
However, if you want to do all of those things, work and play, the Surface has few peers. It's light, fast, good-looking, pricing is comparable with iPad and high-end Android tablets, and it offers greater opportunities than any of its rivals. It's a more-portable laptop, a more productive tablet. For someone who has an Android or iOS device, but wants to do more, Microsoft have built the answer. And who thought we'd ever be saying that?
The Surface ranges in price from $499 to $699 and is available at surface.microsoftstore.com and Microsoft's brick and mortar stores.
---