Artful Experience
Mid-City Artists finds enthusiastic audiences in the unlikeliest places
Quick, think of a gym.
Here are some of the things you likely just pictured in your mind: racks of weights, sweaty bodies, spinning classes, lockers and showers.
Here are some things you likely did not: painting, sculptures, photographs and artist receptions.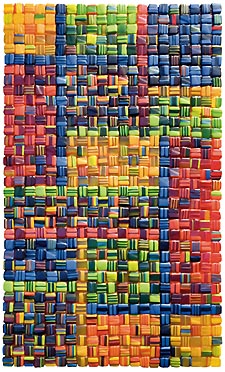 ''Cross the Rubicon''
12''x 20''
Fused glass
Robert Wiener
But Mid-City Artists has merged the world of art with the world of fitness into an unexpected yet exuberant experience.
Gary Fisher, a local D.C. artist and one of the original members of Mid-City Artists (MCA), has spearheaded the group's ongoing appearances at Results the Gym. The group's current exhibition at the gym's Capitol Hill location draws an audience from both fitness and art enthusiasts.
"We had no idea what to expect when we started this," says Fisher. "The reception we received has been overwhelming. There would be an outcry if we stopped."
MCA is a collective of artists who live and work in the Dupont Circle and Logan Circle neighborhoods, including both long-established and newly-emerging artists. Fisher says that one of the goals of the group has been to promote its members professionally in a city not exactly known internationally for its art. Naturally, given the group's geographical boundaries, gay and lesbian artists are strongly represented among MCA's membership.
"A lot of creative energy in D.C. is focused in the gay and lesbian community," says Fisher, although he is also quick to note the large role of straight artists in the group.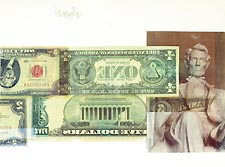 ''15 Dollar Lincoln''
Photographic polymer transfer
Brian Petro

One of the reasons Results has become such an important outlet for young and emerging artists, Fisher says, is the lack of gallery space that is open to them. Over the past few years, however, many non-traditional and unconventional locations have opened their walls and spaces to local artist, especially in MCA's home turf along 14th Street NW.
"You can't go in any of the restaurants or retail stores on 14th and U streets where you don't see original artwork by local artists," says Fisher.
But the ongoing exhibitions at the Capitol Hill Results are on an even larger scale. Over the course of a year, Fisher curates group shows that feature a range of art from painting to glass sculpture to portraits to photography and more. The current show, he says, is an outstanding chance to catch up-and-coming D.C. artists.
"[It] has works by some of the most exciting professional artists who are working in D.C. and really promoting art," says Fisher. "Overall, the quality is as good as anything you'll see in any gallery in town."

''Pink, Green & Yellow''
48'' x 60''
Charlie Jones


'Shattered Window'
4' x 6'
Acrylic on canvas
John Talkington

And the artists themselves have found reason to appreciate the location.
"Artists we've shown there have created a following as a result," says Fisher. "I get calls from members of Results who remember a piece that may have been in a show a year or two ago and want to find the artist. That really means it's resonating."
Don't be afraid that a trip to Results to indulge your taste for art will require a session of power-lifting: Non-members are welcome to browse the exhibit after checking in at the front desk, no gym sales pitches or physical exertion required.
The unorthodox location does present another set of challenges. The Washington Post's Reliable Source gossip column recently tweaked the gym and MCA for not including a painting that seemed to depict male genitalia -- at least, genitalia attached to a body that had been dipped in paint and pressed on a canvas.

''Nocturne 3''
12'' x 14''
Oil on linen
Regina Miele


''Untitled''
4 pieces, each 24'' x 24''
Concrete and acrylic on canvas
Mike Weber

Fisher says that for the most part content isn't an issue, although nudity and some other depictions wouldn't be shown because of the broad range of people coming through the gym at different times, including after school programs for children.
"It's like other retail places," says Fisher. "We have to be a little careful about the content."
Even with a touch a caution, what Fisher hopes the exhibit will get a reaction from viewers.
"If one person has a visceral or emotional reaction to somebody's photograph or painting, if it causes somebody in the halls of a gym to actually stop and look twice, whether they like it or not, and think about it, I think that's good art."
The Mid City Artists Winter Exhibition runs through March 12 at Results the Gym Capitol Hill, 315 G St., SE. For more information on this and other MCA exhibits and events visit www.midcityartists.com.

''Figures in Motion 1''
26'' x 30''
Acrylic on paper
Gary Fisher


''Tributary''
36'' x 60''
Acrylic on canvas
Peter Alexander Romero

---