Noi Chudnoff
Capital Pride Heroes 2008
She may not have been gay, but Noi Chudnoff was most definitely a member of the local GLBT community. With her Go Mama Go! boutique on 14th Street NW generating income, she passed it along to various philanthropic efforts, such as the National Gay and Lesbian Task Force, the Gay and Lesbian Victory Fund, Whitman-Walker Clinic and the N Street Village. She was intimately involved with Ganymeade Arts/Actors' Theatre of Washington, on whose board she served as president.
When Chudnoff died suddenly in November, survived by her husband of nearly 35 years and their adult son, the local community was stunned.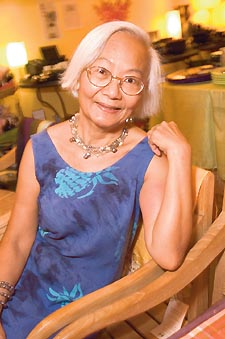 Noi Chudnoff
Ganymeade Artistic Director Jeffrey Johnson, who also manages her shop, knew her better than most.
''I spent pretty much every day for about three years with her,'' he says. ''We would have very personal conversations about our lives. And we had our fights. When you fight with Noi Chudnoff, you fight!''
Truly, along with her reputation for generosity, Chudnoff also had a reputation for a feisty scrappiness that could turn her diminutive and elderly frame into a monumental headache. But as Johnson attests, it was a small price for being close to her.
''I've never grieved for anyone before like I grieved for her,'' he admits readily. ''There were so many huge influences that she had on me as a person, as an artistic director. There's not one day that goes by that I don't think of Noi in some respect, maybe laughing at something she said. I'll sometimes ask myself, 'What would Noi do?' I have an answer immediately.''
As tribute to Chudnoff, Ganymeade's contingent in this year's Capital Pride Parade is ''Remembering Noi Chudnoff.'' Johnson says he always enjoyed her way of asking people ahead of the annual procession, ''Are you going to march in my parade?''
''I would always laugh,'' he recalls. ''But in a way, she touched almost every single organization or group that would participate. I guess it was just a matter of time before it was Noi's parade.''
With Noi's husband, Jonathan, taking Noi's place next to Johnson in the parade, Johnson promises there will be not a hint of sadness in this tribute contingent.
''Like her, it will be colorful and bright, with parasols all over the place.''
Or, as Chudnoff herself said in an August 2005 Metro Weekly interview, ''Go Mama Go! is about creativity. We are in your face. We can be nice or we can be terrible. Mostly we're nice.''
---