Don't Do These Five Things for Valentine's
1. Don't Procrastinate
We'll tell you right up front: If you're reading this during the mid-afternoon of Feb. 14, you might as well skip on down to No. 2.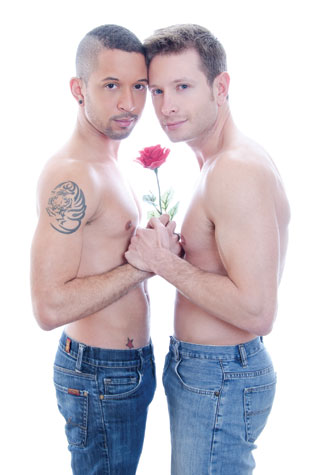 As for the rest of you, if you're reading this with any serious intent at all, then you already know you're cutting it close. You didn't book that dream vacation last month. You didn't make the reservations for a trendy restaurant two weeks ago before they all booked up. You thought you had time; you didn't.
Valentine's Day procrastination is what leads to last-minute dashes through CVS and Target, desperately seeking any product with a heart on it and chocolate in it. The nation's homes are filled with unopened yellow boxes of Whitman's Samplers, their cross-stitched logos a forlorn and lasting reminder that you screwed up.
Do not wait any longer. Call your local flower shop and see what it's going to cost you to pick up some last-minute roses. Forget about making it into the aura of a celebrity chef and think of smaller, neighborhood places where you and your partner have been to and enjoyed. If you have any kitchen skills whatsoever, make dinner.
A little thought and a little effort will take you a long way, even if you're running a little late.
Skip to:
2. Don't Panic
So, here we are. It's 3 p.m. on Tuesday, Feb. 14. You are, as they say, fucked.
Let's be honest: You don't have a lot of options if you're expected to arrive home with some physical token of your love. But really, don't panic. Take a deep breath. And another. One more.
Okay, here's what we're going to do. First, you live and/or work in the D.C. area. It is highly likely that you have one of many small stores in your locale that sell quirky cards, gourmet chocolates or decadent cupcakes. None coming to mind? Stay calm. This is why we have the Internet – to do neighborhood-based Google searches.
Still nothing? Stop shaking, we can get through this. Hit your browser again and see if you can get any advance tickets to shows, performances or concerts in the next two weeks. Don't forget to print out the receipt so you have some proof.
Not finding anything? Oh, my. It's 5 p.m. You may want to run down to CVS before the only thing left is a pile of Whitman's Samplers. And don't forget to give the gift that every inveterate procrastinator should have at the ready: a heartfelt apology.
3. Don't Break Up
You've only been dating for six months. She bores you with her work stories. He drives you nuts with his politics. So what? It's Valentine's Day. Dumping someone on Feb. 14 will forever brand you as a heartless cad who couldn't wait until the following Saturday to drop the ''It's not you, it's me'' bomb.
For those of you already cohabiting for years or enjoying the benefits of legal marriage, this one goes double. Fine, you don't have to splurge on a dozen of the finest roses or a $500 tab for dinner and wine. Chances are, if you're actually considering breaking up on Valentine's – and, oh, it has happened – your rather understated gift this year will not come as a surprise. But save yourself and your soon-to-be ex-partner the most awkward Valentine's evening of your lives. Don't ruin the holiday for both of you in the future. Hold the break-up conversation until the next day.
(On a more serious note, if you're in a relationship where you feel abused, threatened or otherwise in danger, don't stick around just because of a commercial holiday. Get some help and get out. You can find the LGBT resources you need at Rainbow Response: rainbowresponse.org.)
4. Don't Forget that Two's Company
We get it. You have an adventurous streak that you'd like to explore with your new boyfriend. Or your appetite is waning after a few years of marriage and you're hoping for a little spice to have with your wife. Hey, we're all gay here. We know a lot of us come up with creative ways to address these issues.
But not tonight. Valentine's Day isn't the holiday to ask for a three-way or, for a thruple, broach the topic of a ménage à quatre. Thanksgiving? Maybe. Christmas? Definitely. But not Valentine's.
Sure, Valentine's is a crassly marketed and wildly over-commercialized holiday that manipulates couples into saying ''I love you'' and spending a little cash. Just go with it. There are worse things in the world than playing along with the conceit that the person you're with is the only person for you, because if you're really lucky it will happen to be true. This is not the night to open a discussion of becoming ''monogamish'' or confessing sexual infidelities.
Time and place, people. Time and place.
5. Don't Make It All About You
You may be able to get away with those ''it's for you, but it's really for me'' presents during Christmas (Did you really think he wanted that 60-inch 3D television after hinting all fall about season tickets to the Kennedy Center?), but you simply cannot during Valentine's Day.
Relationships are hard work. If you've only been together a short time, you're doing the hard work of getting to know each other. If you've been together a long time, you're doing the hard work of staying together even though you know each other all too well. Either way, given all the burdens and requirements of everyday life, your thoughts about your relationship can easily become focused on you: your needs, your wants, your desires.
So put them aside for the day. Make it about her needs, her wants, her desires. Join in his fascination with each and every edition of Real Housewives. Go see the art exhibit you've heard her talking about. Take him shopping at Abercrombie & Fitch even if you think he's too old for it.
It's not about you. At least, until your special someone decides to focus on your needs, your wants, your desires. See how it all works out? Now go make each other happy.
And don't stop when Valentine's Day is over.
---