13 Camp Films Everyone Should See
From Hollywood's golden age to John Waters's trash cinema, the camp films that define a genre
Camp, like beauty, is in the eye of the beholder.
For some, a camp movie is the unintentional hilarity of an earnest story gone wildly awry. For others, the best camp movies are those in which the camp is intentionally baked in from the beginning.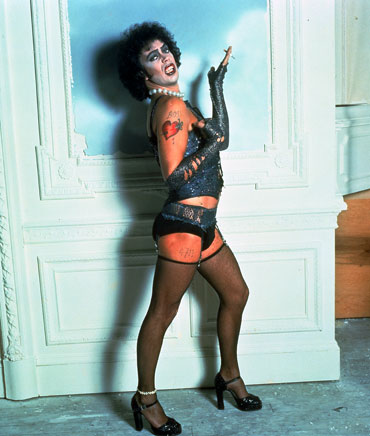 Rocky Horror Picture Show: Tim Curry
We all know that a camp movie by definition is filled with quotable lines, like Divine's ''I told you cha cha heels! Black ones!'' But a movie with memorable quotes isn't necessarily camp, like Steel Magnolias' ''Drink your juice, Shelby.''
It's just all so confusing. So when we set out to pick our favorite camp movies, we focused on the movies that we've watched over and over until they've become part of our queer pop-culture DNA. They're the movies we watch with old friends and the movies we introduce to new friends. They're the movies that over decades have become the shared cultural touchstones for everything gay.
And, frankly, they're simply and supremely silly, even if they're trying not to be.
These aren't the movies that won Academy Awards (with one notable exception). They're the movies that gave us an attitude.
13. The Birdcage (1996)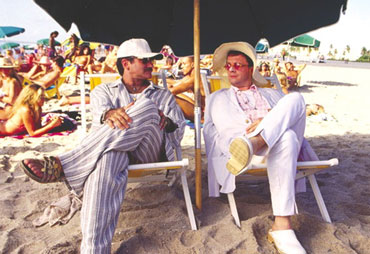 The Birdcage
With drag queens, you expect camp. Before anyone entered the theater, they knew what they were getting themselves into. What The Birdcage really did is make gay campiness accessible to the mainstream.
It doesn't have the esoteric quality (of simply being foreign) of its French forebear, La Cage aux Folles. It has star power. And audiences are paying for the gaiety. It's the masses getting to see how the queer half lives, fictionally speaking. There's Hank Azaria as houseboy Agador in all his resplendent ''Guatemalanness.'' There's the Grecian dinnerware with a motif of sodomy that could possibly been interpreted as boys and men playing leapfrog. And there are the placebo ''pirin'' tablets -- aspirin with the ''a'' and ''s'' scratched off -- to help Nathan Lane's Albert calm his nerves. Look at those wacky gays.
That is the accessible camp. Something a bit more genuine, a bone for the gay audience, is that Lane played this drag role before coming out definitively. He knew he was gay, we knew he was gay, but he hadn't quite gotten to the point of saying on a very public platform, ''I am gay.'' The joke for the gays is that some may have actually considered that Lane was merely playing gay in the same manner as co-star Robin Williams.
For both those in the know and those on the outside, the icing on the cake is Gene Hackman in drag, looking just as uncomfortable as we hope he is. It's The French Connection -- in heels!
12. Can't Stop the Music (1980)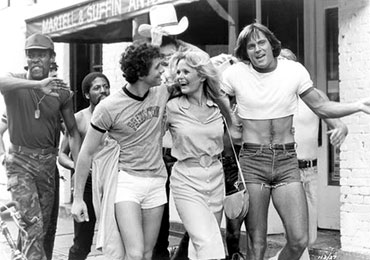 Can't Stop the Music
Never mind that Can't Stop The Music has very little actual gay content. It is, after all, a movie that was loosely based on the story of the Village People, a disco band created to wink hard at the dance genre's built-in gay audience, playing with gay ''Macho Man'' fantasy stereotypes.
And never mind that Can't Stop The Music is so bad, the commercial flop essentially inspired the Golden Raspberry Awards, the Oscar antidote honoring ''the worst in film.'' (It won the very first Razzie for Worst Picture, alongside Xanadu in 1981.)
But Can't Stop The Music is one glorious exercise in camp, as directed by Nancy Walker, best known for playing Rhoda's mother on The Mary Tyler Moore Show and its spinoff, Rhoda. The film was produced by the late Allan Carr, the flamboyantly gay Hollywood producer who had previously had a hit with the 1978 movie musical Grease before the anti-gay disco backlash took hold.
The Village People -- the Indian, the Cowboy, the Policeman, the Leatherman, the Construction Worker and the Sailor -- all appear in the film, set in New York's capital-g Gay Greenwich Village and featuring male nudity in locker room scenes at the YMCA. It also stars the real ''Baby'' June Havoc, part of the family portrayed in the Broadway musical Gypsy, as well as Steve Guttenberg and Bruce Jenner, back when he was attractive. It was actually the Olympic star's one and only film role, long before the Kardashians gave him a second shot at fame. Jenner parades around in itty-bitty gym shorts for most of the movie. That might not sound hot today, but it sure is campy.
11. Lust in the Dust (1985)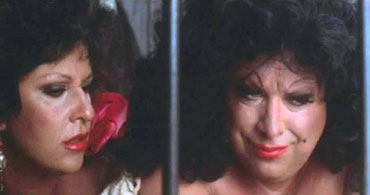 Lust in the Dust
John Waters without Divine can be hit-or-miss. Ditto for Divine without John Waters. That doesn't stop Lust in the Dust from making our list, because the cheerful insanity of this Paul Bartel Western -- and a complete willingness of co-star Lainie Kazan to go over the top, and then some -- make it a low-class riot.
Nonsensical story short: Rosie Velez (Divine) is ravaged on her travels through the desert by a gang of outlaws (who get more than they bargained for), and finds safety in the appearance of Abel Wood (Tab Hunter, her co-star from Polyester). Once arriving in Chili Verde, she butts heads and bosoms with saloon owner Marguerita Ventura (Kazan). There's something about a hidden fortune, a tattooed treasure map and long-lost siblings, but basically the entire movie is a sequence of camp sequences and running jokes, Rosie's tendency to commit accidental manslaughter on her paramours among them.
The highlight, though, is Kazan, who does the unthinkable with her performance of ''South of My Border'' just north of her garter. She out-drag-queens the drag queen. It's the perfect camp morsel for a lazy Sunday post-brunch afternoon, with a few margaritas on the side.
10. Who's Afraid of Virginia Woolf? (1966)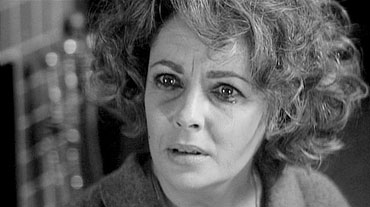 ''Who's Afraid of Virginia Woolf?'' Liz Taylor
A dissection of the world's most dysfunctional marriage, Who's Afraid of Virginia Woolf? is deadly serious in its topic. It's also eye-poppingly camp in its delivery. As George and Martha, Richard Burton and Elizabeth Taylor engage in a drawn-out, alcohol-fueled battle of wits and verbal abuse, all in front of a younger couple they've invited over for a nightcap.
In short, it's world's most uncomfortable after-hours party ever.
But is it intentional or unintentional camp? Different readings, different actors, and you get something that's as lacerating as Taylor's Martha, but perhaps not as histrionic. The dark humor is certainly ingrained in the text, but it's Taylor's and Burton's escalating performances that edge it into camp, whether or not that was their destination.
Given the sheer number of cocktails consumed during the course of the film, it's fair to ponder exactly how any human could emerge from such an evening without alcohol poisoning and a failed liver. But that helps make this one of the most quotable films on the list, particularly if you have a friend as well-versed as you who can emulate the back-and-forth taunts. But Taylor gets the bulk of the camp lines: ''Look, sweetheart, I can drink you under any goddamn table you want, so don't worry about me.'' And, after George smashes a bottle in anger: ''I hope that was an empty bottle, George! You can't afford to waste good liquor, not on your salary!''
It's both horrific and captivating. It's rubbernecking camp.
9. Young Frankenstein (1974)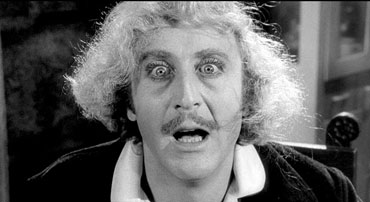 Young Frankenstein
Everything Mel Brooks touches is comedy. In your face gags, sophomoric fart jokes, ba-dum-bump one-liners and a flood of silliness. There's nothing at all wrong with that, but Brooks won't be remembered for subtlety or pretension. His stock in trade is guffaws.
When it comes to camp, Young Fankenstein falls squarely in the deliberate camp camp. It's a parody, after all. And it's a brilliantly goofy parody.
Aside from Brooks's directing -- and writing with Gene Wilder, who leads as Dr. Frankenstein -- it's the women who make the movie. Teri Garr is amusing as the country girl who enjoys a roll in the hay. Cloris Leachman and Madeline Kahn are the queens of this comedy, though. Both work so well with Brooks, playing roles awfully similar to the performances they delivered three years later in Brooks's High Anxiety. Here, Leachman's glowering henchwoman of the castle, Frau Blücher, is wonderfully ridiculous as the mysterious and stern Eastern European cigar smoker who leads Dr. Frankenstein to his destiny. Kahn's Elizabeth is the proper girlfriend with a voice so high-pitched at times it can make your eyes water -- and who wouldn't mind a little extra male attention.
What makes Young Frankenstein worth including is that the cast, from Wilder to his leading ladies, along with Peter Boyle as his creation and Marty Feldman as Igor, seem to be having such a good time. They are camping it up for all they're worth and it's infectious.
8. The Adventures of Priscilla, Queen of the Desert (1994)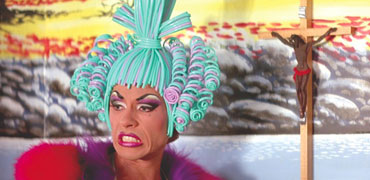 The Adventures of Priscilla, Queen of the Desert
If there is a genre of serious camp, The Adventures of Priscilla, Queen of the Desert is it. Yes, it's comedy. Obviously, we've got drag queens. But there is also a depth to Priscilla that most camp cannot match. It's a sentimental story dressed up in camp comedy, and lots of it.
On one hand, there are the costumes and bitchy lines. The ABBA obsession, the ''baby bottles of booze!'' and the ''cock in a frock on a rock.'' Almost 20 years since its debut, drag queens can still be found emulating the film's eye-popping, fantastical costuming.
On the other, there is a message of discovery, of redemption and of the pursuit of liberation and happiness. And it's a strong message. Camp comes full circle when three drag queens go from the comic to the profound. In full drag, contrasted by the barren beauty of the desert, these three travelers convey a moment of spiritual transcendence that is genuinely moving. Anyone who has felt the heaviness of life, the need to shout ''I am what I am,'' or an appreciation for the wonders of the universe, should get a few goose bumps with Priscilla.
And the movie's camp value is rising. At its release, the irony was Terence Stamp as the transsexual Bernadette, he of tough guy fame. (Hello, General Zod?) Hugo Weaving and Guy Pearce were relative unknowns. Generations of future movie lovers are in for a treat when the times comes to be asked, ''Did you know that Agent Smith from The Matrix and that guy from Memento got their start playing crazy drag queens?''
7. Polyester (1981)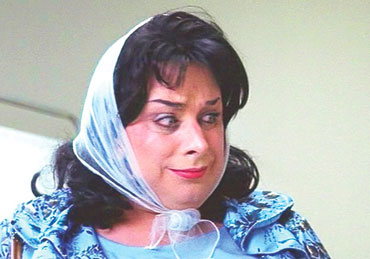 Polyester: Divine
Where to even begin with John Waters, Baltimore's patron saint of trash cinema? Books have been written about his camp sensibilities and guerrilla cinema tactics. When you look at his entire filmography, from Pink Flamingos to A Dirty Shame, it feels impossible to pick just one.
But we won't let that stop us. We're going with Polyester.
One of Waters's early films, Polyester boasts one of the all-time-great promotional gimmicks: Smellorama, with moviegoers receiving a scratch-and-sniff card to be whiffed at different, generally olfactorily unpleasant, moments of the story. But Polyester also marks the moment where Waters makes his pirouette from the outrageous grotesqueries of Pink Flamingos and Female Trouble to the ironic-yet-earnest camp of Hairspray and Cry-Baby. As the put-upon Francine Fishpaw -- married to a porn-theater entrepreneur, mother of a trampy daughter and a glue-sniffing son who's also the ''Baltimore Foot Stomper'' -- Divine starts shaping the hausfrau persona that would later grow into Edna Turnblad. It's every bit as transitional a moment for Divine's lamentably shortened career.
Polyester has all the gleeful outrageousness of early Waters, minus all the turds. And it has the polish of a camp master, without the saccharine that crept into his later work. The argument can be made that Serial Mom is truly Waters's high mark, but despite our love for Kathleen Turner's murderously funny performance, we have to stick with Divine inspiration.
6. The Women (1939)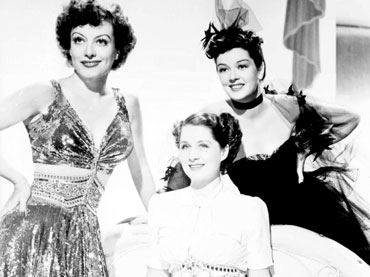 The Women
With its machine-gun dialogue and art deco glamour, The Women may be the ur-film of unintentional camp. It's funny and always has been, but it was daring in its time in dealing with adultery, divorce and class entirely through a cast of women -- no men allowed in this particular club. But time, hindsight and progress have dimmed the serious undertones of the film -- another unintended victim of no-fault divorce -- leaving the facade of catfights and cocktail parties to soldier on.
But, honestly, we were never talking Edith Wharton social commentary here. We're talking about a wronged woman who learns to fight back against the social-climbing salesgirl who stole her husband, giving us Norma Shearer's immortal delivery, ''I've had two years to grow claws, Mother -- Jungle Red!'' thereby providing a drag queen template for decades to come. With a cast of more than 100 women, seemingly every female in Hollywood was in it. Joan Crawford is in full evil temptress mode as the predatory manhunter; Rosalind Russell delivers her rapid-fire patter while wearing a succession of simply fabulous outfits.
And the whole black-and-white affair suddenly stops in the middle for a 10-minute Technicolor fashion show. Because, you know, why not? The Women is indulgent, crackling and the rare film that gets funnier as the years go by. Be sure to catch with a group of your cattiest friends.
5. Showgirls (1995)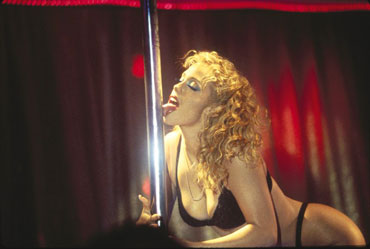 Showgirls
A movie doesn't have to be a flop or a cult phenomenon to be heralded a camp classic. It also doesn't have to be over-the-top in its manner of storytelling -- all shocking, titillating style, no substance.
But put all three criteria together, and you've got Showgirls, touted as one of the worst films ever made, and also responsible for setting a new bar as far as movies about bad girls with naked ambition go. Last year's Burlesque, for example, paled in comparison because it was less ostentatious and more believable. Director Paul Verhoeven and screenwriter Joe Eszterhas – who previously teamed up for the straight-loving Sharon Stone flick Basic Instinct – weren't trying to make you love or even much care about Nomi (Elizabeth Berkley) or her naked ambition to supplant Cristal (Gina Gershon) as the queen of Vegas showgirls. They were just pleasing themselves and their straight male audience counterparts by having the two women scheme and fight each other when they're not stripping nude and seducing men (or one another).
Showgirls cost approximately $45 million to make, which was a lot in its day, and it flopped in large part due to its NC-17 rating, the first with that rating given a wide release. But it has gained cult popularity ever since, with home viewing parties, midnight screenings, even special engagements at gay film festivals.
And that's as it should be. A film this bad, even offensive, should not be viewed at home alone. You need to enjoy it in the company of knowing, like-minded friends over cocktails. Lots and lots of cocktails.
4. Psycho Beach Party (2000)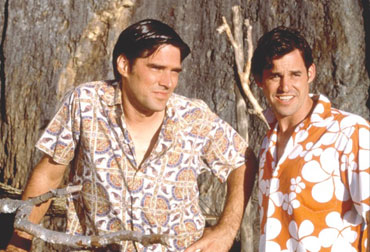 Psycho Beach Party
Psycho Beach Party may not be New York drag actor and camp master Charles Busch's best film -- in fact, his superior 2003 film Die, Mommie, Die! is arguably even campier. But the 2000 film, based on his original off-Broadway play and directed by Robert Lee King, deserves its own attention. Not least of which because it helped make a star out of Lauren Ambrose, a year before she became a gay household name for her role as the prickly daughter on HBO's Six Feet Under.
In Psycho Beach Party, Ambrose plays Chicklet, a split-personality force to be reckoned with. The ''comedy horror'' film also starred Amy Adams -- as mean girl Marvel Ann -- well before she became a genuine Hollywood star. And of course Busch stars in drag as Captain Monica Stark, who investigates a series of murders in the film's beachside town. Add to that the surfer dudes who provide plenty of gay-guy eye candy.
Ultimately, Psycho Beach Party is campy because of the marvelous way it sends up the psycho-dramas of the 1950s, innocent beach movies of the 1960s, and slasher films of the 1970s – all that combined into one hilarious film, with witty bon mots flowing freely, like little else you've ever seen.
3. Whatever Happened to Baby Jane? (1962)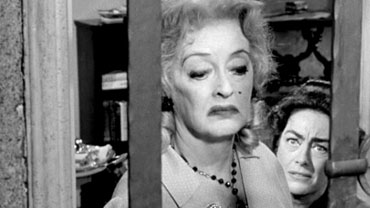 Whatever Happened to Baby Jane?
Take two combative and combustible divas from the golden age of Hollywood glamour, stir in a script reflecting the timeless themes of fading beauty and fame, and while you're at it crank Bette Davis up to 11 and you've got the perfect recipe for a camp classic.
While the star power of Whatever Happened to Baby Jane is a duo with Joan Crawford, Davis is the camp heart of the film. Her campaign of jealousy and resentment as former child star Baby Jane Hudson against her wheelchair-bound sister, Blanche (Crawford), may have been horrific during its original run in 1962, but over the years it's taken on a fine patina of camp cheese. There's Baby Jane barking out, ''Butcha ya are, Blanche! You are in the chair!'' There's her questionable dietary choices for a homebound invalid. And then there's Baby Jane decked out in her baby-doll dress and pancake makeup, trying to reclaim her glory years of child stardom with a rendition of ''I'm Writing a Letter to Daddy,'' which remains one of the most disturbingly hilarious performances this side of Glitter.
Davis had a gift for delivering lines that lasted a lifetime (see All About Eve), so it's no surprise that her famous co-star ends up as merely a foil for Baby Jane's gleeful insanity. But add in all the stories of behind-the-scenes clashes between the two and Crawford's looming fate as a camp icon and world's worst celebrity mother, and you have a movie that helped define camp for a generation.
2. Mommie Dearest (1981)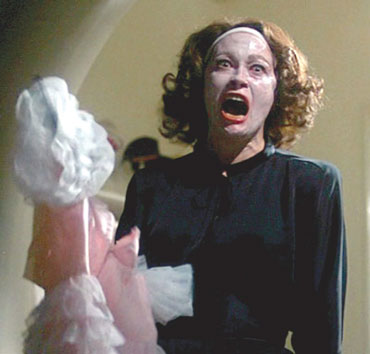 Mommie Dearest: Faye Dunaway as Joan Crawford
Walk into any gay bar in America and shout, ''Tina, bring me the ax!'' and it's possible you'll unleash a torrent of Mommie Dearest quotes -- particularly if the average age of patrons is older than 45, and they're well past the first round. Outside the U.S., walk into any gay bar in the world, and the more straightforward ''No wire hangers, ever!'' should get you just as far.
Based on the 1978 tell-all memoir of the same name penned by Christina Crawford, the adopted daughter of Hollywood legend Joan Crawford, Mommie Dearest made a big splash. The younger Crawford details her iconic mother as a Hollywood heavy who beat her two children, demanded nonstop attention and allegiance from all, and was as generally insufferable at home as her public persona was popular at her height. No delicious detail is absent, from Mommie's notorious bed-hopping to her daily constitutional of ice and rubbing alcohol facials.
In presenting a Joan Crawford as over-the-top as her legendary status – she's an Oscar-winner, after all – Faye Dunaway's portrayal can't avoid camp. It follows a natural evolution. One year, Joan Crawford possibly screamed at the PepsiCo. board of directors, ''Don't fuck with me, fellahs!'' Years later, it's Dunaway screaming the line to millions of moviegoers. Today, it's a staple of the gay lexicon, like its quotable counterparts. It is the perfect expression of camp, taking a quasi-tragedy rooted in reality that's told with cold-cream masques, dangerously plucked eyebrows and bombastic violins. Mommie Dearest so richly delivers that fans of camp are literally thrown red meat, which they've been gleefully digesting ever since.
1. The Rocky Horror Picture Show (1975)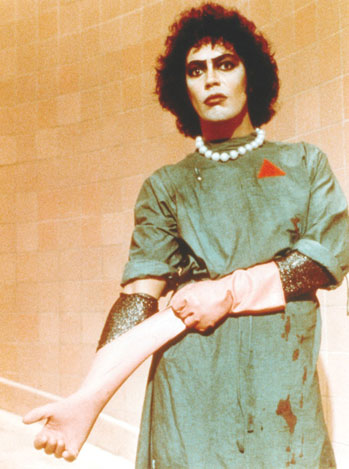 Rocky Horror Picture Show: Tim Curry
When we asked what you thought was the campiest film ever, it was no contest: The Rocky Horror Picture Show came through in a landslide of reader votes. And this is how it should be.
Rocky Horror is an intoxicating blend of intentional camp — essentially every moment that Tim Curry is on-screen as the sweet transvestite and evil scientist Dr. Frank-N-Furter — and the unintentional camp of wooden performances and plot insanities that stand out even in a movie already operating at a pretty high baseline of insanity.
But what really makes Rocky Horror different, what makes it camp in a way that no other film on this list achieves, is the audience. Rocky Horror isn't just about tossing around quotes from the movie among friends, it's about crossing over into the screen and being a part of the movie itself. Thirty-seven years later and we still have theaters pulling in crowds of ersatz Frank-N-Furters, Brads, Janets, Riff-Raffs and Rockys. We all know that to do the ''Time Warp,'' we take a jump to the left and then a step to the right. And we know to yell out, ''Hey Frankie, what's your favorite high-protein drink?'' right before Curry purrs, ''Come.''
Dammit, Janet, you haven't seen it yet? Get yourself to a screening, pronto, before we take away your camp card.
All of the films in our camp series are available for purchase at Amazon.com or for rental via services such as Netflix. A 35th Anniversary Edition of The Rocky Horror Picture Show is now available on Blu-Ray.
---