Born to Puppeteer
Basil Twist has raised the bar on the craft of puppeteering
When Basil Twist saw Joey Arias flirting with his puppets, he knew it was fate.
''They had so much chemistry together,'' Twist says. ''The puppets came more alive just because he relates to them so well.''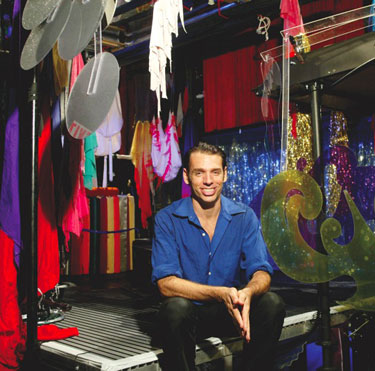 Basil Twist
(Photo by Carol Rosegg)
Yes, Twist is suggesting Arias has an actual connection with inanimate objects. And no, he doesn't just mean the rapport is between Arias and Twist, the puppet-master.
''Joey and I have chemistry, that's for sure,'' Twist says. ''I'm an advocate of puppetry for everybody, not just children, but we all know that children come alive, they respond, with puppets. You see their connection -- they believe in them. Joey's like that.''
But as an adult, Arias takes it a step further. ''He really flirted with them, these little 3-foot-tall wooden men in tuxedos. It was hot,'' says Twist. ''Of course the puppeteers get off on that. But I really feel that Joey has a chemistry with that sort of magical world.''
The result is Arias With A Twist, opening next week at Woolly Mammoth, where it will run for a month. The show was first staged in 2008 in New York, where it was revived to great acclaim last year, before traveling to select cities around the world, including London and Los Angeles. Twist is the director, and it's just one of four shows in Washington this season under his command. The Shakespeare Theatre Company's Chris Jennings organized a mini-Twist Festival, which includes additional shows at University of Maryland's Clarice Smith Center this weekend and Studio Theatre next month.
Over the past few decades, Twist, has verifiably raised the bar for puppetry work onstage. In addition to works set to classical music scores, such as Berlioz's Symphonie Fantastique, Twist has developed puppetry work for hit Broadway shows such as The Addams Family, coming to the Kennedy Center this summer. He also helped bring to life the characters for the live version of The Pee-wee Herman Show, staged in Los Angeles and then Broadway in 2010.
Twist and Arias have been acquaintances for much of the time the San Francisco native has lived in New York, but it took them a while to figure out how to collaborate. Once Twist saw how Arias interacted with his puppets during a performance at a party, he knew he would be good to his family heirlooms: The puppets, after all, were his late grandfather's, which had been stored away unused in safekeeping.
''I normally wouldn't let them out for anybody,'' Twist says, ''but as sort of outrageous as Joey is, he's an incredible class act. I think Joey is incredibly classy.''
METRO WEEKLY: I understand the puppeteer gene runs in your family.
BASIL TWIST: Yeah, it does. I'm from San Francisco, and my mother was a puppeteer when I was growing up.
MW: And your grandfather before her?
TWIST: Yeah, my mother's father. Although more importantly, he was a big band leader. He had an orchestra or a big band in the '30s and '40s. His name was Griff Williams. But he also had puppets he included in his shows. Toward the end of the evening, he would bring out these puppets -- they were replicas of famous band leaders of the day, like Harry James and Cab Calloway -- and they'd put a little spotlight on the puppet. And he would actually stand on the piano, and he would work the puppet. And the puppet would actually lead the band.
He died before I was born, but I was very close with my grandmother, and when I was a kid – and I was already really into puppets – she gave me my grandfather's puppets. And those are the puppets that are in Arias with a Twist.
MW: Have you created your own puppet?
TWIST: It's very rare that I use puppets made by somebody else.
MW: I meant have you made one that looks like you?
TWIST: [Laughs.] No.
MW: How about Joey?
TWIST: Yes. We have a couple of them in the show.
MW: This show is technically the first time you and Joey have worked together?
TWIST: The first time that we made a show together. I mean, besides our little club things. Joey and I used to always do ''The Night of A Thousand Stevies'' at [New York party] Jackie 60. I had a little Stevie Nicks puppet and he would do his weird Stevie Nicks interpretation of a white witch.
MW: In Arias with a Twist, you're the director and the designer, but not one of the puppeteers.
TWIST: No, I kind of need to be out front, in charge. But I'm like the understudy, because I know the show. And over the course of the run from time to time I'll step in to cover their parts.
MW: What's next for you after this show and the D.C. festival?
TWIST: I have a version of The Rite of Spring that I'm working on, which will be a production with a full orchestra. That's kind of the biggest project that I'm working on. And then I have some other kind of smaller collaborations. I'm doing something with the Kronos Quartet. I'm doing a piece on the beach in La Jolla, in California, where sort of all this pageantry is going to come straight out of the water onto a beach, and then go back into the water. And then, the theater Here Arts Center where we first did Arias with a Twist is a place that I still present puppetry and help nurture other puppeteers who've worked with me to produce their own shows.'
MW: Do you have anything on tap for Broadway again?
TWIST: People are talking about stuff, but I haven't moved forward with that yet.
MW: How did you get involved with The Pee-wee Herman Show?
TWIST: Pee-wee actually knows Joey [from when] they were both members of the Groundlings. He had been contemplating a comeback. And he says that seeing Arias with a Twist really kind of turned the corner for him that he was like, "Yeah, I'm going to do this. I want to get back onstage." And so he asked me to help.'
MW: As a kid you said you were fascinated with puppets, but is it something you thought, 'I could make a career out of this'?
TWIST: As a kid, I did. And then there was a moment, as you start to grow up, you start to think, "Oh, I can't do that."
I kind of put my puppets away. I was almost like a closeted puppeteer. I mean, I had been doing it and making really wild Halloween costumes and all this stuff up until high school. And then in high school, you know, you start to really get concerned about what people think, and being cool. And puppetry at that point was not as cool as it is now. So I put all my Muppet and Miss Piggy stuff away. I tried to be cool. And then when I went to college, and it just was not working for me. There was a moment where it became clear that I wanted to pursue a career as a puppeteer. I just totally went for it and moved to New York.
MW: When did you come out?
TWIST: When I went to New York. I wanted to really be gay and come out and enjoy life in New York.
MW: But you lived in San Francisco, conceivably the gayest city in the world.
TWIST: It's different when it's your hometown. I mean, I'm sure I would have worked it out if I had stayed in San Francisco. I had plenty of stuff I had worked out in San Francisco, that's for sure. But really fully coming out was when I moved to New York.
Read Metro Weekly's interview with Joey Arias.
For more on the Twist Festival DC, including remaining performances, visit twistfestivaldc.org.
---