Kahn Bravura!
The applause began when Michael Kahn joined the Shakespeare Theatre Company. Twenty-five years later, it's louder than ever.
Ask Michael Kahn if he's happy and here's the response you'll likely get:
"Last night, I was walking around the house and I said to myself, 'Are you happy?'" muses Kahn, seated in the Patrons Lounge on an upper floor of Sidney Harman Hall, the sumptuous downtown arts complex he spearheaded, which serves as the main base for the Shakespeare Theatre Company. "And then, I said, 'Michael, stop asking yourself that question. That's not the question to ask. Are you doing the things that would make your life better? Are you allowing things to happen that do not make your life better, and if so, why are you doing that?'"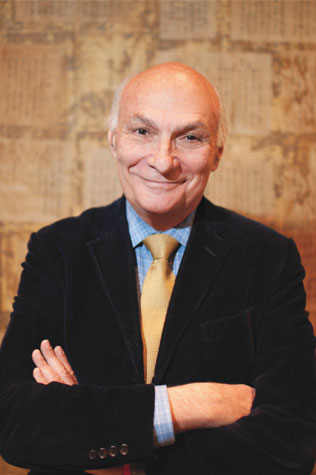 Michael Kahn
(Photo by Todd Franson)
He pauses.
"What we all should be asking ourselves is not are we happy, but are we doing the things that would make life easier, pleasanter? Are we? Or are we not? And if we're not, then of course we're unhappy. And if we are, then maybe we're happy."
He sighs. And shrugs.
"But you can't be happy all the time anyway."
His rich, evocative answer is exactly what you'd expect from Kahn, a stimulating, revealing conversationalist, who this year celebrates his 25th anniversary as artistic director of the Shakespeare Theatre Company. When Kahn first arrived in 1987 to take over the floundering Folger Theatre, it was as though Washington had been blasted by a theatrical force of nature. Kahn bolstered the local theater community in ways that still can't be completely quantified, helping to spur an organic process that allowed other theaters in this town – Studio, Woolly Mammoth, Signature, to name a few – to achieve their own remarkable growth. Even Arena Stage, long the pinnacle of America's regional theaters, was not left un-impacted by Kahn's influence.
One could easily imagine a Kahn memoir as a massive, deeply involving tome, detailing his career (for many years, in addition to his Shakespeare Theatre duties, he was head of Juilliard's drama department); his pivotal, life-changing events (his mother died when he was 13, and his partner of 24 years, Frank Donnelly, died Sept. 12, 2011, while grief counseling in New York at Ground Zero); and his loves (in his college years he harbored affection for classmate Terrence McNally, now one of the world's most renowned contemporary playwrights, of whom he remarks, "Crush is a very small word for a very large set of feelings"). And yet Kahn dismisses the very idea of a memoir with a wave of his hand. "No," he says, "I'm not going to write a book. There are other things I want to do."
So, what exactly are those other things? Kahn himself doesn't know. Currently, he's content to remain at the head of arguably the largest, most respected classical theater in the country – the scope of which he has expanded to allow for more than just Elizabethan works by Shakespeare and his cronies. In fact, Kahn has just directed a production of Eugene O'Neill's Strange Interlude, a drama rarely done, but when done right, breathless in its scope and dramatic power. [See our review.]
Yet after 25 years at the helm, does Kahn, who is in his "early, early, early seventies," actually foresee an exit?
"I must say, I'm looking to what I might be good at doing next," he confides, "which would not be the same thing as what I'm doing now. And if I knew the answer to that more clearly, I could answer your question better. But this is not going to last forever. It's getting to be time." He intimates that he'd like to do something within the realm of interviewing famous arts figures, but is perplexed as to how to make it happen. Still, he concedes, "as long as I feel I can do my job [here] well, with enthusiasm, I'm okay."
And then Kahn, with a twinkle in his eye and playful arch of the eyebrow, remarks with a laugh, "I'm sure there are young directors around waiting for me to die. But seriously, I think it will be very exciting when somebody new comes into this theater and remakes it."
Until that time, however, Washington and its Shakespeare Theatre are fortunate beyond all measure to have Michael Kahn at the helm.
METRO WEEKLY: Do you remember the very first play you ever saw?
MICHAEL KAHN: Yeah, I do, actually. It was a version of The Bluebird by Maurice Madorlink. My aunt took me to see it. It was a children's theater. I don't remember the play so much, but I remember when I got there, some grown-up handed me programs and said, ''Would you be an usher?'' And I did. I was an usher. I handed out programs. The play was wonderful – I remember there were a lot of bluebirds – but I remembered most being asked to be a part of it in a certain kind of way. Involving children in some way as not just spectators. I felt very grown-up and very much a part of this thing, which is probably why I'm a director and not an actor. Because I identified in some fashion as being part of it.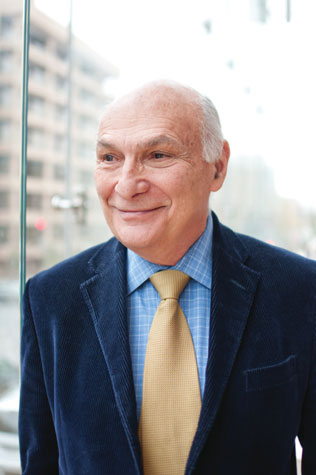 Michael Kahn
(Photo by Todd Franson)
MW: Had you not been a director, what kind of actor do you think you would have made?
KAHN: Not a very good one. I studied acting at the Performing Arts High School in New York. I wasn't a very good actor for quite a few years. They kept saying to me I should be a critic. I think they knew that I was smart, and that I was not an actor. Not that I was an intellectual, but I used my head more than anything else. So they wanted me to be a critic. Anyway, I did learn how to act and I got the Best Actor of the Year Award when I graduated.
MW: Do you think a good director needs to know how to act?
KAHN: No. I think he has to know how to help other actors act better. I don't think it hurts to having gone through the experience yourself. But you don't have to be a good actor.
There are more and more directors now who don't go through acting training, but go through art or history training, stuff like that. I think that's all wonderful, but I do believe that the actor is, in the long run, the most important instrument on the stage. No matter how important the visuals are. I think that if you don't understand the mechanism of acting, you're not bringing to the table all the tools you need.
Now I, who taught generations of actors, know that no actor works the same way as another. You cannot just impose, as far as I'm concerned, a way of acting on an actor. You really have to try and intuit where that actor is and what that actor needs and doesn't need right away, how you can help open them up. For many years, because I didn't quite understand that, my impatience and my need for it to be right sometimes would shut actors down. Or the fact that I know enough would sometimes let an actor abdicate. Because if there's a very strong director in the room, sometimes they just go, ''Okay, just show me.'' And then you're never satisfied, because, of course, what you want is them to do what you want better.
MW: Do you get frustrated when a performance doesn't get where you want it to be?
KAHN: Well, sure. I mean how could I not get frustrated? Some actor will say, ''My God, you show your frustration no matter how much you try to hide it." I keep a lot more of that to myself now, because I've had enough experiences to know either in the long run you'll get it or you'll never get it. There's a lot of negotiation between your idea of a part and the performance of the actor.
MW: You could argue that plays, as organic art forms, evolve with time. If the performance isn't there right away it could eventually get to where you want it to be during the course of the run.
KAHN: I've learned this: If you rehearse it well, it will improve. If the rehearsal has been clear, the beats are established, the motivations are established, the actors have trust in each other, the rhythms are somewhat clear, it will get better. You really have to let an actor try something that you know is wrong – get it out of their system, or learn something from it. If you haven't allowed those things to happen, they will creep in after you're gone.
MW: You spent 25 years of your career here.
KAHN: I have. Half my career.
MW: Which is pretty remarkable. I remember when you first arrived here. Who knew that you'd be here 25 years later?
KAHN: Definitely not me. Definitely not me. There's nobody more surprised of the fact that I'm here. But it's very funny, this 25th anniversary thing. I have only lately started telling stories about my life to people. I never have done that. I never told anecdotes, because somehow what's been going on at the moment is more important to me and I don't really look back a lot. So assessing 25 years? It's something I just don't do.
I was very moved at the 25th Anniversary Gala as all these people spoke about me. I remember thinking, one, nobody is as nice as they're talking about, and two, this is like your fantasy of having your memorial service while you're alive. And I said, ''This could be exactly my memorial service. I just hope everybody is 20 years older."
MW: Well, reflect for a moment here. What do you consider you best accomplishment?
KAHN: When I'm told I helped make Washington a theater town, that's the thing I feel the best about. Not so much about the achievement of the Shakespeare Theatre – which is just work for me – but what it's meant to the arts. [Studio Theatre founder] Joy Zinoman once said to me, ''You really raised the bar of theater in Washington.'' That comment still is the one I feel most proud of.
MW: You introduced celebrities to our theatrical landscape. Harry Hamlin, Patrick Stewart, Avery Brooks, Kelly McGillis, Stacey Keach, to name a few. You brought nationally famous actors to Washington who became part of the normalcy of things here. Now all the major theaters do it in some fashion or another.
KAHN: I remember one person saying, ''What are you doing with all these stars?'' I said, ''I'm bringing in actors who can do this material, and I'm not hiring people who can't. They're going to get the same salary as Floyd King, who's our own star.''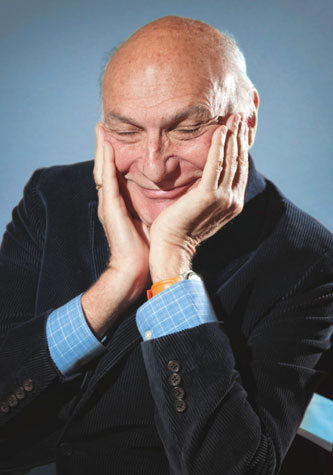 Michael Kahn
(Photo by Todd Franson)
MW: Yes, but the benefit to your theater was that audiences came to see these stars in the productions.
KAHN: Yes, more people came. Also, I got some really good acting. But I had been doing that all my life. Just like I had been using people of color all my life in all my plays. It was not a big surprise for me to make Fran Dorn a leading lady. That was not being done in Washington at the time. But it was normal to me. Ten years before it had stopped with the Black Power movement – it got too difficult. If you look at the programs you will see the differences.
I got nasty letters from people – unsigned nasty letters. And I got a lot of credit for it at the time. I got a Washington Post award, I got a DC Humanities award. But I forget that that was a big thing at the time. We never did a black play. We just did plays. It wasn't until very much later that I even had decided to have an all black cast for Oedipus because I wanted to do that very specifically about a civilization.
MW: You also turned Othello on its ear with Patrick Stewart in the title role.
KAHN: We had done an Othello before that with a black Othello, Iago and Amelia. Which was already unusual and smart because it took the race out of the play.
MW: And several times you brought a gay aesthetic to Shakespeare.
KAHN: Boys with their shirts off, if that's what you mean. [Laughs.] I never thought of it as a gay aesthetic. I just thought of the fact that I work out of who I am. Anyway, I'm never quite sure what gay aesthetic means. I understand what a camp aesthetic means, and I don't think I'm a camp director.
MW: I remember one production – and I can't recall which – with a very heavy leather/S&M feel to it.
KAHN: [Laughs.] Quite frankly, there was a lot of leather before I got here. When I was the director of the Acting Company, I did a production of The White Devil, which came to the Kennedy Center to the Terrace. It had a lot of leather in it. And a big jar of Crisco.
MW: Your company staged an all-male Romeo and Juliet a few years ago.
KAHN: I gave that to a straight man – David Muse [now the artistic director of the Studio Theatre]. [Laughs.] He wanted us to do it that way. I would have never done a same-sex Romeo and Juliet. Of all the plays where you have men pretending they were women – it doesn't particularly illuminate the play.
MW: Do you ever think about taking one of the other plays in that direction?
KAHN: Sure. I think the best ones to do are the ones in which the girl dresses as a boy. A boy actor who is playing the woman dresses back as a boy, like As You Like It and Twelfth Night. Those would be much more interesting. I can see that.
MW: One of the things you're renowned for is your uncanny ability to edit down a show, to distill its meaning, so that a contemporary audience can digest it better.
KAHN: I like doing it. With Strange Interlude, I started out doing it because I knew that you can't do six hours onstage with a dinner break. You can't do it. Even if the audience is willing to go through it, it doesn't make any sense because people go to work, and they can't get to the theater at 4 in the afternoon and stay until midnight. You can't do it.
MW: Is it painful in any respect to take an author's work and cut away?
KAHN: Well, I feel very responsible to the author. Now granted, no author is going to say, ''Sure, Michael, get rid of two and a half hours of my play.'' I know that. So I hope that Eugene O'Neill would be extremely happy of how much I have honored his intentions, and what I feel is the play. I actually think the play would be very bad if it were cut down to a streamlined thing because what's interesting about it is the complexity of the characters speaking to each other, and then speaking their thoughts. It's that texture that makes this play so special.
You could cut the play and get rid of the thoughts, but you'd then have a straight melodrama – and why would you want that?
MW: Strange Interlude isn't staged very often. How important is it to the O'Neill canon?
KAHN: Well, to the O'Neill canon I think it is major, because it's one of O'Neill's great experimental forays into what the theater could do. So influenced by Joyce, influenced by Freud. He wrote it uncompromisingly. He wanted to do a complete story of a woman. What I think he did – and I think consciously now that I've worked on it – is that in telling the story of a woman, he is telling the story of America. Although it doesn't seem to be about America in the way a play that is about America is about America. One of the inalienable rights of Americans is the pursuit of happiness. And the pursuit of happiness is what this play is about. Every character in this play is pursuing happiness and the American dream. It's love, family, sex, fame, wealth. It's all there. And work, work, work, and then fame. All the things that you think will make you happy is what this play is about. Telling it in the story of a woman and three men. And it's very daring. There's an abortion, there's a ménage à trois, there's all of these things. It was banned in Boston at the time. It must have been very shocking.
But it got to New York and won the Pulitzer Prize and made O'Neill rich. It ran for over 400 performances, which was unheard of then.
MW: Why did you choose to do it?
KAHN: I've always been fascinated by this play – by the form, by the story, by the challenge. Although I'd thought about doing this play for a long time, I just never had the opportunity and I made the opportunity this year. I said, ''Okay, the 25th anniversary and we've raised a little extra money.'' I didn't need money for sets and costumes or actors. I needed money for more rehearsal time and I got it.
MW: Are you nervous about the reception of something so experimental?
KAHN: Well, I don't know if it seems experimental anymore. But this theater should not be here unless it's willing to challenge itself. And just because it has a new theater and larger expenses and more things it has to worry about, it's still got to be who it is, you know?
MW: Do you program a season with that in mind? Do you balance the risks with the hits?
KAHN: If I knew which ones the hits were, I should be in New York making a lot of money.
MW: Oh, c'mon, we know which ones are the hits....
KAHN: No, we don't. It was a hit maybe in Shakespeare's time, but now that everybody's doing it, it's not the same. I took over a Shakespeare theater ­– the Folger – that was about to close, so Shakespeare was not a hit then. Eventually Shakespeare became successful again, and then a lot of people were doing Shakespeare – and now people are doing Shakespeare without words. And a lot of people are going to that thinking they're seeing Shakespeare.
MW: What do you think of the trend to take something like Shakespeare and turn it into a dance experience?
KAHN: Well, it's a dance experience.
MW: But is it theater?
KAHN: It's dance theater. Shakespeare without Shakespeare's words are Shakespeare's stories. And that's fine. There's nothing wrong with that. But to say that Synetic is doing Shakespeare is ridiculous. To say that Synetic is doing some wonderful theatrical things around a Shakespeare theme, that's absolutely true. And when they do it well, it's really wonderful. But it's not Shakespeare.
But we support them. We let Synetic have a home at the Lansburgh. We help them out.
MW: It's an alternative, isn't it? If you're familiar with Hamlet, for instance, it's another way of looking at Hamlet.
KAHN: Totally. Absolutely.
MW: But, you're right, Shakespeare is about the language in the purest form. When, as a director, you're dealing with Shakespeare's verse, and you drill down to each specific word and also have to evoke an emotional response from the actor – well, I'd think that's a pretty tricky thing to do.
KAHN: That's why I think acting Shakespeare is the hardest thing there is. You have to use pretty much everything you've got – your intelligence and your emotions and your physicality and your imagination and your technique. You have to have a voice that expresses different things. You have to have a body that goes along with what you're feeling. You have to be able to transform. You're within a musical form and you can't think of it as music, you have to think about it as words coming from feelings. It's the Olympics of acting really, acting Shakespeare. And it changes every 10 years. You can't speak Shakespeare today the way John Gielgud did.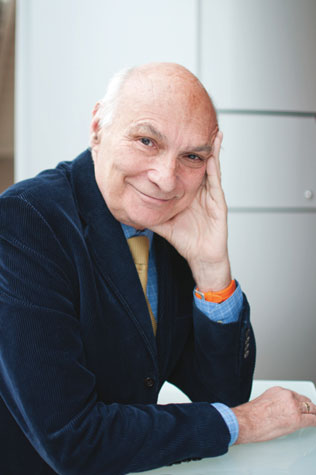 Michael Kahn
(Photo by Todd Franson)
MW: Shakespeare also seems so open to infinite interpretation.
KAHN: And thank God. As I've said before, Shakespeare will survive all of this. He will survive us, whatever we do to him. He will continue.
MW: If you could have a day with Shakespeare, what would you hope for?
KAHN: Well, I would first of all hope that he didn't scream at me for the things I've done with his plays. [Laughs.]
Secondly, I would ask him to write on a piece of paper that he wrote the goddamn plays and sign it. Then we could have our conversation – I'm very curious about how anybody knew as much as he did about what we now call psychology before there was psychology. How did he know it and how did he learn it? What opened his eyes to all of this unbelievable understanding of human motivation and feeling that he has and then he put it into poetry, which is hard. I just wonder, was he born with that? Was it from experiences in his life? Aside from the fact that I think he changed styles a great many times as a genius does, how did he know almost from the very beginning how so many different kinds of people felt? I don't know how he did that. I guess you're born with that, up here somewhere, genetically, but there's nothing in his family that says that.
MW: Where do you fall on the ongoing controversy that he didn't actually author his plays?
KAHN: Well, there's always been a question forever and ever and ever and ever, partly because there is so little history about Shakespeare. Although I don't know why everybody is not questioning Jesus, too.
I think it was a classist thing to start with – and this is just my version of it – but how could an aristocracy believe that a middle class guy from a small town be a genius? But he studied Greek and Latin, he read Ovid, he read all those things. Picasso was a genius and he came from humble origins. You tell me somebody who could be the most successful writer of plays in their time under another name who wouldn't tell somebody. [Whispers.] Somebody.
There's no proof. He said, ''Don't disturb my bones,'' so maybe there's something down there that isn't there.
MW: I guess it it doesn't matter in the long run.
KAHN: It matters nothing. It matters not at all. If it's not Shakespeare, whoever wrote it's a genius. It definitely is not Christopher Marlowe, because they'd be gayer if Christopher Marlowe wrote it.
MW: If you could resurrect one past production for Shakespeare to see, which one would it be?
KAHN: Well, I could shock him with Love's Labors and see if he actually understood why I did it in that sort of rock and roll Indian production. I actually changed almost no lines at all. Everybody thought I had done so much rewriting, and I had done maybe three words, period.
I could think of more plays I don't want him see that I did. [Laughs.] I mean, I'm quite proud of a bunch of productions I did, but I'm not sure I'd want Shakespeare to have a long conversation after the production. I'd rather have had the conversation in the middle of rehearsal. I might have asked him to rewrite some things, too, by the way.
MW: You would have demanded rewrites of Shakespeare?
KAHN: Well, of course. I would say ''What the hell is that?'' I would certainly say, "All right, on Richard II, you wrote a play in which you think that everybody knows the back story. And during the first three scenes of your Richard II, nobody knows what's going on. I would like it if you would possibly write those scenes so we would know what the hell you're talking about. They don't make any sense in the theater unless you know the history because you don't know who's lying to whom.
MW: Where would you take Shakespeare out around here? Assuming that he came back today, of course.
KAHN: Well, if he's really gay I would take him to Cobalt.
MW: Shakespeare in Cobalt.
KAHN: Yeah, Shakespeare in Cobalt. What the hell.
Strange Interlude runs through April 29 in Shakespeare Theatre Company's Sidney Harman Hall, 610 F St. NW. Call 202-547-1122 or visit shakespearetheatre.org.
---