DC Cowboys Countdown
The popular gay dance troupe readies to ride off into the sunset
Stepping Up
Just ahead of the 2004 Atlantic Stampede gay rodeo, Kevin Platte was reflecting on the 10-year anniversary of the DC Cowboys dance company. After all, it was at that rodeo in 1994 where Platte and his crew got their start, and where he was preparing to return to mark that decade milestone.
''We stepped onto the small auxiliary stage where they put people they're unsure of,'' Platte recalled with a bit of self-deprecating humor. Then again, in 1994, the DC Cowboys were a long way from proving themselves. When it came to performing in public, they were just about as green as can be. ''No one fell down, no hats got knocked off. We were nervous, but I don't remember any major mistakes.''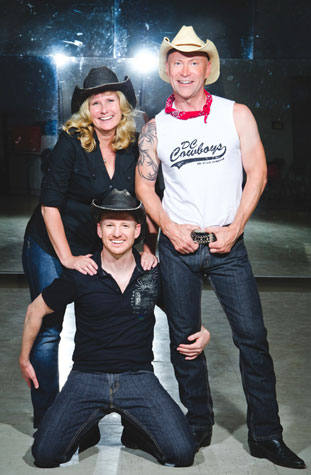 DC Cowboys
(Photo by Julian Vankim)
Today, Platte still remembers the reaction of the audiences to the troupe's two debut performances during that 1994 rodeo weekend. There was no mistaking that his notion of getting some of his Remingtons buddies together to put on a couple country-western-inspired, musical-theater dance numbers was a pretty good idea after all.
''It was so well received that we were just blown away,'' Platte remembers. ''We couldn't believe it. We thought, 'Okay, what do we do now?' A few of us said, 'Why don't we continue?'' and six said, 'Oh, no, we just wanted to do it that weekend.' That left us with six. We had to basically define who we were, what we stood for, where we needed to entertain, how we could actually convince people to let us perform at their location. From there, the organization slowly developed, created an identity and we found our niche.''
That niche has been as an all-volunteer, sexy, friendly and talented troupe of dancers that for 18 years has created a blend of country-western and musical theater for dance performances, for fundraising calendars, and for presenting a fun and entertaining high-profile face of the gay community. After the rodeo, the next big step toward carving out that niche was performing at the Capital Pride Festival. It was 1995 and the festival was being celebrated at its current home along Pennsylvania Avenue for the first time. Thanks to that performance – as well as the enthusiasm of a magazine publisher – Washington truly got to know the troupe.
''That's when we convinced the Pride folks to include us on the main stage,'' Platte says. ''And that's where Randy Shulman discovered us.''
At roughly the same time, Shulman had launched Metro Weekly. Essentially, he and the Cowboys were charting new territory together.
''Randy Shulman discovered us, put us on the front cover,'' remembers Platte. ''That helped propel us. There were many, many steps, but that was a big step within the community. It's all about validation, and he helped validate who we are. He was wonderful. He was like, 'Who are you guys?' Metro Weekly – MW back then – they discovered us.''
In that the Capital Pride main stage plays such a prominent role in DC Cowboys lore – particularly in that the Atlantic States Gay Rodeo Association (ASGRA) held its last Atlantic Stampede rodeo in 2008, and hasn't announced any plans to bring it back – it's fitting that the Cowboys have chosen Capital Pride for the local farewell performance.
Stepping Out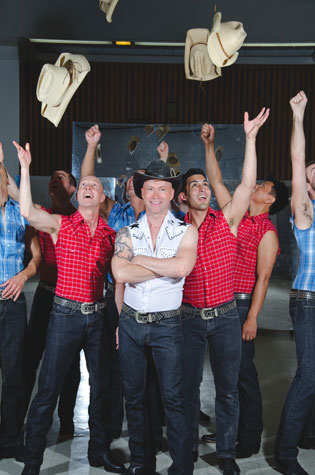 DC Cowboys
(Photo by Julian Vankim)
Over the years, Platte reckons, about 60 to 70 men have made up the ranks of the DC Cowboys. Some might stay a couple years, some a decade. It's generally been a good mix of veterans and newcomers.
Chad Townsend remembers when he was in that newcomer camp, joining the Cowboys on a sort of trial basis. He'd seen the Cowboys strut their stuff at Atlantic Stampede and he wanted in. With some musical-theater background and a taste for Remingtons, is it any wonder? With a friend, Townsend got up the nerve to audition in late 2001.
''I was definitely nervous,'' he says of throwing his hat into the ring. When the dust cleared, he was relieved to have made the cut – conditionally. Townsend admits to being a little chagrined that his friend was welcomed aboard without reservation, while he was allowed in on a trial basis. ''I was the one with the musical-theater background!''
Townsend jokes that the conditional acceptance may have spurred him to work as hard as he could to impress the group in those first weeks, till he, too, became a full-fledged Cowboy. While his friend moved on after a couple years, Townsend stuck around and today volunteers as the Cowboys' communications director. He also admits to ribbing Platte every now and again for that conditional acceptance at the start.
It's not that Townsend was lucky to get in. He's shown himself to be a strong contributor to the troupe, both in performance and dedication – beyond communications, he's donated his skill as a graphic designer to the DC Cowboys calendars. But when he considers how the experience of being a Cowboy has enriched his life, Townsend may consider himself lucky in the larger scheme of things. ''I keep saying to myself that I never thought I'd become a gay, traveling, dancing cowboy,'' he says, a bit of wonder in his voice. ''Each year just seemed bigger and crazier. The [2006] Gay Games [closing ceremony] put us on the national scene. Being on Wrigley Field, having 20,000 people screaming for you is just amazing. I loved the entire America's Got Talent experience, every minute of it.''
The Gay Games in Chicago and competing on the reality show America's Got Talent – through three rounds – in 2008 were just a couple of highlights. Barbara Kurzeja, the Cowboys volunteer stage manager, points to an RSVP gay cruise and Europe in her own catalog of special Cowboys experiences.
''I was one of only 16 girls on the cruise,'' she's quick to point out, though seemingly with a bit of pride rather than any sort of annoyance. ''I've been to Ireland, to Budapest. I'm just one of the guys. I was the little sister at the very beginning. Now I'm like the big sister. We're all family.''
Kurzeja may be family now, but fate had to do a little twisting to get her there. Had it not been for that male roommate coming out and dragging her to Capital Pride in 2006, it's unlikely she and the Cowboys ever would've crossed paths. But they did.
''I thought all of them were very good-looking,'' she says, explaining that her first impression eventually led her to the DC Cowboys website, where – with some experience in entertainment PR – she let the group know that she'd be happy to lend a hand if ever they needed one. Turns out they did.
Today, she makes sure the rehearsals are stocked with water, peanuts and mirrors. Kurzeja is the de facto nurse if anyone gets injured, she monitors the music and breaks out her limited sewing skills to reattach a button now and then. As she says, she's family – even if that means she has to remind her ''brothers'' that there's such a thing as being too comfortable around her.
''I've seen it all,'' she says, explaining she sometimes has to share rooms with some of the guys on the road. ''They're not shy. I can't tell you how many times they'll come out of the shower and I'll have to say, 'Will you please put on a towel?'''
Stepping Down
Sometimes it's a matter of putting on a towel. Now it's time to throw one in, as the saying goes. After entertaining crowds near and far, LGBT and straight, raising thousands of dollars for a variety of HIV/AIDS-related organizations, it's come time to wind down. There's still the return to the Sziget Festival in Budapest, Hungary, where the DC Cowboys have been a crowd favorite, and a few other gigs, but the June 10 Capital Pride Festival is essentially the local good-bye.
Townsend, who already planned to move on before the final decision was made, says this might be the show where his emotions finally get the better of him.
''I've been in denial a bit about it coming to an end. I've gotten emotional at performances, but I haven't broken down yet. I say 'yet,' because I think Pride's going to be emotional,'' he says, promising that however emotional things get, the DC Cowboys will deliver. ''We always take the Pride performances very seriously. We want it as clean and as polished as possible.''
While Kurzeja won't be performing, she'll still be on that main stage in spirit, backing her boys as they do what they do best.
''Every time they go out onstage, with the applause, there's the proud feeling you get seeing them get the recognition they deserve,'' she says, adding the that Cowboys' medical kit has had to include tissues lately to catch Kurzeja's tears as she gets choked up over the end of the Cowboys. ''They have broken down a lot of barriers. They've been able to show people that they may be gay, but they're just regular guys. It's just a great group of guys who represent the community in the best way possible.
''I'll be very surprised if there aren't tears from some of the guys Sunday. Kevin is very strong, but we have some sensitive ones.''
Strong as Platte may be, he's the one with the greatest emotional stake, particularly in that he's been named a Capital Pride Hero this year. Ultimately, it was his decision to wind down this adventure. It's all part of the showmanship.
''We're ready to move on to other exciting opportunities individually,'' says Platte. ''I've always been involved with the gay community. I'm sure I'll find another opportunity, whether sitting on a board, whether Whitman-Walker Health – my dream would be the board of The Washington Ballet – or with a dance company that needs some infusion of energy and different perspective. But it's time for us to go out on top and leave the audience wanting more.''
More importantly, however, Platte wants to emphasize that during this final season, as he and the rest of the DC Cowboys – past and present – take stock in what their troupe has accomplished, the real message is one of gratitude.
''The real story of our farewell season is not for us. It's for our fans,'' says Platte. ''Without our fans over these 18 years, we're no one. We're just dancing in the living room. We're just dancing in a bar, by ourselves or with our friends. Our farewell tour is dedicated to our fans and supporters that made us who we are. This is us giving back, saying, 'Thank you.' Truly, truly, thank you. As we're all ready to go on to different chapters and venues of our lives, we're giving thanks back to the people who have made us who we are.''
The DC Cowboys are currently scheduled to appear on the Capital Pride Main Stage Sunday, June 10, at 5 p.m. '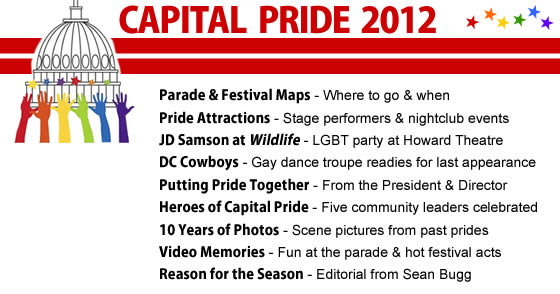 ---