The World in Washington
National Geographic Museum puts it all in reach
There is a sort of magical portal at the corner of M and 17th Streets NW. Step away from the street traffic and the noise, and the National Geographic Society welcomes you into exhibits designed to spark a greater interest in Earth, from our planet's animals and ancient cultures, to technology and tropical rain forests. There's nothing, really, that escapes Nat Geo's curiosity. And the National Geographic Museum, part of the society's D.C. headquarters campus, takes the windows into that curiosity – National Geographic magazine and its sister publications, sites and shows – and turns them into a door visitors walk through. Step onto the campus and into the world of National Geographic. You can almost hear the signature notes of Elmer Bernstein's bah-bah-bah-BAH-bum National Geographic theme song.
''It's certainly an interesting place to work,'' says Rich McWalters, director of museum operations. The 24-year veteran adds that it's been an interesting place since long before he arrived on the scene.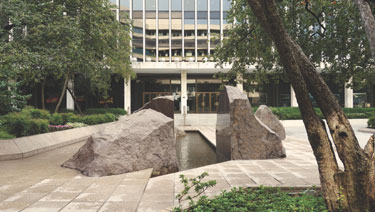 National Geographic Museum
(Photo by Todd Franson)
''The museum has been in operation since well back in the early 1930s,'' he explains. ''At that point, in the lobby, there was a small exhibition space. One of the earliest things was the lecture program that goes back to that time.''
As the years went by, the National Geographic Society's headquarters grew from its initial building into a small campus, with landscaping alone that's inviting enough to pull passersby in from the sidewalk. Meanwhile, window exhibits hug the museum.
''At one point, it was relief maps and artifacts,'' McWalters says of the display windows. ''We decided to change that into a photo gallery. We're known for our photography.''
Walk by the buildings now and take a peek at ''Wicked Weather," a collection of photographs of floods, fires and other climatic calamities, rendered eerily beautiful at the hands of talented, globetrotting photographers. The exhibit closes Oct. 23.
You'll have to move a bit more quickly if you want to catch the museum's primary exhibition, ''Titanic: 100 Year Obsession,'' running through Sept. 9. Occupying one of the museum's two main halls in its 17th Street building, the exhibit presents newspaper articles of the construction and sinking, impressive props from James Cameron's Titanic, a beautiful scale model of the ship, short films, and interactive displays with iPads and Kinect technology. With Kinect, the museum designed a watery view on the floor of one corner of the gallery. The glowing rectangle offers a glimpse of what the ship looks like on the bottom of the Atlantic Ocean, step closer – step onto the rectangle, actually – and the deep blue sea parts to show portions of the famed vessel in pristine condition.
''We always like to go down after an exhibit opens and see how visitors are interacting – particularly kids, who are much more courageous,'' McWalters observes.
The Titanic exhibit will soon be joined by ''1001 Inventions: Discover the Golden Age of Muslim Civilization,'' occupying the second of the 17th Street building's two large galleries. ''Named 'Best Touring Exhibition of the Year' at the Museums and Heritage Excellence Awards, '1001 Inventions' uncovers a thousand years of advances in science and technology that have had a huge but hidden impact on the modern world,'' National Geographic promises.
''That's a 6,000-square-foot traveling exhibition,'' McWalters explains. ''This was just in L.A. and Istanbul. We're really interested in this one.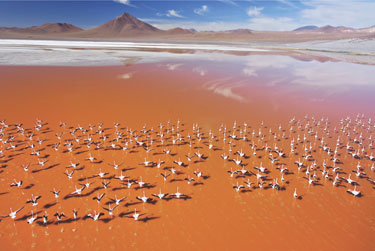 Steinmetz
''Sometimes we'll design, build and create in-house, but we have limited staff. We fill out our exhibition schedule with exhibits from other museums as well. This fall we're opening 'Birds of Paradise.' That's something we have basically curated and designed ourselves. It will open here, then go on the road.''
Opening Nov. 1, ''Birds of Paradise: Amazing Avian Evolution,'' will be an exhaustive exhibit featuring photographs of all 39 species of birds of paradise, the result of 18 expeditions in eight years made to New Guinea and parts of Australia by ornithologist Edwin Scholes and photographer Tim Laman.
While admission into the museum is $8 – or less with various discounted rates – entry into the M Street Exhibit Gallery is free. Don't let that fool you into thinking it's any less engaging than the main museum. In the gallery now, at least until Aug. 5, is ''Beyond the Story: National Geographic Unpublished 2011.'' Get a little fright from Joel Sartore's unpublished photograph of Egyptian fruit bats in Uganda, particularly when you read of his possible exposure during that photo safari to the extremely dangerous Marburg virus. Michael Nichols's photograph of an orphaned elephant with his Kenyan caretakers sets a happier tone.
Not long after ''Beyond the Story'' closes, visitors may enjoy a new photo exhibit, ''Desert Air: Photographs by George Steinmetz.'' To capture these images – over the course of 15 years – Steinmetz, ''one of National Geographic's top expedition photographers,'' learned to fly a motorized paraglider. He may not have risked exposure to tropical viruses, but he certainly risked a sandy crash landing to deliver stunning images of these remote landscapes.
That M Street Exhibit Gallery, even when empty, has its own allure. First, there's the ceiling. Look straight up and you'll see stars.
''It's reflective of January 1888, the night sky above D.C.'' McWalters explains of those points of light floating two stories above and their significance. It was January 1888 when the National Geographic Society was formed.
The second draw to that M Street space is the traffic. While museums generally offer spaces for visitors and the ''backstage'' areas for staff, any number of National Geographic staffers and associates pass through this gallery.
''We think that's a big benefit,'' McWalters says. ''You might see Jane Goodall walk down the hall. James Cameron was here back in June. Just to watch people's faces light up…. It really means a lot to the visitors when they can get that kind of contact.''
For members of the National Geographic Society, there's a third draw: the NG Dining Hall. ''It's a very good cafeteria,'' McWalters promises. For the nonmembers, there's always the Terra Firma Coffee Shop, though it's closed on weekends.
But what McWalters would really like people to know about is not the cafeteria. He wants everyone to know about the ever-changing nature of the museum, as kinetic as the world it showcases.
''Presently, there are no permanent galleries,'' he says. ''We have temporary exhibitions and we're changing them out all the time. Generally, it's a three-month cycle. There's always something new here.
''Our mission is to inspire people to care about the world. We have the whole world as a resource. It's quite a broad palette of content.''
The National Geographic Museum, 1145 17th St. NW, is open 10 a.m. to 6 p.m. daily. Admission is $8; or $6 for members of the National Geographic Society, seniors, students and military. Youth admission, ages 5 to 12, is $4. For more information, call 202-857-7700 or visit nationalgeographic.com.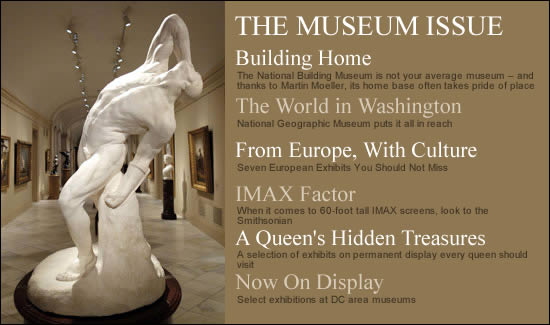 ---