Zero Feet Away
From coming out online to meeting all the party people, Scruff's Johnny Skandros has brought new meaning to the term ''Woof''
(Page 2 of 3)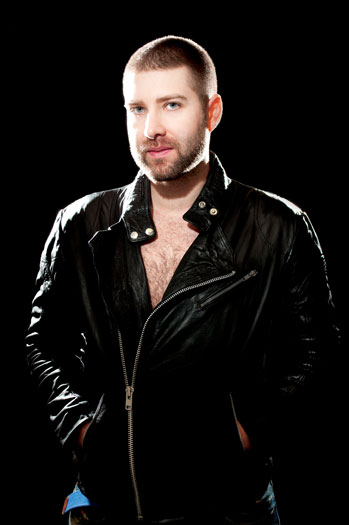 Johnny Skandros
(Photo by Todd Franson)
MW: How close it that to the reality?
SKANDROS: Okay, well, so it's partly the truth. Here's the thing with me: I want to be an open book. I run my Facebook page and I post everything. I post pictures of me out partying. I post pictures of me out drunk with people, doing silly things, wearing crazy outfits, going to movie premieres, going to Scruff parties, going to Bear Week.
The last thing I want to be is some boring guy in a suit and tie. Not that there's anything wrong with suits and ties. I've had to wear many of them before. But that's not who I want to be right now. I'm out there at bear events, gay events, meeting people, getting drunk, having fun, being silly. That's how I want people to see me. Part of running a gay social network is finding time to go out there and have fun. That's what I feature mostly on my Facebook page, so that's what people see. But it isn't 100 percent of what I do.
MW: People probably wouldn't be interested in pictures of you scanning Excel spreadsheets.
SKANDROS: Right? [Laughs.] But there is a lot of that. I go to our office and I update the books. We have all kinds of not-fun things we have to do in running a business. That is a lot of it. During the week, we go to our office here in New York. The partying and going out is definitely not all the time. But it does look like that.
MW: Being the face of Scruff, I guess that's building your brand, looking like you're having fun. Maybe it really is fun.
SKANDROS: It is. Honestly, it can be really draining. Four days, nonstop, going out, socializing – and you're drinking – then going again. It does get exhausting. But, look, I've got no complaints. I've got an amazing job and I feel so lucky to have that. I put the effort in to go out.
MW: Are you from New York originally?
SKANDROS: No. I was born in Las Vegas, Nev. Born and raised. Single-family household, with my mom. She raised me.
MW: Did you grow up with siblings, or was this just kind of you and your mom against the world?
SKANDROS: Pretty much me and my mom against the world. I do have half-siblings, some who I know, but I wasn't raised with them.
MW: What kind of kid were you? Geeky? Hot shit?
SKANDROS: In high school? I was totally the geeky kid. Honor student. Definitely, homework came first. I graduated high school with a 4.4 GPA. When I hit my junior year, though, I kind of started to open up. I came out to some of my friends with I was 15. When I did, it actually helped me and I started making more friends, surprisingly.
MW: Did you go to the sort of school that had a Gay-Straight Alliance, or was coming out pretty scary?
SKANDROS: I was severely bullied throughout junior high and up to ninth grade. I didn't really have any friends through junior high and probably ninth grade. But it was these girls who had just moved from New York to Las Vegas who really took me under their wing. Being from New York, these girls were very social, very open, very popular right away. And they just kind of took to me.
MW: When you were bullied, were kids calling you ''fag,'' or was it just because you were geeky?
SKANDROS: Both. It was pretty bad, for sure. All the names you could think of.
MW: Did you have any adults who could help, or did you just sort of have to suck it up?
SKANDROS: I had to deal with it myself. What helped me come out was AOL. I was able to go on America Online, go into these chat rooms, and just talk to people. And that really just helped me understand who I was and be comfortable with who I was, just by talking to other gay men. That helped me come out to my friends. I just kind of opened up after that, after I came out.
MW: Did that push you toward technology? Did you know what career you wanted?
SKANDROS: In high school, I knew I wanted to study business. I wanted to have my own company one day, but I didn't know what that would be.
I started at [the University of Southern California] and I didn't know what I wanted to do. I started taking some film classes. I knew that USC film school was one of the top in the country and I really fell in love with it, the whole medium. I took a class on gay and lesbian film. That inspired me to move forward with studying film, because I saw things in that class about gay lives, gay people, that I'd just never seen before. I was like, ''Oh, my God, this is awesome. This is what I want to do. I want to reach people – gay people, specifically.'' I took more film classes and applied and got in the film school.
After USC, I worked in Santa Monica for a year as an assistant film editor. Then I moved to New York and kind of stayed in the editing world and worked my way up. I worked as a film editor in New York, worked my up in advertising. I was eventually able to work on some Super Bowl spots. I found a pretty steady job at an advertising agency called Digitas. I worked as a senior editor for that agency for a few years.
MW: You were pretty comfortable?
SKANDROS: Yeah, it was a comfortable Park Avenue job. I was editing pretty cool content.
MW: Not sharing a Brooklyn studio apartment with five people?
SKANDROS: No, no, no. But I definitely went through the editing ranks in New York. This was a nice, comfy editing job. I was also working on Scruff while I was there.
MW: Why? What niche were you trying to fill? What did you need to offer?
SKANDROS: It was a community I knew existed. It was a community I saw emerging here in New York. I didn't realize how global it was. I just kind of felt the name ''Scruff'' would appeal to a lot of different guys and kind of help build this community that I envisioned. And it did.
I think Scruff is a great name. We've built an amazing brand and a lot of guys identify with it. The name really helped it take off. It could get really big, it could fail – I just had a gut feeling about it.
Eric Silverberg is my business partner. He writes all the code and manages the servers. We started this together. He's behind the scenes, though. The name, the idea around Scruff, was something I pitched to him and he was all for it.
We met many, many years ago – probably eight years ago – through mutual friends, and stayed in touch. We hit is off as friends. I really admired and respected him. He was at Google at the time. A really smart guy. He had moved to New York after business schools. He was here, I was here….
MW: And you said, ''I've got this idea, can you write up some code?''
SKANDROS: No. He wanted to do some sort of app, but he didn't know what. He started dabbling with code. That evolved into Scruff.
---