Bunny Business
A hop along the Lady Bunny trail includes RuPaul, Wigstock, YouTube, even an award-winning stint in porn
''I have no idea what hatefulness is in store,'' Lady Bunny says. ''But all I have to do is slap my thigh and laugh and get paid. I guess I have the last laugh!''
Chances are, there were plenty of laughs, little hate and lots of love at last week's celebrity roast of the Bunny at New York's XL Nightclub. The occasion for the roast was the 50th birthday of Lady Bunny, or, rather, the man behind the uproarious drag queen, Jon Ingle. Joan Rivers videotaped her own greeting for the event, where everyone from gay gossip columnist Michael Musto to fellow drag queen Sherry Vine toasted the New York drag legend.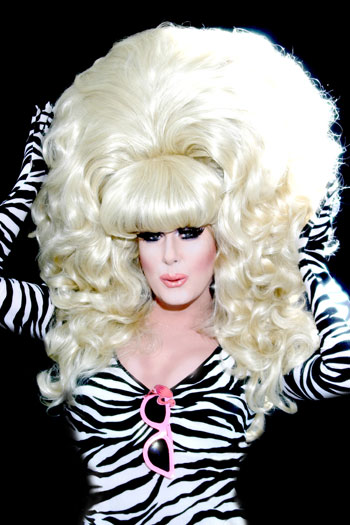 Lady Bunny
(Photo by Aaron Cobbett)
In a phone conversation from her New York home on the day of the roast – and a day after turning 50 – Lady Bunny confirmed that the roast would be filmed. ''I don't know what we'll do with the footage,'' she says. ''I guess when I become a serial killer, they can use this for the documentary.''
Until then, Lady Bunny will continue serially killing it, so to speak, in performances around the world, including two performances this Saturday, Aug. 25, at Town Danceboutique. In a career that spans more than 30 years and started in her native Chattanooga, Tenn., Lady Bunny has helped push past people's expectations of drag queens. She founded New York's former, celebrated annual drag and music event Wigstock, and later helped pioneer the use of the Internet, and especially YouTube, as a venue for creating raunchy song parodies of current pop hits.
These days, Bunny has gained additional attention as the ''Dean of Drag'' on RuPaul's Drag U, Logo's spinoff of the popular RuPaul's Drag Race. She's now constantly touring on weekends, with recent stops in San Francisco, Vancouver and Brazil, and upcoming shows in Las Vegas, San Antonio, even Hong Kong. Says Bunny, ''I keep it moving.''
She also keeps it cracking. In years of conducting interviews, even with other quick-witted, self-deprecating drag queens and professional comedians, this reporter can't remember laughing as much or as hard as while talking to the funny Bunny. Even on occasions when she may stray too far and become too crass, one never loses interest – or even stops laughing – because her intentions are good, and she doesn't take herself too seriously.
Speaking of straying too far, Lady Bunny has been temporarily banned from Facebook. ''I guess I'm just too controversial for my own good,'' she retorts. ''You'd think I'd mellow out in my old age.'' But while that ban is in place, she directs people to check her out on her website, LadyBunny.net, or on Twitter. ''I do finally Tweet. I don't quite understand why,'' she laughs.
She's asked for the significance of the number 77 in her Twitter handle @LadyBunny77. ''[It's] my waistline. No, my real age. No, I don't know,'' she riffs. ''Everything else was already taken. There are imposters!''
When it comes right down to it, there's only one Lady Bunny.
METRO WEEKLY: Tell me about your popular weekly drag show in New York.
LADY BUNNY: It's called ''Hot Mess,'' and it's every Wednesday. It's something that I've wanted to do in New York for ages because there's never really been a weekly drag revue like they have in other parts of the country, including D.C. I mean, there are two drag restaurants here. A lot of times people who come into New York will ask me, ''Where would you go to see a drag show?'' And if they don't want to eat, the only thing I can really tell them is to go to one of the smaller bars, where you basically wait until 1 a.m. to see one queen do two or three songs.
''Hot Mess'' is a full-scale cabaret drag revue, with seating and some matching costumes, and different kinds of performances from a really hilarious emcee, Bianca del Rio, to some impersonation, to some really great dancing. It's just a good mix. I grew up watching shows like that down South. XL is the new club in town, and it is actually a great big gay popular dance club. But we do our show around 9 p.m. We're actually the longest-running show there. I think we started in February. So we must be doing something right.
MW: Last spring you appeared with Joey Arias for the Speak Easy cabaret at L'Enfant Café, and, of course, years ago you performed at Velvet Nation. What are you expecting from your return visit to D.C.?
LADY BUNNY: Well, for some reason D.C. has the most gorgeous men. I don't know why that is. I'm looking forward to seeing them. And good food, too. So I'm looking forward to coming back.
MW: Can you give us a hint of what you have in store for us at Town this Saturday?
LADY BUNNY: Well, there's a new Scissor Sisters [parody]. There's lots of new celebrity gossip. There's some Rihanna. A little bit of everything. But my show is pretty fast-paced. I don't do a whole song -- I chop everything together in a medley. There's my ode to uncut men, ''Like A Cheese Stick,'' [a cover of Far East Movement's] ''Like A G6,'' a horrible, horrible song, or non-song, as the case may be. Just a bunch of different bits and pieces. I think a reason my act works well in a nightclub is that it's kind of geared toward those with ADD. I don't ask them to think too hard. It's basically just good old-fashioned smut. And I keep it moving. No political diatribes. Nothing that makes you think too hard.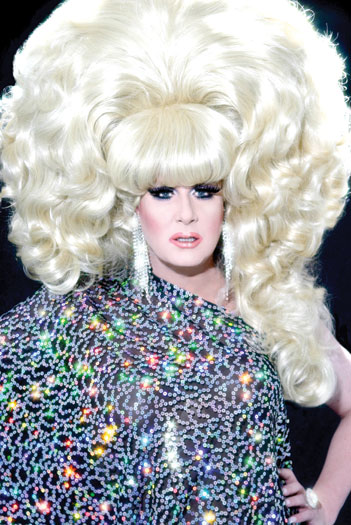 Lady Bunny
(Photo by Aaron Cobbett)
MW: When did you get started doing song parodies?
LADY BUNNY: It was when that group consisting of Amber, Ultra Naté and Jocelyn Enriquez – Stars on 54 -- did that cover for the Studio 54 movie of ''If You Could Read My Mind.'' I just was singing the song in Florida, and I was just goofing around – probably drunk. And changed one of the choruses to, ''If you could read my behind, love, what a tale this old tail would tell. Just like a stretched-out pussy, the kind your momma sells.'' It just kind of took off from there. I've done quite a few of them.
MW: Do you still perform that one?
LADY BUNNY: That one? I would perform for an older crowd. Because that was a hit in the '70s, and then it was a hit again in the '90s. So that one, I don't do as much anymore.
MW: Those were pre-YouTube days.
LADY BUNNY: Yeah. Now there's a lot more Ke$ha and Cee-Lo and Britney, and all that kind of stuff that people know.
MW: I assume the Internet, and especially YouTube, has been a boon to this kind of work of yours?
LADY BUNNY: Exactly. My parodies are normally quite dirty. No network is going to air them. And so it enables you to get past the gatekeepers who program network TV.
I will say that my parody of Katy Perry's ''Firework'' was banned from YouTube. So that's on my actual website, ladybunny.net.
MW: Why was it banned?
LADY BUNNY: I don't know! It wasn't a real dick! I was sucking a dildo! And that was lotion and not semen. But YouTube can be a little prudish.
I'm actually banned from Facebook at the moment. I guess I'm just too controversial for my own good. You'd think I'd mellow out in my old age. I'm still a twisted asshole. [Laughs.] Which is precisely why I connect with D.C. audiences so well. Because they're just as crazy! Just as sick and raunchy as I am.
MW: What happened on Facebook?
LADY BUNNY: I posted a picture of a rather well-endowed [Olympic] athlete. He had a bulge, but this was from the news! It's not porn! I mean, you could see the outline of his penis, but it was not porn. I don't get it, I don't get it. I spend too much time on Facebook anyway, so… I'm [just] glad that Twitter doesn't censor you as much.
MW: Is it a temporary ban?
LADY BUNNY: It's 30 days. They send you a notification saying here is the offending photograph. So I know that it was that photograph. The guy was well-endowed – maybe the Facebook screener felt a little insecure. I don't know. The guy was fully clothed. Most gay party invites show more skin and bulge than this.
MW: I understand you also DJ occasionally.
LADY BUNNY: I'm not really a main floor DJ. I'm more of – I'll be the DJ in the auxiliary room where you would play anything from less-circuit/pots and pans kind of music to older hits. I'm not really like a circuit party main floor DJ.
MW: You don't mix like that either.
LADY BUNNY: No, and I don't really like that kind of music. [Laughs.] They call it ''progressive.'' I think sometimes it's progressed beyond music.
MW: I want to back up a bit and talk about how you got into drag in the first place. I understand it started in your hometown of Chattanooga, Tenn.
LADY BUNNY: I snuck into gay bars very early. And I was just immediately drawn to the female impersonators. My mom, bless her heart, love her to death, but she's no glamourpuss. And so this was the first time I had ever seen sequined gowns and giant hair and false eyelashes, other than on TV or movies. And so I was immediately drawn to it. When I came of age – really from 16 to 18 – disco and new wave and punk were happening, so I was experimenting with androgynous looks, with makeup. But it didn't take me long till I was in full drag. Then I moved to Atlanta, Ga., and became RuPaul's roommate. And, of course, Atlanta was a drag capital of the South – one of them anyway… I never really knew exactly what I wanted to do. I didn't really have a plan mapped out. But I knew that I liked to get in drag, and I knew that I liked to drink. So being a drag queen seemed like a natural thing.
MW: How did you settle on the name Lady Bunny?
LADY BUNNY: Lady. Well, are you familiar with Lady Chablis from Midnight In The Garden of Good and Evil? Lady is a name that Southern drag queens give themselves, often to make them seem quite grand. You know, like Lady Chablis, like a classy, white wine, or whatever. Basically most drag queens, including me when I got my start, are performing in a smaller club and not making a ton of money. So when I chose the name Lady, it was kind of making fun of that tradition of giving yourself a really grand name. Especially since my early drag was so pitiful and came from a thrift store and barely fit. And I had no knowledge of makeup application, or how to sew. It was really like the joke was on me.
Bunny? I don't know where that came from. Bunny: The Queen of the In-Crowd was a comic book about a bottle blond who wore psychedelic fashions that were quite similar to what I wear – except not in the plus sizes that I wear them in! Bunny was also the name of the girlfriend of Sergeant Carter on [the 1960s TV sitcom] Gomer Pyle. I really don't know where I got the name. It was just a silly idea that I never knew would materialize into a career, but now it's too late to change it.
MW: You said you didn't really know what you were going to do as a career. But you couldn't have expected this.
LADY BUNNY: I didn't. I'm a good friend of Lypsinka. [John Epperson] always had a clear-cut notion of who Lypsinka was, and that Lypsinka was going to be performing on stage. And I was the opposite. I was just someone who was young, who wanted to hang out on the scene. And I just had to develop some sort of act in order to get paid in the clubs. It didn't happen overnight. I did achieve some degree of notoriety for organizing Wigstock for 20 years. But I don't actually think it was until the last several years of Wigstock that my own act came together. And I think I was probably known, for quite some time, more for Wigstock than I was for performing.
MW: Wigstock ended in 2005. Do you miss it?
LADY BUNNY: I don't. Twenty-plus years was a really long run in New York. And drag has changed over the years. I loved the traditional, lip-sync queens doing Tina Turner or Melissa Manchester ballads in butterfly sequined tops. But when I moved to New York from Atlanta, I encountered this new kind of drag – not so much impersonating, but people creating their own characters. Like Lypsinka. RuPaul [also] sprang out of that scene. And Joey Arias. It just seemed to me that the drag seemed to be a bit more original. And that's really why I wanted to showcase it in an outdoor festival at Wigstock. Because I thought that it was so unique that it could reach a wider audience. And as the festival grew and grew and grew and became a movie, I was proven right. But even though drag is quite mainstream now, I'm not seeing as much of that really crazy, inspired drag as I used to.
Another person who sprang from New York City is Hedwig, [John Cameron Mitchell's transsexual character] which went on to become a movie and a hit Off-Broadway musical that's now been performed [everywhere]. That just blew me away and it made me realize that there really are no limits on drag queens. They can do anything from comedy to lip-sync to live singing to writing books to emceeing, to recording pop songs like Kevin Aviance or RuPaul. It just showed me that drag doesn't have to be limited to lip-sync of whoever's in the charts at the moment.
In fact, people ask me, what advice would you give to an up-and-coming drag queen? I always say you've got to find something that is unique, because there's going to be dozens of Beyoncé and Rihanna impersonators in every city. So unless you are the absolute best, no one is going to fly you anywhere, if they've already got a dozen Beyonce impersonators in their city. You're not going to achieve any national recognition unless you're doing something – if you're Derrick Barry, who not only looks exactly like Britney Spears, but can vocally re-create her. Not that Britney's the best singer to begin with! But Derrick Barry even sounds like her live. That kind of impersonation is incredible. And that makes him unique. So if you are going to impersonate someone, you better be the best, or you're pretty much gonna just be doing it locally.
MW: You're giving a lot of advice these days on RuPaul's Drag U. How has that experience been?
LADY BUNNY: Well, I love it. Ru and I are old roommates. I think it's generally considered to be Drag Race's less-popular stepchild. Because, you know, gays don't really get into it. They don't care about real women. They want to see the bitchy drag queens. Whereas the women, they're a bit more sensitive. They don't like the bitchiness directed towards them. It is a bit of a self-help makeover show, with RuPaul in the role of a Dr. Phil meets Urkle kind of character. [Laughs.] But filming it is a blast. And one of my favorite things is working with the queens from Drag Race. And even if they are typecast as the bitch of the show, when you're on Drag U, they're not in competition. They've been booked as talent, and they're not sequestered with no cellphone or Internet. So it's not like an edgy, competitive environment. And I have to say that I've become tight friends with a lot of [Drag Race-rs] And they taught me to contour. Which I was always horrible at!
MW: What is contouring?
LADY BUNNY: Contouring is when you paint brown around your nose to make it look smaller. [Laughs] Or when you paint brown on your double chin to make it appear to go away, in theory anyway. Or when you use brown shading to create the illusion of cleavage.
I asked for a makeup artist on Drag U because my makeup is not as polished as the Drag Race girls, most of them. I was like, honey, if I'm going to be sitting up here judging people in high-definition TV – my makeup is fine in a dark club but if I'm going to be judging, I need to look my best!
MW: Tell me about winning the gay porn industry's GAYVN Award in 2009?
LADY BUNNY: Oh yes, for Best Non-Sexual Performance.
MW: I somehow missed that performance. What did you do in the film?
LADY BUNNY: It was in Brother's Reunion by Lucas Entertainment. And I played the aunt of the two brothers that were getting it on. And I come back into my home where one of them is rooming with me, and discover that they're having sex. And I have a breakdown while holding some figurine that's covered in whatever something is covered in after it comes out of your rectum. Family fun.
Although, I was rather insulted that they called it a Non-Sexual Performance. I think that's trans-phobic. Just because I had put on a few pounds for the role of Auntie, and was wearing an Ann Miller matronly wig and a kaftan, that doesn't mean that it isn't turning someone on. So I'm going to notify GLAAD about that trans-phobic award [Laughs.] No, I'm kidding, I'm kidding.
But I will tell you I had never been on a porn set. And the smell is perhaps not conveyed as you're watching the films. [Laughs.]
MW: Is it a good smell?
LADY BUNNY: No it is not! I don't want to smell anyone's butthole but my own, thank you! I don't know that I even want to smell my own.
MW: Naturally, that leads to my next question. Has your family seen your work? Are they supportive?
LADY BUNNY: Oh yeah, they're very supportive. They always said to me, ''We want you to be whatever you want to be.'' Because I would like TV shows with upwardly mobile families on them, or girls whose parents wanted them to marry doctors, lawyers. I remember asking my parents, ''Well, don't you want me to be a doctor or a lawyer?'' And they would say, ''Not if that's not what you want to be.'' And now they say, ''Ew, you really called our bluff!'' [Laughs.]
MW: Do you think you'll star in a porn film again?
LADY BUNNY: Well, Michael [Lucas] is a dear friend, so Lord only knows. I don't know if you've seen Jonah Falcon, the guy with supposedly the largest penis on the planet? He was on a segment on [Comedy Central's] The Daily Show, because he's having difficulty finding a job. And everyone says he should get into porn. He doesn't want to do porn but he has agreed to do a comedy porn with me. So that's in the works.
MW: Who's writing it, you?
LADY BUNNY: Yes.
MW: How far along are you in the writing process?
LADY BUNNY: Well, the concept is there, I just need to record the track and stop traveling so much for a second and record it and shoot it. But he's been, dare I say on my ass – thankfully not in it – about the project for quite some time. So I think it will happen. I don't think it will be porn, but I will have to probably put it on, you know, Xtube as opposed to YouTube.
MW: And will this be an hour-long film or longer?
LADY BUNNY: Oh no, no, no. It would just be the length of one song. It would be a song parody that hinged on the visual gag of his insanely huge dong.
MW: I guess you've seen it?
LADY BUNNY: Everyone in New York has. He's not shy. I mean, why would you be shy?
MW: So you're now 50. Do you think you'll be doing this for another 50 years?
LADY BUNNY: I don't know about 50 years. I do feel lucky that at a time, and at an age and at a weight – you know, with so many gays wanting to be only focusing on men who they are physically attracted to -- here I am, old and overweight and still able to go and perform. And people take an interest in me. And interview me on Huffington Post, and come and review my show in the New York Times. I did a campaign with MAC Cosmetics this year. This is my third season as the Dean of Drag on Drag U, which is a recurring role on a nationally televised program, and I was in the Broadway Bares benefit this year. There are all kinds of things going on. I'm performing in Hong Kong for the first time. I performed in Brazil for the first time. So I'm not slowing down. I didn't learn how to do anything else, so I really don't have a choice.
And please, seniors are being forced to work way past 65 just to make ends meet. Why should I be any different?
Lady Bunny performs twice Saturday, Aug. 25, as part of the 10:30 p.m. Drag Show downstairs and later upstairs, at Town Danceboutique, 2009 8th NW. Cover is $8 before 11 p.m., $12 after. Call 202-234-TOWN or visit towndc.com.
Lady Bunny's "West Virginia Gurls" [NSFW]:
---