The Real McCoy
Meet Nick McCoy, the gay activist hoping to become the District's next rising political star
He's the man about town who seems to know everybody, but who's hard to pin down. Not that you'd have a chance, since Nick McCoy is a dynamo.
McCoy, 36, wears a variety of different hats, from being a regular among D.C.'s political elite to the instigator clamoring for change. One moment he's rubbing elbows with councilmembers, the next he's protesting in the streets against hate crimes.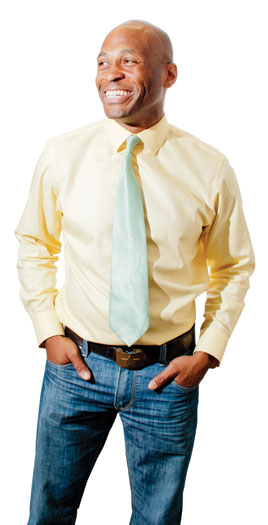 Nick McCoy
(Photo by Todd Franson)
Without a doubt, McCoy's passion is grassroots politics. His résumé reads like a list of nearly every pro-LGBT campaign imaginable, from organizing Youth Pride Day in Georgia to fighting for marriage equality in Maine.
''The only time I feel serene and with purpose is when I do this work,'' he confirms.
McCoy's dedication to LGBT rights should come as no surprise, given that he counts many local activists such as Richard J. Rosendall, Philip Pannell and Jeffrey Richardson, head of Mayor Vincent Gray's Office of GLBT Affairs, among his mentors.
Raised by his grandparents, his mother largely absent until he turned 24, McCoy's life has at times resembled a roller coaster with various ups and downs, at one point counting him among D.C.'s homeless population.
Stability has frequently been in short supply, but that doesn't mean McCoy doesn't have connections throughout the District and the nation, due in part to his work for several high-profile employers, including the Human Rights Campaign (HRC), D.C. City Council candidate Clark Ray, Councilmember David Catania (I-At Large) and former Councilmember Sekou Biddle (D-At Large).
Following this interview, McCoy accepted a position as a community relations specialist with the D.C. Taxicab Commission. But don't be fooled into thinking he's just going to sit back and collect a government salary.
Ever the impassioned activist, you're more likely to catch McCoy spending his free time at a church or ANC meeting, a safety walk or a protest. But McCoy also has that ''it'' factor, something akin to personal charisma that allows him to walk through a room full of strangers and introduce himself to each one, shaking hands and flashing a million-watt smile. Anybody watching McCoy in action could be forgiven for thinking he's the District's next young politico in the making. In fact, McCoy says, that's his ultimate goal.
METRO WEEKLY: Tell us a little about yourself. Who is Nick McCoy?
NICK MCCOY: I was born in the District. I was born in what is now a Trader Joe's, off of M Street. My grandparents raised me in North Carolina. And after that, I bounced around from North Carolina, to Georgia, to Maine, to Florida, to Connecticut, New Orleans, working on either issue or candidate campaigns. I've been back in the District now for five years. I got tired of bouncing.
MW: What sorts of campaigns have you worked on?
MCCOY: I worked on ''Able'' Mable Thomas's campaign. She was one of the youngest legislators ever elected in the state of Georgia. I worked on Anne Fauver's campaign, one of the only LGBT legislators on the Atlanta City Council. I worked on Georgians Against Discrimination as their director of outreach to people of color communities. New Orleans, I worked on Rebuilding Together, a post-Katrina effort. Basically, we were stripping homes that were dilapidated from the storm for pieces or parts that could be incorporated into other homes we were saving or salvaging. In Maine, I worked on the legislative campaign for marriage equality. North Carolina, Florida, I did a voter registration drive, where – alone – I registered over 3,000 people to vote. I was a deputy registrar in the states of North Carolina, Florida and Georgia.
MW: What inspired you to get involved?
MCCOY: My grandfather was the president of the Montford Point Marine Association, which was the people of color association for the Marine Corps in Jacksonville, N.C.
You know, North Carolina's not the most progressive place in the world. I talk about how my grandfather was a staunch leader himself. Our ancestral home he bought himself, sight unseen. Back in the day, people of color weren't allowed in the homes. You had to stand on the street and say, ''Oh, we'll buy that.'' That's just the way it was. We were one of the first black families on our street.
My grandmother was a secretary for the Montford Point Marines, but she also ran voter registration drives. She really was on me about public speaking, incorporating my own ideas, making sure I didn't rely on other people's quotes, making sure I could find the appropriate language for a respective audience.
They were my motivating factors. I think one of the first events I ever did was organize an LGBT Youth Day at the State Capitol in Georgia.
MW: How old were you then?
MCCOY: I was 24, 25. I worked with Youth Pride and Sen. Vincent Fort. Sen. Vincent Fort was the author of predatory lending legislation in Georgia, which was rampant at that time. What got me was I was going from legislator's office to legislator's office, asking for them to come and sit on the panel and talk to these kids, just give them a perspective of what it's like to be a legislator, what it's like to represent them, you know? And I would go in some legislators' offices and they would be like, ''I don't believe in it,'' ''I'm not having these kids on the Hill,'' ''The Gold Dome does not serve transgender youth,'' ''The Gold Dome does not support queers.'' I'm going into a legislator's office, who is supposed to represent everybody in Georgia, regardless of disparities in race and class, whatever. You would think there you wouldn't have someone tell me to my face that this place is not here for transgender youth.
So that was driving an angst in me. I wanted to make sure LBGT youth, and youth in general, have an access to civics and understand the role of a legislator and how it affects them in their day-to-day lives.
And I've been fortunate to work on marriage campaigns in three states, successful in two.
MW: Which states were those?
MCCOY: Georgians Against Discrimination was working on an initiative to push marriage equality back then. That was the first state. We were unsuccessful. Maine was a success story. D.C. was a success story. I was one of the campaign directors for HRC for the marriage-equality campaign here.
Actually, it was odd. I was in Maine, working with the [National Gay and Lesbian] Task Force as a volunteer, training volunteers to do in-person volunteer recruitment and data entry. I met [Task Force Deputy Executive Director] Darlene Nipper and Jeffrey Richardson, and those guys were like, ''Come home. Come home and work on marriage with us.''
So I came back here and did the first public event, the convocation, ''Our Time Is Now.'' I organized that.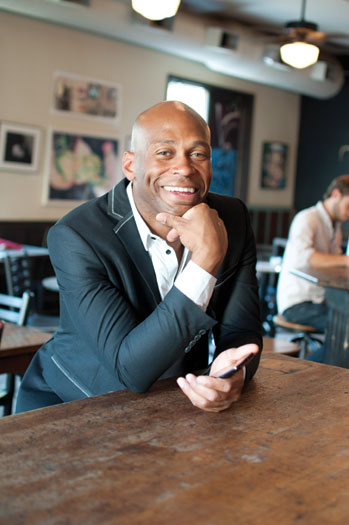 Nick McCoy
(Photo by Todd Franson)
Sometimes in D.C. it's hard to get in. People have a sense of ownership about their work. But I was going with Rev. Monique Ellison, and we were going from ANC commission to ANC commission. I think we went to 14 different ANC commissions, just, ''We're going to talk about marriage equality,'' making sure people were supportive before it came up. It worked! People were like, ''Thanks. We get it. We're on board. We'll write a resolution saying we support marriage equality.'' And other people were like, ''Hell, no. Not in our backyard. The world's going to fall if we pass this.''
The next thing I knew, I met Sultan Shakir at an interfaith service for the D.C. Clergy United for Marriage. Now Sultan, at the time, was coordinating the coalition that was going to be working on marriage. And I went up to him and said, ''I heard there was this secret cabal being formed to work on marriage. How do I get involved in that?'' And he was like, ''What are you talking about? What secret cabal?''
I kept doing the work. I somehow met Richard Rosendall, Philip Pannell, Paquita Wiggins, folks like that. We were sitting in Jeffrey Richardson's backyard and I was like, ''Let's do this. Let's put together a public event where people can see there's something being built for marriage, that there's a campaign coming.'' Because I felt like people didn't know what was happening. We have this thing in D.C. where we keep all this information in like it's ours.
And Philip said, ''Let's call it a convocation,'' because it has a religious context to it and it's a gathering of folks. And the next thing I knew they were like, ''Get it started, Nick.'' The next thing I knew, there were people around the table from the [Gertrude] Stein [Democratic] Club, from the Gay and Lesbian Activists Alliance, from HRC, from ANC commissions. And in less than two weeks, I got the True Reformer space and we pulled it off. There were about 300 people there. And people were like, ''Who is this guy and how did he do this?''
The next thing I know, Sultan Shakir is calling me and I'm sitting in a room with the executive directors of the Gill Foundation, Freedom to Marry's Evan Wolfson, Jeremy Pittman, GLAAD – all these bigwigs. I walk in and they say, ''How do we engage the black community?''
MW: This was just a private meeting?
MCCOY: This was the interview. It was a big deal. We wanted to win!
I talked about the work I had done in other states. I talked about going before Concerned Black Clergy and the Congressional Black Caucus, about not letting race or class be dividing issues.
With 90 pastors, the Concerned Black Clergy, this one woman pastor stood up in the middle of my speech and asked me, ''Which one are you first? Are you black or are you gay?'' And I said, ''God didn't give me a choice to choose between the two, and I'm pretty much doing the best I can.''
Not getting angry was difficult sometimes, especially with people of color in leadership, because I feel like there's a responsibility. You are responsible for bringing me to a point where I can vote, not ride in the back of the bus, all these things. And here I am, standing here convincing you that I should be entitled to freedom.
It's not like a skill set that you go to college and you get. It's something that happens, that you are bonded to, that you're emphatic about.
MW: After the D.C. marriage campaign, then what?
MCCOY: I worked as David Catania's deputy campaign manager. After David won, I worked as legislative [aide] for [former Councilmember] Sekou Biddle. Sekou was only in office for three months before he lost the special election. So it was like, ''That was fun.''
MW: Then you served as program director for the MLK Day Project. What next?
MCCOY: Went back to serving tables. Here and there I did contract work, consulting, helping community groups train their members to testify before the Council, helping them draft testimony – making sure they connect, not just testify. I tried to stay active.
MW: Prior to the Maine and D.C. campaigns, what were you doing? You were living in D.C., right?
MCCOY: I had a tough time. I came to D.C. in 2007 and I tried to stay here. I was not prepared. I was homeless for a minute. I used to sneak into the Washington Plaza Hotel and sleep in their utility closet. I had, swear to God, maybe one pair of jeans, because, again, activism is not very profitable. So I didn't have money. I thought I was just going to come here and make it without knowing anyone. And I failed. The Churchill Hotel had these laundry closets. It was cold, and they'd throw the old sheets there. I'm telling you, if you don't have any place to go, that motherfucking pile of dirty sheets is the best thing ever. I didn't have much room, but I could sleep.
MW: What would you do during the day?
MCCOY: Caribou Coffee. I tried to do day-labor work. I tried to find a job.
So I left D.C. again and went to stay with a friend in North Carolina. I took some time to regroup. That was a tough winter. And then I went to Maine for the campaign, and I was like, ''I'm gone.''
In my younger days, there was also some substance abuse. There's a reality to homelessness and substance abuse in our community that I acknowledge and deal with. Especially in D.C., where our substance abuse and homeless services are cut dramatically. Somewhere along the way, we let substance abuse programs fall through the cracks.
MW: What sort of substance abuse?
MCCOY: Meth, marijuana. Whatever money I had I'd spend on trying to escape, instead of trying to buy a bus ticket to get somewhere with shelter. I had an epiphany outside the church across from the Washington Plaza and I called my mother. I was like, ''I'm tired of not having anybody to call. I'm tired of being out here alone. And I'm tired of when all you have is a moment of high.''
She said, ''Come home.''
MW: Today, are you involved with efforts for marriage equality in Maryland?
MCCOY: I worked for Marylanders for Marriage Equality for a hot moment, for about four months.
MW: Why did you leave?
MCCOY: Damn it, John. [Laughs.] It wasn't like going home again. I really thought it would be like an old shoe you put on, and it wasn't.
MW: What was different?
MCCOY: Well, HRC in D.C. was a different beast because it was a coalition of organizations that were running the campaign. In Maryland –
MW: Isn't it essentially the same? Marylanders for Marriage Equality is a coalition of local Maryland organizations, and HRC donates or lends them resources?
MCCOY: Yes, but what's different is when it's your home turf versus someone else's who's been working on marriage in their home state for years. Sometimes, national organizations have a tendency to swoop in when the pickings are ripe, and say, ''We're going to win this!'' and then leave.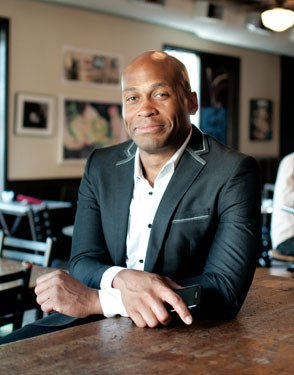 Nick McCoy
(Photo by Todd Franson)
MW: So what are your big projects now?
MCCOY: The rally [and march in Bloomingdale and Eckington to protest recent hate crimes] was fun. That spoke a lot to what's happening on the ground, the work between ANC commissioners, civic associations and the community and the businesses.
I am producing – with The Washington Informer, WPFW 89.3 FM, the [Washington] Blade, D.C. Mic Check, Busboys and Poets – a D.C. public forum on Sept. 9. Basically, the premise is: Who will lead us? Giving elected officials an opportunity to answer one major question: How has your service benefited D.C. residents? And, on the other end, make it a point to bring up how your service has not benefited D.C. residents. We ask that the elected officials be able to back it up with fact, content and the application of that service.
MW: Who came up with the idea for the public forum?
MCCOY: I did. I approached the different partners and asked them to help.
MW: What do you expect to get out of it?
MCCOY: I expect to, as far as I said before, help educate voters, or offer them an opportunity to educate themselves, about candidates or elected officials who are coming up for re-election this year.
I've extended invitations to all of the councilmembers involved and the mayor. The challengers – I've extended an invitation for them to be there and respond to some of the statements made by the councilmembers.
MW: The mayor is not up for re-election, but you've invited him anyway?
MCCOY: I want to afford him an opportunity to talk about his service. In recent months, in light of all the controversy, all of the conversation has been about what happened during his campaign. Unless you're paying close attention, it's overshadowed any of the work he's done in his administration. This is his opportunity to address those things.
MW: Has he agreed?
MCCOY: Not yet.
MW: What's something else on your radar?
MCCOY: I would like to see what flushes out in the current election. And I would like to run at some point.
MW: For City Council?
MCCOY: For D.C. Council. I intend to continue cultivating my relationships with D.C. residents, and continue to work on behalf of my community and the city at large, and see if I'm ready to jump out there. There's a possibility that might be in January. Because, you know, [Phil] Mendelson's (D-At Large) seat vacates. There will be a lot of folks out there running, so we'll see.
MW: And until then? Foster relationships?
MCCOY: And look to see if I can partner with the same people to organize another forum, closer to the election.
MW: Let's talk about crime. What have you been doing on crime, other than the recent Bloomingdale-Eckington hate crimes rally?
MCCOY: I have been a member of the Critical Incident Team, which is comprised of community members that represent service providers or first responders or help organize with MPD to reduce risk and coordinate responses to crime. We meet once a month. We discuss the bias-crime rates across the District – not just the LGBT ones, but ones that affect African-Americans, other groups.
We do safety walks in areas that have been affected. We just had one in Ward 8. We try to keep a presence in Ward 7 and Ward 8, even though I don't live over there. We often get caught in the ''Northwest bubble,'' so we have a conscious effort to find out what's going on.
I try to stay present in other communities besides in LGBT stuff, because whenever you need help you have to turn to somebody, and that relationship needs to be there.
MW: What's essential to understanding Nick McCoy?
MCCOY: I'm just trying to be a better man, a better person. When I turned 36 this year, I started working on 36 ways to be a better man. I'm not always going to get it right. I'm looking at ways to either support or be a part of a community that's beyond the LGBT community. I am a part of the people of color community. I understand the disparities that exist in the District right now, and I want to learn the languages that work within respective communities that help them organize as a whole. I want to teach communities how to advocate for their own issues, and not to depend on elected officials to carry all the weight.
MW: Have you had a boyfriend recently?
MCCOY: Not in the past two years.
MW: Does your involvement in the community, your activism, make it harder to date?
MCCOY: You have to be cautious. Sometimes you come home and it's all about your day. I care about what your day was like, what made you mad, and you care about my day and what made me mad. There has to be some parity in a relationship. But, yes, it is difficult.
Sometimes I feel I've spent more time on the ground fighting for marriage instead of pursuing marriage. And it's hard to date, because my nights are meetings. My days are events. My nights are calls about little community issues. It requires you to carve out some time for yourself. People sometimes see it as a red flag. ''Oh, this is what you want to do for a living?''
In D.C., people either jump right into a relationship or it takes an awfully long time to build one up. I jump into things. I'm like, ''Let's go!'' That can scare people. I'm a very aggressive person. I've learned not to be so aggressive.
MW: Who else is Nick McCoy? Can we answer that question more fully?
MCCOY: Who is Nick McCoy? I am an ''occupier.'' I occupy space. I don't take no for an answer. I don't allow people to feel entitled to a certain space or work. Like, for example, journalism doesn't belong to you. The story of D.C. politics doesn't belong to you. I can contribute something to it. I'm not trying to get in your way, I'm trying to be impactful.
Nick McCoy is fanatical about his community. I will not tolerate disrespect for people because of who they are. I won't let your anger or your self-hate be detrimental to me, my neighbor or my friends. How can I stop you from doing that? I can organize. I can empower myself and empower others. I can loan my strength to you.
MW: Do you have purpose?
MCCOY: Yes. To serve outside of the needs of Nick McCoy. To understand what it means to serve, not to you, but for your community. Slow down, and figure out what they need.
MW: Do you have guidance, or are you still scattered?
MCCOY: Guidance, in terms of figuring out my own trajectory? In part, yes. For instance, I considered running for City Council last time. I thought I was better than many of the candidates who did run. But I decided to wait, because it was not my time.
MW: Why not start with an ANC position?
MCCOY: [Laughs.] Because they don't need me there. I feel I could have an impact and a presence that is discernible on the Council.
I do feel there aren't enough people running for Council. Too often in the District we get this mentality that Democrats should run because they can win. You should run because you can do the job, you can identify with your constituents and you understand the needs of the District.
Everybody on the Council now is either a professor or a lawyer or the epitome of the high-rolling professional class. But we don't have any teachers. We don't have any social workers or project directors who say, ''I want to serve.'' I look forward to the opportunity to show people that you don't have to come from a doctorate background to run for Council. I look forward to showing people you can rise from the lowest point in your life to actually fulfilling a dream, like running for office and serving your community.
The DC Public Forum is Sunday, Sept. 9, 5 to 7 p.m., at Busboys and Poets, 2021 14th St. NW.
[Editor's note: As originally published, McCoy mentioned working as Councilmember Sekou Biddle's legislative director, though his official title was legislative aide.]
---