Right Turn
Find the way to Lost River and discover a picturesque ideal of gay-friendly fall
Autumn may have a different look and feel in different parts of the world – even a different time, depending on the hemisphere – but there are those iconic images, whether from Charlie Brown TV specials, that gruesome series of Halloween movies or a themed ''Angry Birds'' download. We expect turning leaves, acorns, sweater weather and maybe even a scare.
Lost River, W.V., has got it all and a gay sensibility to boot.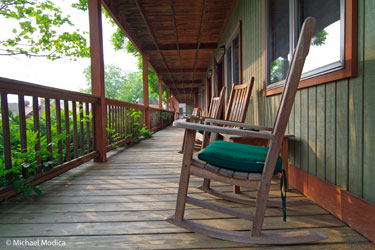 The Guesthouse Lost River
''People coming in the fall are definitely looking for outdoor activities, or the fall weather with a nice glass of wine on the deck,'' says Gary Robinson, who with business partner Michael Cooley is a new owner of the Guesthouse Lost River, celebrating its 30th year. ''The pool won't be open, just because of all the leaves that would get into it. All of our buildings have different views of the foliage. From every room – with the exception of one or two – we have a lovely western view. It's just magnificent. We have six fireplaces in the main lodge, one wood-burning. In our two suites, we have gas fireplaces.
''It's a respite from the working world. It's walking in the woods. You can really see the stars, the Milky Way.''

You can almost hear the dry leaves underfoot, smell the cool crispness of a wooded wonderland. As for the Halloween frights, the Guesthouse won't be trying to terrify anyone – though a screening of 2003's Wrong Turn, set in West Virginia, in the Guesthouse game room might do the trick if you really want one – but the venue is offering a little autumn thrill. If space remains, shoot for the Oct. 26 to 28 ''Murder Mystery Weekend.''
''I think it'll be much more campy than scary,'' Robinson grants, adding that for those who would prefer a thrill for the palette, the Guesthouse restaurant won't disappoint.
''We have a new chef who started with us back in April, trained in West Virginia,'' he says. ''We've definitely tried to focus on local, fresh items – a menu that someone with a D.C. palette would really appreciate. Also some Southern favorites.''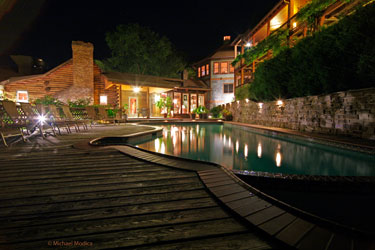 The Guesthouse Lost River
Another gay-owned country compound is the Lost River Grill, Motel & Bed and Breakfast, where Larry Curtis serves as general manager. And his Halloween party will likely give the murder-mystery weekend a run for its money.
''We have a very big Halloween party,'' Curtis promises, remembering the grill's bar filled with about 100 revelers at the 2011 spooky do. ''Everyone's in costume.''
Still, the allure of Lost River in autumn is more the great outdoors than late-night horrors. That's what brought Curtis to Hardy County, W.V., though he and his partner live across the county from Lost River, on the other side of the mountains – even if he reckons ''this [Lost River] side is more gay.''
''It's a beautiful place to be,'' Curtis says of Hardy County in fall. ''It's spectacular. The weather is beautiful. Any road you take, you'll find beauty. People are very friendly. For the most part, everyone has a 'live and let live' attitude.''
When it comes to any road, however, Curtis offers a warning. It's nothing along the lines of advice that might have saved those doomed souls in Wrong Turn from the West Virginian inbred, mutated, cannibalistic mountain men. It's really just some sound advice.
''Don't use GPS to get here,'' says Curtis. ''GPS may take you over unpaved mountain roads. And don't come expecting to be entertained all the time. Lost River is a place to come with someone you like, because you're going to be spending a lot of time together.''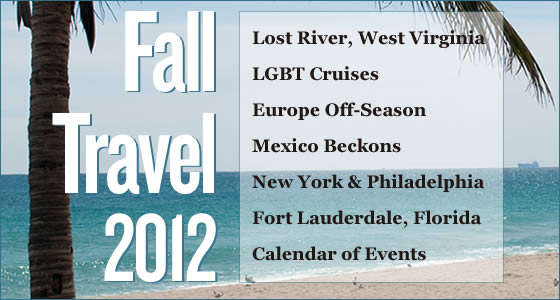 ---