15 Fall TV Shows to Watch in 2012
Fall Arts Preview 2012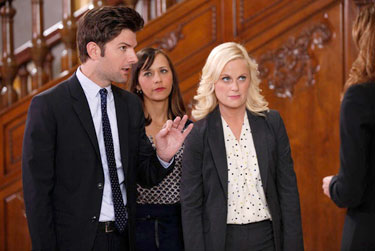 ''Parks and Recreation'' stars Adam Scott, Rashida Jones and Amy Poehler
Long derided as the inferior art, television has achieved something of a renaissance in recent years, with a glut of incredible, unmissable series making their way into our living rooms. Fall is the testing ground for shows that eventually worm their way into the public consciousness – and, hopefully, our hearts – with new series living or dying on their ability to entertain and captivate their audience, and then hold them through 13 or 24 episodes.
This fall, the major networks are delivering hundreds of new episodes to attempt to capture our viewing hours, but with so much choice, how can you possibly choose what to watch? We've sifted through every show, new and returning, to offer you 15 highlights that should be included on everyone's weekly viewing schedule. You won't see perennial favorites such as Mad Men or Breaking Bad, as they air over summer, nor midseason replacements such as Smash, but there's something for everyone in our 15-strong list, so jump in and start experiencing the best of this season's TV.
The New Normal
Tuesdays, NBC
THE FIRST NEW show of the season on our list is also the most topical. The New Normal is a comedy focused on Bryan (Andrew Rannells) and David (Justin Bartha), a happy Los Angeles couple who begin to yearn for a child. Enter Goldie (Georgia King), a single mother recently moved to L.A., seeking to provide a better upbringing for her daughter. The couple hire her to provide surrogacy for their child, and in return commit to helping her achieve her dreams of becoming a lawyer. Goldie's homophobic grandmother Jane (Ellen Barkin) follows her to L.A., and naturally becomes involved in the pregnancy.
It's a fairly by-the-books set-up, with the best lines reserved for Goldie's grandmother, but what's here has promise to evolve into something that sits proudly among NBC's other single-camera comedies (the less said about multi-camera Whitney, the better) and it's extremely encouraging to see such positive gay characters on network television. Normal is the brainchild of Ryan Murphy, infamous for creating – and then subsequently ruining -– Glee, which he helped turn into a self-indulgent monster. Here's hoping he fares better with Normal.
The New Normal isn't the fall's only gay-themed comedy. CBS premieres Partners on Monday, Sept. 24, at 8:30 p.m., but apart from morbid curiosity, I strongly urge you not to subject yourself to it. Featuring tired, tried-and-true CBS sitcom tropes – laugh track, unsubtle humor, a general feeling that you should be watching something better – it's based on the lives of its creators Max Mutchnick and David Kohan, who also created Will and Grace. Don't expect the same cultural impact here. Instead, watch The New Normal and feel better about yourself.
Saturday Night Live
Saturday, Sept. 15, NBC
SNL ENTERS ITS 38th season with two important factors making it must-see television. First is the departure of several cast members, chief of whom is Kristen Wiig. The writer and star of Bridesmaids decided to leave the show – and in her wake also left an incredible talent hole that will be difficult to fill. Effortless in her myriad characters and impersonations, Wiig's departure will make for interesting viewing as the show evolves to cope with her absence.
The real reason to tune in, though, is obvious: election season. SNL is at its best when it covers the campaigns – 2008 gave us the infamous Tina Fey as Sarah Palin, a portrayal so accurate and so amusing, it created a public image of Palin that no press release or interview could undo. Head writer Seth Meyers and his team used SNL to provide glaring commentary on the campaign trail each week, and it made for hilarious, insightful viewing. If they can maintain such standards for Romney v. Obama, we're in for a treat.
Revolution
Monday, Sept. 17, NBC
THIS IS NBC'S attempt at big-budget fantasy drama, with the setting here being a post-apocalyptic future. The world has mysteriously lost power, with all computer-controlled technology inoperative. Set 15 years after the event, Revolution focuses on the Matheson family, whose father believes he has found the cause of the global blackout, and a solution to reactivate the disabled devices. The series follows his family's struggle to cope in a world without public order, facing the challenges of exposing the cause of the blackout, as well as defending against the powerful militias that have surfaced.
It's certainly an interesting concept, one NBC is banking on becoming this year's Lost – though hopefully without the protracted storyline and sense that the writers have no idea what they're doing. Here's hoping it matches the relative success of ABC's mystery drama, and doesn't follow Heroes and The Event into NBC big-budget obscurity.
Parks and Recreation
Thursday, Sept. 20, NBC
PARKS AND RECREATION is the best comedy on TV. There, we said it. If you haven't watched it before, go and find it, and absorb the brilliance of Amy Poehler's post-SNL wunderkind. After a shaky Season 1, it has matured with age, mixing every kind of comedy into one delicious whole. Featuring an excellent ensemble including Rashida Jones, Nick Offerman, Rob Lowe and Adam Scott, Parks has something for everyone, but unfortunately everyone is watching the inferior sitcoms on CBS.
Season 4 gave us Leslie's tumultuous – and ultimately successful – run for City Council, and as we enter Season 5, expect to see the strain of her new responsibility affecting her relationship with Ben, the Parks Department struggling to cope with her absence, Ron Swanson finding love (she's not called Tammy, which bodes well), and more of the stuff Parks does so well with every episode. Seriously, just watch it.
Last Resort
Thursday, Sept. 27, ABC
THE SHIELD. THAT'S the pedigree Last Resort brings to the table. Shawn Ryan, creator of the much-loved, much-lauded FX series, brings a show that actually sounds more like a film on first approach. In it, the crew of a U.S. Navy nuclear submarine disobey a direct order to launch missiles at Pakistan. In doing so, they incur the wrath of the U.S. government, who attempt to destroy the vessel and its crew and cover up the incident. The crew survives and makes base on an island, declaring themselves a sovereign, nuclear-capable nation. The series focuses on their struggle to defend themselves against attack, while also trying to prove their innocence and ultimately return home to America. Dramatic stuff, indeed.
While reservations are in place as to how ABC will stretch the story out over (potentially) multiple seasons, the concept alone is worth the investment. With Ryan helming the project, we can expect the same quality that Shield was commended for. At the very least it offers an intriguing insight into what could happen should nuclear war occur – accidentally or otherwise.
Fringe
Friday, Sept. 28, FOX
NEVER BEFORE HAS a show been more aptly named. Earning its status as a cult favorite, Fringe initially performed well in FOX's lineup, but ratings plummeted. Ironically, as the viewers bled, the show continued to improve, ramping up the exploration of its own universe and diving headfirst into its own mythology, giving fans a weekly serving of weird, mind-bending goodness on which to dine. Fan support has been its backbone, as even a move to FOX's Friday night death slot has failed to kill the series. Now, though, Fringe viewers are finally free from the "will they?/won't they?" renewal drama that has plagued them these past few seasons, as the series wraps its five-year run with a final 13 episodes.
Following in the footsteps of last season's future-set episode, "Letters of Transit," Fringe will deal with a world controlled by Observers – the series' bald, menacing mystery men – but it won't be abandoning that which made the first four seasons so good. This season will attempt to wrap up all the plotlines and character arcs introduced in its run, taking cues from earlier seasons to ensure there's little left unexplained as the curtain falls. Fans will likely debate what unfolds for years to come, but for the uninitiated, it's definitely worth dipping your toes in to see what something other than a bog-standard TV drama can look like.
Once Upon A Time
Sunday, Sept. 30, ABC
ONCE UPON A TIME was a genuine surprise when it debuted last fall. The central concept – a group of fairy-tale characters ripped from their world and deposited in ours, with no memory of their previous existence – was one that seemed unlikely to work on network television. But ABC defied critics and delivered a series that, while occasionally more soap than fantasy, provided a wealth of content each week. The show gave us two interwoven timelines, dealing with the interactions in its fantasy setting and the resulting implications in reality, with most of the pleasure derived from seeing each character's backstory revealed in the flashbacks to their prior life.
With Season 2, we're faced with the introduction of magic to reality, and the aftermath of each character remembering their true past. Characters confirmed to appear this season include Princess Aurora (Sleeping Beauty), Mulan, Sir Lancelot, The Mad Hatter and Captain Hook, while Ruby (Red Riding Hood) and Belle will appear more regularly.
Revenge
Sunday, Sept. 30, ABC
THE DEFINITE GUILTY pleasure of last fall's new shows, Revenge revels in providing viewers with an experience enshrined in nighttime soaps, but one that also thrives on the strong central performances of its cast – in particular series leads Emily VanCamp and Madeleine Stowe, with both grounding the show in contrast to its outlandish concept. Revenge blew through its first season in a whirlwind of betrayal, murder, lust and… well, revenge, and hopes are high for more of the same this year.
If you haven't watched the first series, there's plenty of time to grab the box set, a bottle of wine, and settle in for hours of the best soapy drama currently on TV.
666 Park Avenue
Sunday, Sept. 30, ABC
ABC SEEMS TO be creating a theme for their Sunday night lineup. With the cancellation of most of their daytime soaps, they've instead turned their Sunday night primetime shows into high-drama soap reincarnations. Enter 666 Park Avenue to round out the trio, which includes Once Upon A Time and Revenge.
Looking very much like a tame American Horror Story, 666 takes place in a New York City apartment block, whose owner – Terry O'Quinn (Lost) – is the landlord from hell. Literally. With the help of his wife, Vanessa Williams, the two strike deals with the tenants that have dark consequences. We follow a young couple as they move into the building, and gradually come to learn the true nature of its owner and fellow residents – both past and current. It's fairly camp, but it also looks rather fun, and should nicely round out ABC's Sunday night lineup.
Homeland
Sunday, Sept. 30, Showtime
HOMELAND GOT EVERYTHING right when it premiered last fall. Anchored by two stunning performances from Claire Danes and Damien Lewis, the drama followed a CIA officer (Danes) who believed a former U.S. Marine (Lewis) held captive by al-Qaida had been turned into a sleeper agent against the United States. Danes, in particular, delivered an incredible portrayal of bipolar Carrie Mathison, who struggles to prove her suspicions that Brody (Lewis) is in fact a sleeper agent.
The first season concluded with Brody running for a seat in Congress, and Mathison receiving shock treatment for her bipolar disorder. The second season picks up six months later and follows Mathison's recovery from the treatment as she tries to repair her memory and get her life back. Brody, meanwhile, is still running for political office and is finding the campaign trail a tough, paranoid place to be. With the revelations of last season, we can't wait to see how Homeland's second season plays out, and hope it avoids the pitfalls of a sophomore slump.
30 Rock
Thursday, Oct. 4, NBC
TINA FEY. ALEC Baldwin. In the running for TV's greatest on-screen comic duo, the pair have delivered consistent brilliance for six seasons, and as 30 Rock draws into its seventh, and final, season, it will be a sad thing indeed to see the two finally part ways. Their fellow Emmy nominees in the Best Actor/Actress categories may breathe a sigh of relief, but Thursday nights won't be the same without the surreal, hilarious antics of the TGS staff and crew. While the series has noticeably declined in quality as it has aged, it still manages to best almost every other sitcom on television – no mean feat for a show that was only kept on the air as it was cheaper to make than Aaron Sorkin's Studio 60. Six seasons and 10 Emmys later, it still has viewership figures that would cause heart attacks at CBS, but popularity has never been a concern for Fey and company.
Instead, 30 Rock thrives on providing some of the best scripted comedy of the 21st century, with each episode crammed full of pop culture references and biting satire, all delivered by a cast that are among the strongest in the business – Jane Karakowski, in particular, needs an Emmy for her work as Jenna. Little has been divulged about how the show will wrap things up, but expect plenty more awkward Liz moments to enjoy. Good God, Lemon.
Arrow
Wednesday, Oct. 10, The CW
HAVE YOU EVER watched one of Christopher Nolan's Batman films and thought "I wish this were a weekly TV series instead?" Enter The CW's Arrow – based on DC Comics' Green Arrow – which seems to have eschewed any pretense of supernatural abilities in favor of the Dark Knight's approach to backstory.
The central character, Oliver Queen, is a rich playboy billionaire who, after a violent shipwreck, is presumed dead. After being found alive he returns home seeking to right his past wrongs and fix the ailing Starling City, by creating the alter ego Green Arrow.
The CW is clearly looking to replace its decade-long Smallville, but if they can pull off the same dark magic that made the Dark Knight films so good, they could be on to a winner. It doesn't hurt that Queen is played by the very handsome Stephen Amell (Queer as Folk). Arrow could pander to the CW's young demographic and offer a superficial glimpse into the world of the Green Arrow, but it is definitely one to watch if it can manage a deeper exploration of its central character's motives across its full season – something no two-and-a-half-hour movie can compete with.
Nashville
Wednesday, Oct. 10, ABC
CONNIE BRITTON. THAT'S all the reason you need to tune in to Nashville this October. Britton cemented her place as a fantastic actress in Friday Night Lights, and then compounded that in last year's American Horror Story, proving she was more than capable of headlining a show regardless of subject matter. Nashville takes her somewhere completely different, here playing a fading country star who finds herself forced by her record label to tour with an immature, up-and-coming crossover singer (Hayden Panetierre). Featuring an original soundtrack of country music, the show runs in a similar vein to Glee and Smash, though thankfully with closer similarities to the latter than the former. Written by Callie Khouri, Academy Award-winning writer of Thelma and Louise, Nashville should make an interesting addition to ABC's lineup, but, really, we're in it just for more Britton. And you should be, too.
The Walking Dead
Sunday, Oct. 14, AMC
AMC'S SURPRISE HIT is not for the squeamish or the nervous. If you can stomach a show that deals with the survivors of a zombie apocalypse, however, you're in for a treat. At times a personal drama, at times outright horror, it is also a show about dealing with life in the absence of order. Beloved by its fans, it has proven a critical and commercial success for AMC.
Season 3 will take even more inspiration from the comic book source material, and will deal with the fallout from Rick's revelation at the end of the last season, as well as the group's immediate danger at the prison they have found themselves in. It will also introduce "The Governor," leader of the settlement at Woodbury, who is more than a little insane. If you've been infected (get it?) by The Walking Dead's charm, be sure to tune in this October.
American Horror Story: Asylum
Wednesday, Oct. 17, FX
RYAN MURPHY'S SECOND show on this list was one of the biggest on cable when it debuted last fall. The tale of a family who move into a mansion, only for its former residents and creepy neighbors to haunt and stalk them, drew in critics and viewers alike. Featuring a strong cast, it centered on the theme of infidelity, and made for a guilty, thrilling pleasure. Sex, murder, a ghost in a rubber suit – the first season had it all.
All of that, though, is irrelevant, as series two is an entirely new concept, albeit with some familiar faces returning as different characters. This time around, the setting is an insane asylum in 1964, with Jessica Lange as its head nurse. The central theme will be sanity, and the show's characters will deal with real-life horrors – which means no ghosts on murderous rampages this time around. (But there are, reportedly, mutations and aliens.) The list of confirmed stars is impressive, with Lange, Sarah Paulson, Zachary Quinto, James Cromwell, Adam Levine, Chloë Sevigny and Joseph Fiennes all confirmed to appear. If you missed the first season, we strongly recommend you watch it. Regardless, you should be able to commit yourself to Asylum with little effort.

---