The Choice?
While Romney's secured some LGBT support, most seem well aware of what Obama has delivered – and what could disappear
When Joe Biden appeared on NBC's Meet the Press May 6, many expected the former senator from Delaware, long known for his penchant for gaffes, to say something off-the-cuff. Few expected him to make history.
By the time Biden's appearance concluded, he had become the highest-level member of the Barack Obama administration to openly endorse marriage equality.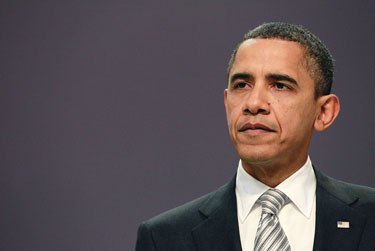 President Barack Obama
(Photo by Sean Gallup)
Asked by David Gregory if he was comfortable with same-sex marriage, Biden responded, "I am vice president of the United States of America. The president sets the policy. I am absolutely comfortable with the fact that men marrying men, women marrying women, and heterosexual men and women marrying another are entitled to the same exact rights, all the civil rights, all the civil liberties. And quite frankly, I don't see much of a distinction beyond that."
Biden's unscripted remarks left the White House scrambling to get ahead of the situation as many wondered whether President Obama, who had long described himself as ''evolving'' on the issue, agreed with Biden.
After three days of press secretary Jay Carney and other White House officials carefully maneuvering around Biden's remarks, Obama sat down with ABC's Robin Roberts and announced his support for marriage equality.
''At a certain point I've just concluded that for me, personally, it is important for me to go ahead and affirm that I think same-sex couples should be able to get married,'' Obama stated, securing his place as the first sitting president to publicly endorse the right of same-sex couples to marry.
An Irrevocable Moment for Democrats
Obama's endorsement did not come as much of a surprise to many. The president had been saying for years he was ''evolving'' on the issue of same-sex marriage. And evidence, including a survey Obama signed as an Illinois State Senate candidate in which he declared his support for marriage equality, suggests Obama ran opposed to same-sex marriage in 2008 for political purposes. After his endorsement, some speculated Biden had pushed Obama's hand on the issue, which Obama may have preferred to address during a second term.
But whatever qualms there were among Obama's strategists, his historic and unprecedented support for a key gay-rights issue has done little to hurt his candidacy. In many ways, it has shored up his support among an increasingly frustrated group of LGBT voters who saw a supportive president shying from the LGBT-rights movement's most visible fight.
It has also pushed the Democratic Party in a direction that many believe to be irrevocable: Never again will a major politician be able to run for the Democratic nomination for president while opposing marriage equality.
Obama's first term has seen a series of victories for LGBT Americans. Although Obama's declaration of support for marriage equality was more symbolic than anything else, key steps have been taken on other fronts with major consequences.
Most notably, Obama instituted the successful repeal of the 16-year-old ban on out military servicemembers, ''Don't Ask, Don't Tell.'' He's appointed a record number of out gay and lesbian judges to the federal bench. And he ordered the Justice Department to stop defending the discriminatory Defense of Marriage Act due to his administration's belief that the 1996 law is unconstitutional, which now awaits consideration by the Supreme Court.
"After careful consideration, including a review of my recommendation," Attorney General Eric Holder wrote to House Speaker John Boehner (R-Ohio) in February 2011, "the President has concluded that given a number of factors, including a documented history of discrimination, classifications based on sexual orientation should be subject to a more heightened standard of scrutiny. The President has also concluded that Section 3 of DOMA, as applied to legally married same-sex couples, fails to meet that standard and is therefore unconstitutional. Given that conclusion, the President has instructed the Department not to defend the statute in such cases. I fully concur with the President's determination."
Despite the fact that this race has pitted the first sitting president to endorse marriage equality against a Republican candidate more conservative on LGBT issues than former President George W. Bush, there has been almost no discussion about the issues that matter most to gay Americans.
Indeed, even with DOMA and California's Proposition 8 set to be reviewed by the Supreme Court and voters in four states heading to the polls to vote on the right of same-sex couples to marry, Obama and Romney have not focused on their critical differences on LGBT issues.
Is No News Good News for Gays?
Obama and Romney met three times throughout October, sharing a stage for more than six hours to debate the issues of the day. Despite addressing social issues like gun control and discrimination against women, the two men were never asked about their contrasting views on a range of LGBT issues.
Only briefly during the end of the first debate did Obama note his administration's work to repeal ''Don't Ask, Don't Tell,'' which he has been highlighting at stops along the campaign trail for months.
Writing for The Washington Post on Oct. 22, Jonathan Capehart said the lack of focus on LGBT issues wasn't necessarily a bad thing. In fact, it may well be a good thing.
''Sure, there are plenty of issues facing lesbians, gay men and bisexual and transgender (LGBT) Americans that ought to be discussed,'' Capehart wrote. ''But after years of gays being used in bigoted ways as wedges in American politics by Democrats and Republicans, the silence is a blessed relief.''
Although Capehart argued that no discussion of LGBT issues symbolizes a broader shift in the views of voters toward key issues like marriage equality, not everyone agrees.
''It's disappointing,'' Dustin Lance Black, the gay activist and screenwriter of Milk, said of the failure to mention LGBT issues after the first debate last month.
''I'm always disheartened because I feel like whenever we talk about gay and lesbian equality we have an opportunity to get the truth out and that is what changes minds,'' Black told Metro Weekly during the Human Rights Campaign's national dinner. ''The more people learn about gay and lesbian equality, the more people end up taking our side. And once they've come to the side of equality they almost never leave.''
''I hope the nation knows where these two people stand on equality, because they have very, very different stances when it comes to LGBT equality,'' Black added.
Romney's ''Actual Tangibles'' with No Promises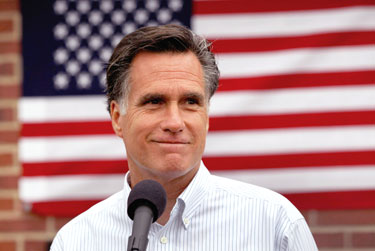 Gov. Mitt Romney
(Photo by John Moore)
Indeed, Mitt Romney's record on LGBT-rights is a conflicted one. The man who vowed in 1994 to be better on gay rights than Ted Kennedy has shifted from what were moderate views at the start of his political career to views more in line with the hard right of the Republican Party.
Like his opponents during the Republican primaries, Romney signed the National Organization for Marriage pledge supporting a federal marriage amendment and the Defense of Marriage Act, the nomination of judges opposed to same-sex marriage, a referendum on marriage equality in D.C., and the establishment of a presidential commission on religious liberty.
Romney's views on two issues in particular — workplace discrimination and adoption rights — are receiving more attention in the closing days of the campaign.
After Log Cabin Republicans endorsed Romney on Oct. 23, just two weeks before Election Day, LCR Executive Director R. Clarke Cooper fueled speculation that Romney's position on workplace nondiscrimination could be shifting. In a phone interview minutes after the endorsement was announced, Cooper said "actual tangibles" were discussed with the Romney campaign, including workplace nondiscrimination, but he did not name any specific promises.
"We walked through things he could do as president and it's safe to say in a Romney presidency there are some tangibles there that he has experience on as governor that I believe we will see in place and practice," Cooper said.
Despite speculation from other news outlets, Cooper has denied that a secret deal had been struck between Romney and LCR for his support of the Employment Non-Discrimination Act in return for LCR's endorsement.
Romney has said he opposes ENDA and believes such protections should be implemented at the state level. It does not appear Romney's position has changed since he stated it on NBC's Meet the Press in December 2007. Speaking to host Tim Russert, Romney said workplace nondiscrimination should be implemented at the state rather than the federal level.
"I don't believe in discriminating against someone based upon their sexual orientation," Romney said. "And so I would be effective in trying to bring greater recognition of the, of the rights of people not, not to be discriminated against."
Russert's questions revolved around a promise Romney made to LCR in a 1994 letter while seeking their endorsement during his Senate race against Massachusetts Sen. Ted Kennedy. In the letter, Romney promised to become a co-sponsor of ENDA, originally sponsored by Kennedy himself, if elected to the Senate. Romney also promised to broaden ENDA to include protections for housing and credit.
"If we are to achieve the goals we share, we must make equality for gays and lesbians a mainstream concern," Romney wrote. "My opponent cannot do this. I can and will."
Romney lost his race against Kennedy and, after serving as governor of Massachusetts from 2003 to 2007, evolved on ENDA. Speaking to National Journal in 2006, Romney said he no longer supported ENDA, a statement he would reiterate during his interview with Russert.
"I don't see the need for new or special legislation," Romney said. "My experience over the past several years as governor has convinced me that ENDA would be an overly broad law that would open a litigation floodgate and unfairly penalize employers at the hands of activist judges."
Although the campaign has given no indication that Romney has changed his position on workplace nondiscrimination, what impact he could have as president if his position has changed appears limited.
According to Crosby Burns, a research associate at the Center for American Progress specializing in LGBT workplace issues, Romney could expand Executive Order 11246 prohibiting federal contractors from discrimination on the basis of sexual orientation or gender identity. Signing such an order would extend protections that already apply to race, color, religion, sex and national origin, affecting 26 million workers. There has been no movement from the Obama administration on the issue since April.
"It would be huge," Burns told Metro Weekly, particularly because Romney's opposition to ENDA gives no indication he would issue such an executive order. "But it would be pretty hard to imagine Republicans on the Hill would be okay with that."
ENDA remains one of the last major battles for the LGBT-rights movement. Legislation similar to ENDA has been introduced in Congress since the 1970s and faced continuous opposition from Republicans.
"Gov. Romney has said time and again that he opposes federal legislation," said Burns. "There's no indication from the Romney campaign to believe otherwise."
A Broad Disregard for LGBT People and Families
Romney has also been under fire for the revelation uncovered by The Boston Globe that as governor of Massachusetts he rejected new birth certificates for same-sex parents.
According to The Globe, after Massachusetts legalized marriage equality in 2003, the state Registry of Vital Records and Statistics sought to revise birth certificates to include same-sex couples who have children. While the agency wanted to edit the box for the father's name to also include the name of the "second parent," Romney rejected the proposal
Instead, Romney, who opposed the legalization of same-sex marriage, ordered his legal staff to evaluate the birth certificate of each child born to same-sex parents. When the legal staff approved the birth certificate, only then could hospital officials and town clerks cross-out "father" and hand-write "second parent."
The practice continued throughout Romney's term as governor, despite warnings from a Department of Public Health lawyer who said such handwritten notations violated existing law and threatened the integrity of the record-keeping system. Indeed, speaking to an audience of South Carolina voters in 2005, Romney said of married gay couples in his state, "Some are actually having children born to them. It's not right on paper. It's not right in fact. Every child has the right to have a mother and father."
For many, Romney's actions as governor correlate to a broader disregard for LGBT people and their families.
In a 2004 meeting between then-Gov. Romney and plaintiffs in the landmark case that legalized same-sex marriage in Massachusetts, Romney allegedly remarked that he did not know same-sex couples had families. Speaking to Boston Spirit magazine earlier this year, plaintiff Julie Goodridge said that during the meeting she asked him, "Governor Romney, tell me — what would you suggest I say to my 8-year-old daughter about why her mommy and her ma can't get married because you, the governor of her state, are going to block our marriage?"
According to Goodridge, Romney responded, "I don't really care what you tell your adopted daughter. Why don't you just tell her the same thing you've been telling her the last eight years."
Romney has still garnered support from some LGBT voters, including the endorsement of GOProud, and the ''qualified'' endorsement of LCR, which says they support Romney but will focus their efforts on congressional races. The two groups say their support for Romney does not stem from his record on LGBT rights, but Obama's lackluster record on the economy and job creation.
Those issues also rank high among LGBT voters. According to a poll released by Logo TV in August, LGBT voters consider economic issues and unemployment to be the biggest factors influencing their vote this November. Gay rights ranked fourth in importance with 9 percent of respondents describing it as the No. 1 issue influencing their votes. Marriage equality ranked seventh with 6 percent describing it as the most important issue.
''We've Come Too Far to Take Steps Back''
However, those numbers do not necessarily translate into support for Romney.
According to the poll, 22 percent of LGBT voters would consider voting for Republican presidential candidate Mitt Romney if he held the same views as President Barack Obama on gay rights.
Indeed, for many gay Americans, Romney's opposition to marriage and civil unions that guarantee the same rights and benefits as marriage are too much to swallow.
While some LGBT organizations may be supporting Romney, the nation's largest LGBT organization, HRC, has been mobilizing supporters for what is being described as the largest mobilization effort in the organization's history.
''At no time in history has LGBT equality been more important in an election season,'' said HRC President Chad Griffin in a statement. ''We've come too far to take steps back this year in the fight for equality.''
Griffin has embarked on a six-state ''Get Out the Vote'' tour as more than 70 other HRC staffers have been dispatched to key races across the country.
HRC, like countless other LGBT groups, has put its full-backing behind Obama, describing him as the most gay-friendly president in American history. Moreover, supporters warn that the progress and the momentum sustained over the past four years could just as easily come screeching to a halt on Inauguration Day early next year.
Indeed, dozens of policy regulations have been put in place under the Obama administration that protect LGBT Americans, ranging from consideration of same-sex relationships during deportation proceedings to anti-bullying initiatives that could face rollbacks.
And while key LGBT-rights cases currently await review by the Supreme Court, the next president will likely play a key role in shaping the ideology of the next court. As Biden warned during his debate against Rep. Paul Ryan (R-Wis.), the next president could appoint as many as two Supreme Court justices.
''Just ask yourself, with Robert Bork being the chief advisor on the court for Mr. Romney, who do you think he's likely to appoint?'' Biden asked.
Ultimately, elections are about choices. But for many LGBT voters looking at the 2012 presidential ballot, a choice between Obama and Romney isn't much of a choice at all.
''It's a privilege to vote to re-elect this president,'' wrote HRC Vice President Fred Sainz in an email to Metro Weekly, noting Obama's record on LGBT issues. ''Beyond that, the comparison is bleak. Mitt Romney takes us backwards on every front … not just one or two but all.''
Asks Sainz, ''Why would we want to do that?''
---