Coverboy Second Runner-Up: Tim Warguleski
Telling it like it is, never timid or tongue-tied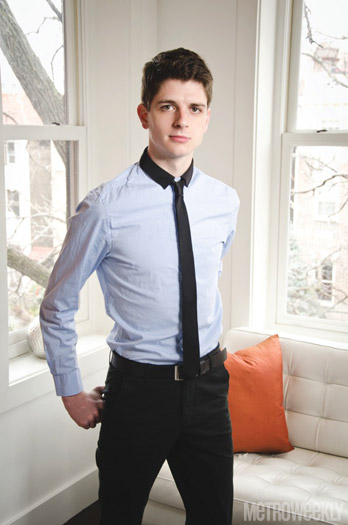 Timothy Warguleski
(Photo by Julian Vankim)
If you look up the word ''blunt'' in the dictionary, finding a picture of Metro Weekly Coverboy Tim Warguleski, a 22-year-old aspiring vocalist and actor, would be entirely appropriate. Self-assured, witty and opinionated, Tim says what he thinks and is full of one-liners and memorable quotes, whether he's talking about TV personalities, politics or his favorite topic, music.
''I am the most ADHD person when it comes to music,'' he says. ''When you look at the playlist I listen to throughout the week, you would never expect that one person listened to all of it. I have 17 different shower playlists I listen to, depending on what mood I'm in when I wake up. It ranges anywhere from bluegrass to gospel to belting power divas to indie pop.''
Whatever his mood, Tim wears it on his sleeve, even if his words might offend. Take his reason for applying to become a Metro Weekly Coverboy:
''I was reading through the Coverboys, and I was like, 'Man, I am far more interesting than most of these guys.' I hate to say it, but I feel like I am. So I thought, why not? Just throw it out there. I just decided to go for it.''
Brash? Perhaps. But Tim says it's self-esteem, not cockiness, that leads him to push limits. ''I don't have to feel ashamed of who I am in any way, therefore I'm not going to apologize for who I am in any way,'' he says.
Tim grants, however, that his sense of humor, those witty comebacks, sometimes translate better in person than in print, where his comments may read as arrogant.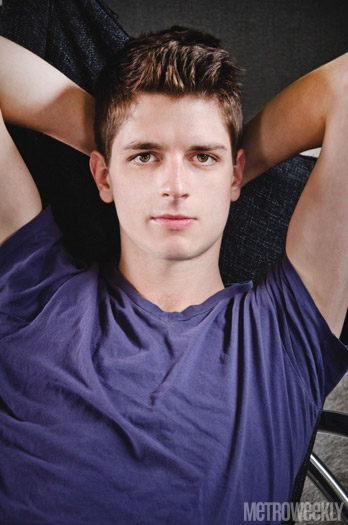 Timothy Warguleski
(Photo by Todd Franson)
''I got a lot of feedback from my last Coverboy interview that I came off as super pretentious, and I just want to clarify: I'm not a pretentious person,'' he says. ''Just outspoken and opinionated, but also in a kidding way. You just can't read that in text sometimes.''
Actually, Tim sees himself as laidback and unassuming. He can't stand getting dressed up in a suit and tie, or going to fancy restaurants. Instead, he'd rather watch a movie in his pajamas, or play miniature golf with a potential beau.
''People are too stiff on dates,'' he says, noting that the best date he's ever been on involved a day of playing videogames. ''I don't like feeling that it's an interrogation.''
Potential dates should also be warned about Tim's kitchen skills.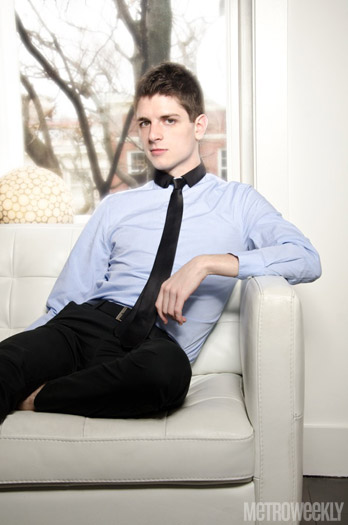 Timothy Warguleski
(Photo by Julian Vankim)
''I'm just cursed when it comes to cooking,'' he insists. ''Take-out is the only way I can manage. That, or cold cereal.''
Suitors may, at least, anticipate festive family reunions with all of Tim's gay relatives: three uncles, a cousin and one of his brothers.
''My family is beyond amazing when it comes to homosexuality,'' he jokes. ''There's some cosmic force that's trying to get rid of our bloodline for some reason, that's like, 'You guys can't procreate the old-fashioned way.' We've done the math and it's about one-in-four people in my family who are gay. We should really have a documentary about us by now. TLC is missing out on some real good television.''
When it came time to campaign for Coverboy of the Year, that family came in handy. But they were just one segment of an effort that took little time snowballing out of Tim's control.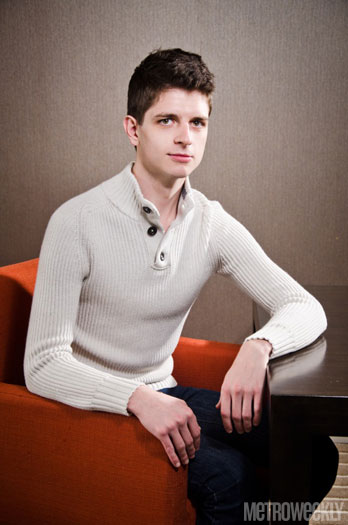 Timothy Warguleski
What initially started as a simple Facebook message to friends, morphed into Tim's restaurant co-workers recruiting random customers to vote for him. Then several of those customers encouraged their friends to vote as well. Several of his friends and family back home in rural Northwestern Virginia also drafted co-workers and acquaintances to the cause.
''It was a really good feeling to get all that camaraderie behind me,'' he says. ''Once the word gets out [that I made the top three], all of Winchester – and Markham and Marshall and Upperville, Va. – might just come flooding to Town on Friday. I'm not kidding.
''I don't know whether you know these towns, but they're small country places – so when people are legitimately concerned about that gay guy they met that one time, possibly the only gay person they've ever met…. I'm excited.''
Meet Tim at Metro Weekly's 2012 Coverboy of the Year Party at Town, 2009 8th St. NW, Friday, Dec. 14, at 11 p.m.
Second Runner-Up Prize Package
· $175 Cash
· Arena Stage -- 2 Tickets to Good People
· Blowoff -- 2 Admissions to Event on Jan. 12 at the 9:30 Club
· CD/DVD Grab Bag -- Ladyhawke Anxiety, Missy Higgins The Ole Razzle Dazzle, Diamond Rings "I'm Just Me" single, P!nk "Blow Me One Last Kiss" single
· DC Eagle -- $25 in Drink Tickets, Anniversary Coffee Mug
· Gay Men's Chorus -- 2 Tickets to Xanadu (3/15)
· Hollywood Tans DC -- 1 Free Week of Tanning in HT60 Booth
· HRC Store -- $25 Shopping Spree at D.C. Store
· JR.'s -- $25 in Drink Tickets
· Landmark Theaters - 2 Passes
· L'Enfant Café -- $50 Gift Certificate
· Mova -- $25 Bar Tab
· Number Nine -- $25 Bar Tab
· SKIN -- $100 of Professional Skin Care Products
· State Theatre -- Merchandise Pack
· Town Danceboutique -- $50 in Drink Tickets Good for Fridays or Saturdays
· Ziegfeld's/Secrets -- $50 Cash
Our thanks to all those nightspots, restaurants, businesses and performing arts venues who graciously provided prizes to this year's Coverboy winners. Certain restrictions may apply to some prizes. Prizes are non-transferable.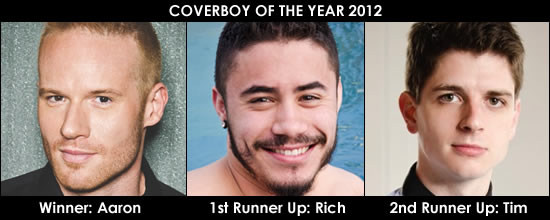 ---