Coverboy First Runner-Up: Rich McPherson
This bear-lovin' cub makes his own way, one disciplined step at a time
(Page 2 of 5)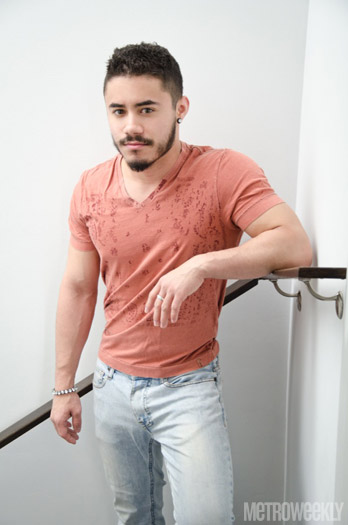 Rich McPherson
(Photo by Julian Vankim)
Rich's discipline made him a star wrestler. True to independent form, however, he ditched wrestling his senior year. Instead, he thought he'd stretch his show-biz muscles.
''I tried out for the school musical, Annie,'' he shares, seeming pretty happy to revisit the memory – particularly the part about making the cut, playing four supporting characters. ''I found out I could actually sing. I shocked a lot of people. I had the greatest time.''
While he also started up a backstage romance with a girl, Rich says he had already started getting a twitch for the boys. Wrestling saw to that, though he's quick to point out, ''I wouldn't get boners or anything when I was wrestling.''
That tumescent compass instead pointed him to Washington, for a guy he'd met while still living in North Carolina. At 19, Rich sealed the deal in D.C. Just shy of his 23rd birthday, however, last March, that romance came to an end. Since then, Rich is again unpacking his discipline and independence to see him through the rough patch. He's just gotten a new job, he wants to enroll at the Corcoran College of Art and Design to study graphic arts, and he even managed to squeeze in a little vacation as part of this new stage of life.
---