2012 Coverboy of the Year: Aaron Lee Smith
A little bit country, from West Virginia to Washington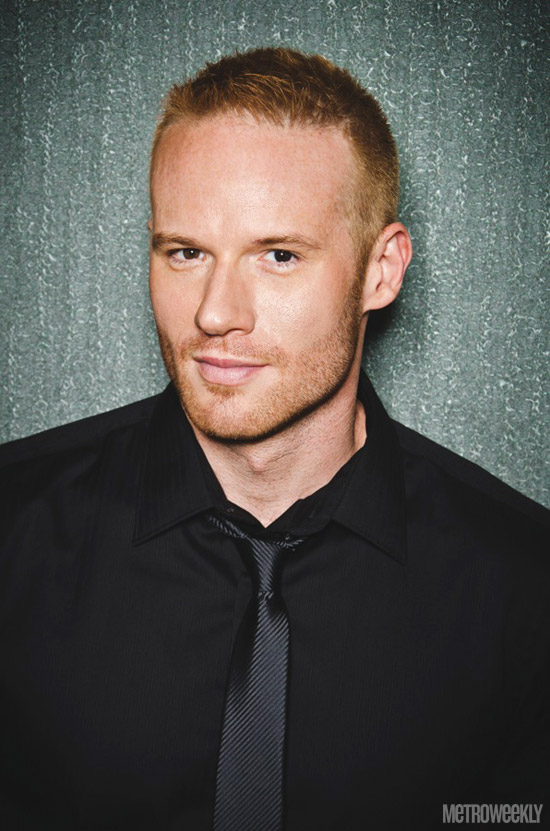 Aaron Lee Smith recently shot some hoops with a buddy's 8-year-old son. At least, he attempted to.
''I was trying to dribble, trying to do a layup,'' Aaron says, laughing. ''And he asked me, 'Did they have basketball when you were a kid?' And I was like, 'No, they didn't.''
The 35-year-old may stand 6 feet and 2 inches tall, but football reigned where Aaron grew up in West Virginia. He went to Poca High School, whose mascot was the Dot – which means the football team was the, well, fighting Poca Dots. But that's not the only quirky twist to the school. ''It was a football school, and No. 1 in show choir every year,'' Aaron says. Turns out, those are not mutually exclusive developments. ''The football players would be in show choir because it was the cool thing to do,'' he says. ''It was crazy!'' Though not exactly Glee.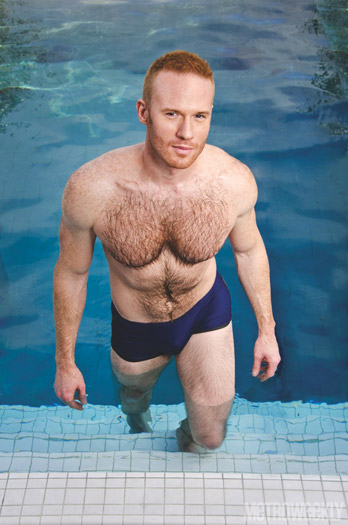 Aaron Lee Smith
(Photo by Julian Vankim)
But Aaron wasn't a footballer, or really an athlete of any kind. Instead, he was the show choir's ''little twig'' bass, tall and skinny – weighing just ''a buck five'' – surrounded by the ''big and beefy'' jocks. He assures that the football players never bullied him. ''They were all right.'' Still, he stood out, even among his family, full of loud, boisterous women. ''I was raised by my mom and my aunts and my grandmother,'' he says, ''and they all love to scream! They still scream to this day.''
These days, Aaron comes across as polite and personable, good-natured and funny, youthful in looks and spirit – and hardly introverted. ''I'm a social butterfly now,'' he admits. ''It just took me some time to come out of my shell.''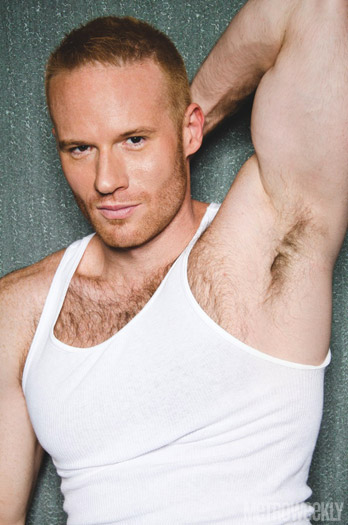 Aaron Lee Smith
(Photo by Julian Vankim)
Aaron singles out both a high school friend and an aunt for providing the impetus to help him become more outgoing and confident. ''We would go out and drink and smoke pot, and just try new things, being set free,'' he says about his best friend, Billy. One day, ''he took me to a gay bar'' – and this was well before Aaron was out of the closet, even to himself. ''I was scared to death. I was scared to get out of the car,'' he says. After watching a drag show at Charleston's former Grand Palace, Billy, who was straight, canoodled with a girl while Aaron ''got a little drunk on some draft beer and kissed a guy'' – his first same-sex kiss. ''Billy opened up my mind. God knows, I'd probably still be in the closet if it weren't for him.'' Sadly, Billy died about eight years ago of an overdose.
Meanwhile, Aunt Barb was the first family member Aaron came out to. ''She's my biggest advocate,'' he says. ''She doesn't let anybody say anything about me. She's just a beautiful woman. [Growing up] I wanted to be just like her.''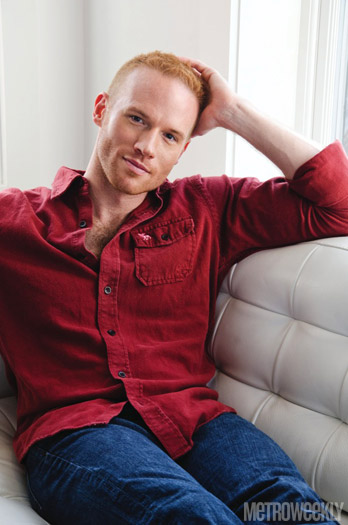 Aaron Lee Smith
(Photo by Julian Vankim)
Every now and then Aaron exposes his roots with a hint of a twang or a colorful ''back-home expression.'' He used one while talking about his sometimes tumultuous relationship with his mother, who raised him alone. ''If I ever brought somebody in and said, 'This is my boyfriend,''' Aaron says, winding up the pitch, ''she would shit twice and fall back in it.''
While his mother ''has made a lot of progress'' in the decade he's been out to her, she still has hang-ups about her only child being gay. She has, however, hit it off with several of his gay friends. ''I have birthday parties back home, and I let certain gay friends come in, ones that I know will not burn the place down,'' he says. ''And they love her. They're obsessed with her.''
Aaron lived near his mother in Charleston for years after graduating from West Virginia State University there. Now he's in Annapolis living with his gay best friend from college, Anthony, after a stint for much of 2012 in rural East Tennessee. He had moved South to live with a man – a man his psychic had warned him about.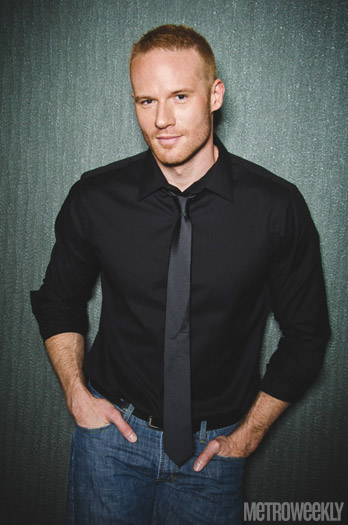 Aaron Lee Smith
(Photo by Julian Vankim)
''The readings are pretty freaky,'' Aaron says of the psychic he visits a couple times a year back in Charleston. ''He said I was going to meet a guy who had a shaved head, tattoos and earrings, and his name begins with a J. He said this guy was going to invite me to something.'' A year after the reading, Aaron fell for a man fitting that description and he invited Aaron to move in with him in Tennessee. ''[The psychic] also said don't do any business with this person – and he was right.'' The whole experience soured Aaron on dating. ''I don't have any desire to be in a relationship now,'' he says. ''It's too hard. It ages you when it's bad.''
Aaron, who worked in sales and marketing in Tennessee, is currently casting a wide net for similar work in the Washington region. He's also pursuing modeling work on the side, mostly in commercial photography. In addition to Metro Weekly, he recently appeared on the cover of Compete, the LGBT sports magazine. That was one prize resulting from his beating out a hot field to decisively win the TeamDC Fashion Show last March, a month after his original Coverboy spread.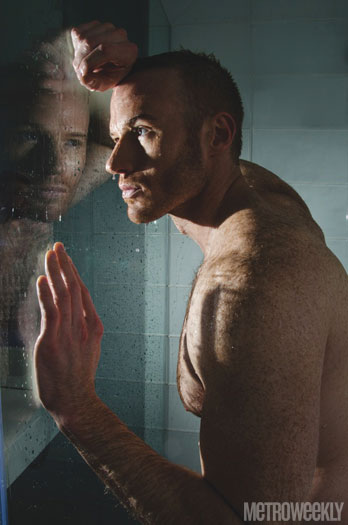 Aaron Lee Smith
(Photo by Julian Vankim)
If nothing pans out in this region, Aaron is open to moving South again. In particular, he's contemplating Florida. ''I don't like the cold weather. But at the same time,'' says the man whose skin requires SPF 50, ''I could just catch on fire in the sun.''
Frankly, wherever he goes, he's sure to be burning up.
Meet Aaron at Metro Weekly's 2012 Coverboy of the Year Party at Town, 2009 8th St. NW, Friday, Dec. 14, at 11 p.m.
Winner's Prize Package
· $500 Cash
· 9:30 Club -- 2 Tickets to Little Big Town
· Arena Stage -- 2 Tickets to Opening Night and Post-Show Reception for
Good People
· Bethesda Softworks -- A Copy of
Skyrim
and
Dishonored
for Xbox 360
· Blowoff -- 2 Admissions for all 2013 Dates at 9:30 Club
· CD/DVD Grab Bag - Ke$ha
Warrior
, Paloma Faith
Fall To Grace
,
Gayby
,
A MusiCares Tribute to Barbra Streisand
, Ladyhawke
Anxiety
, Chris Mann
Roads
, Missy Higgins
The Ole Razzle Dazzle
,
Desperate Housewives: The Complete Eighth and Final Season
, Bob Mould
Silver Age
, Melissa Etheridge
4th Street Feeling
· DC's Different Drummers -- 2 Tickets to D.C.'s Different Drummers' Capitol Pride Symphonic Band Spring Concert
A Space Odyssey
(3/23)
· DC Eagle -- $50 in Drink Tickets, Anniversary Coffee Mug, Anniversary Belt Buckle
· FIT -- 2 Full Personal Training Sessions
· Gay Men's Chorus -- 4 Tickets to
Xanadu
(3/16)
· Hollywood Tans DC -- 3-Month Unlimited Tanning Package in HT54 Stand-Up Booth
· HRC Store -- $100 Shopping Spree at D.C. Store
· JR.'s -- $50 in Drink Tickets
· Kennedy Center -- 2 Tickets to Barbara Cook's
Spotlight
: Terri White (1/25), 2 Tickets to Barbara Cook's
Spotlight
: Adam Pascal (5/10), 2 Tickets to
The Guardsman
(June 2013)
· Landmark Theatres -- 10 Passes
· L'Enfant Café -- $100 Gift Certificate
· Mova -- Bottle Service and $25 Bar Tab (valued at $175)
· Omega DC -- $100 Bar Tab
· Miss Pixies Furnishings & Whatnots - $50 Gift Certificate
· Number Nine -- $100 Bar Tab
· SKIN Cosmetic Dermatology of Georgetown -- $200 of Professional Skin Care Products
· State Theatre -- 2 Tickets to Any Show of Choice
· Studio Theatre -- Two Tickets to the Studio Theatre's Production of
4000 Miles
by Amy Herzog
· Town Danceboutique -- Free Admission (Plus 1 Guest) for Any Night the Club Is Open (Except When Admission Is Being Donated to Charity)
· Ziegfeld's/Secrets -- $50 Cash
Our thanks to all those nightspots, restaurants, businesses and performing arts venues who graciously provided prizes to this year's Coverboy winners. Certain restrictions may apply to some prizes. Prizes are non-transferable.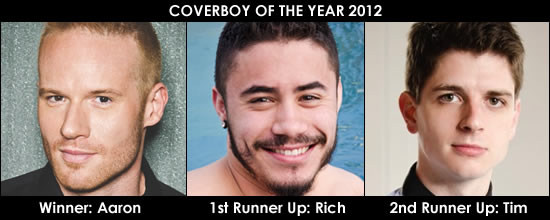 ---