Riding the Leather Express
Matt Bronson, Mr. MAL 2012, rocketed to the title-holding top in no time
During this 2013 Mid-Atlantic Leather Weekend, one face will stand out in the crowd. Rather, at 6'5'' one face will stand above most of the crowd. Tall or not, as Mr. MAL 2012, Matthew Bronson will be one of the weekend's stars.
Bronson would be the first to point out, however, that this is not a weekend of leather luminaries and their fans. Nope, this is all about community. It shows in the advice he has for those contestants he'll be judging in the 2013 tourney, as well as for the leatherman who eventually wins the title.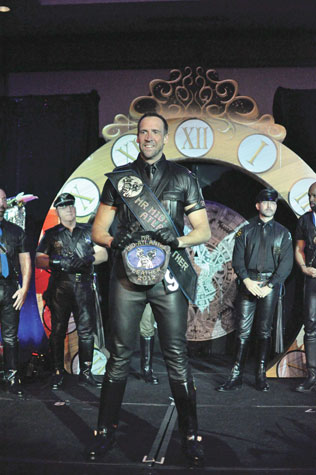 Mr. MAL Contest 2012
(Photo by Todd Franson)
''Be yourself,'' he advises. ''Don't be pretentious. Be approachable. People want to come up and talk to you.''
So that's just the type of titleholder Bronson has been, both as Mr. MAL 2012 and Mr. Pittsburgh Leather Fetish 2012. But with just a couple years as a leather aficionado, there's not much more he can suggest. Bronson's not taken a slow climb to the top through all the intricacies of leather living, the protocols and nuance. His leather journey has been more a nonstop rocket ride.
''Before I really got into the leather community, I was actually going through a rut,'' says the 47-year-old Allentown, Pa., schoolteacher. ''I was thinking about taking up a language or piano. Then this happened, and my life has been on fast forward.''
But how did it happen? Is not like there is a Hunger Games sort of lottery plucking the vanilla-minded out of their living rooms and dropping them into dungeons. Bronson just always liked leather bars – the friendliness, the outgoing attitudes of patrons, the ease of conversation.
''They always seemed the most down to earth, genuine people,'' Bronson says of visiting leather bars across the Northeast. ''That's what kept me going back.''
And that's what laid the foundation for what came next.
''About two years ago with a friend I was dating at the time, we decided to go to The Bike Stop in Philadelphia in full leather gear,'' Bronson explains. ''I just had a blast.''
Even if Bronson's leather gear that night was all borrowed, the fun didn't stop there. First, enjoying some time off in Rehoboth, he hit the Double L Bar, the beach resort's leather/Levi headquarters. Getting caught up in the fun of the Mr. Double L 2011 meet and greet, Bronson decided to take the plunge. And while he didn't win, he did place second. The next win came with Mr. Pittsburgh Leather Fetish. And then Mr. MAL, which primed him for participating in the International Mr. Leather 2012 contest in Chicago.
''I had a great time,'' says Bronson, even if he didn't win a third title at IML. ''You meet so many people from around the world. It's huge. If I compare them, it's like MAL is my local leather bar and IML is a huge dance club – and both great experiences.''
Although he may have those schoolteacher summers at his disposal, taking on the responsibilities of another high-profile title might have run this poor Pennsylvanian ragged.
''My life has been so exciting,'' says Bronson, granting it's probably a good thing he's been single on this leg of the journey. ''I've been busy every weekend the past year. … I was often called to come in and raise money. My goal was to get out to as many local events as I could, to go out and support them, because they've done so much for me.''
That's meant stepping up for victims of Hurricane Sandy and raising money for an LGBT youth center in Pittsburgh. Right here in D.C., that philanthropy manifested itself at the annual Scarlet's Bake Sale, held in February at the DC Eagle. What's the bid on a Mr. MAL 2012 cockring – as well as the towel guarding his privacy during its removal? Combined, Bronson brought in $550 that afternoon to help Pets-DC and Baltimore's Moveable Feast.
Those busy weekends will likely come to an end after Bronson steps down, making way for Mr. MAL 2013. He says it will be a weekend of sadness, with his year coming to a close, but also of excitement and of friendship. He also grants that it will be nice to throttle down and finally spend some weekends just relaxing with family and friends. Maybe he'll even find the time to take up the piano or learn that new language. However Bronson manages to fill his time, he knows the last year will be with him forever.
''I can be very shy, quiet," he says. "So to go from being the kid who wouldn't take off his T-shirt in public, to standing in a jock in front of 500 people, it's been a great journey. And I'll always be Mr. MAL 2012.''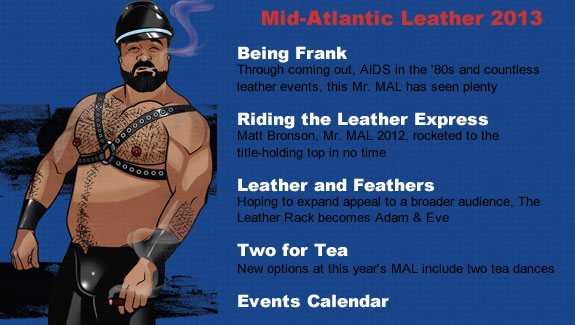 ---