The Best Medicine
Comic Suzanne Westenhoefer lends her gift of laughter to Mautner Project's Spring Gala
(Page 2 of 3)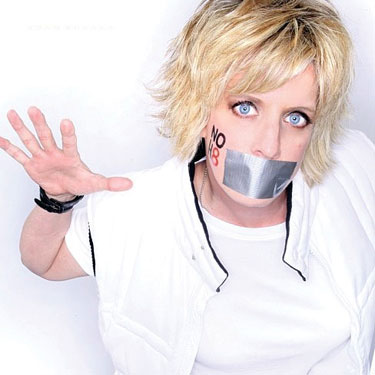 Suzanne Westenhoefer
(Photo by Adam Bouska)
MW: Are you a vegetarian or on any health-conscious diet?
WESTENHOEFER: My sister is a vegetarian, and many of my friends are, of course, 'cause I live in L.A. I'm trying to be wheat-free for a month. Not gluten-free, just wheat-free.
MW: What's the difference?
WESTENHOEFER: I'm not sure the difference between wheat and gluten. I don't have that disease, I'm not allergic to gluten or anything. I just know that some friends of mine in Los Angeles have tried cutting wheat out of their diets, and they find they have a lot more energy, etc. So I'm trying it. I'm willing to give it a whirl for a month or two to see if it really does work.
The thing is: You can't give up. I want to give up; you can't give up. You've got to just give it some time. If you slip, and you drink and you're not supposed to drink, AA doesn't turn to you and say, ''Well, then that's it, you're out of the group! [Laughs.] You've failed! And you're now an alcoholic for life, so forget it!'' So working out, trying to eat right, not smoking, not drinking so much: Whatever your health issues are, you've just got to keep [vigilant], because you don't want to die! Or if we do, we want it to be nice and quick and easy. You know, like getting hit by a car or something like that.
That's the way comedians think, by the way. Comedians are dark. We're horrible people like that. Ask a comedian, ''Do you want to live to be 90?'' ''Fuck no, I won't know anybody!'' Or ask a comedian if they want to live to be 90. ''Only if I can still be doing shows.''
MW: That's a good segue to talk about your career. How many shows are you doing these days? Are you still doing it all the time?
WESTENHOEFER: All the time, yeah. I have no intention of slowing down, I'm not slowing down in any way. As long as people will come out and see me, I will come there to them.
Last year I played the 17th annual Gay and Lesbian Jamboree outside Laramie, Wyo. (Officially, ''Rendezvous: The Rocky Mountain Region's Largest GLBT Camping Event.'') It was awesome! How do you say no to that? Who says no to that?
MW: What made it awesome?
WESTENHOEFER: That there is such a thing as an annual Gay and Lesbian Jamboree 45 minutes outside Laramie, Wyo. Just the fact that that exists, there's no way I'm not going to go.
MW: How many people showed up?
WESTENHOEFER: About 500 people.
MW: Were you the host?
WESTENHOEFER: No, I was the comedian, the Saturday night entertainment. I performed on pieces of plywood laid down on the dirt. It was camping. And when I say camping – there was no running water. Like for real! [Laughs.]
MW: I gather you're not able to be home all that often.
WESTENHOEFER: Well, yes and no. It's kind of weird. I'll go like a couple months when I'm only home for a few days a month, and then I'll go a couple months where I'm home like the whole time except for a few weekend nights. I get to have a pretty normal life. It allows me to keep a cat.
MW: So you have a cat. Any children?
WESTENHOEFER: Not at the moment.
---