Sea of Red
Orlando's love of Gay Days has only grown stronger, as has the gay community's love for Orlando
"I would warn Orlando that you're right in the way of some serious hurricanes, and I don't think I'd be waving those flags in God's face if I were you. This is not a message of hate – this is a message of redemption. But a condition like this will bring about the destruction of your nation. It'll bring about terrorist bombs; it'll bring earthquakes, tornadoes and possibly a meteor."
To say that conservative Christian Pat Robertson missed the mark when he made this statement in 1998 in response to the city of Orlando, Florida's support of Gay Days would be a polite understatement.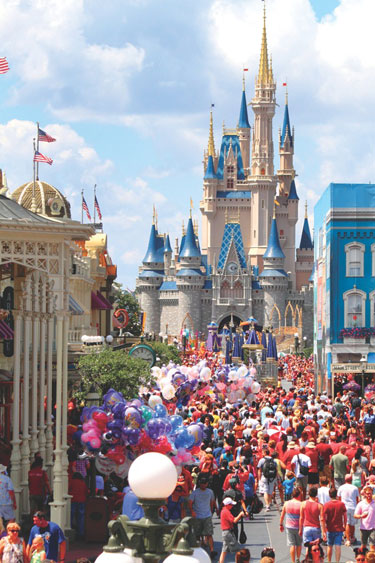 Gay Days Orlando at Disney World
Orlando's love of Gay Days has only grown stronger, as has the gay community's love for Orlando.
What started as a single-day LGBT takeover of Disney's Magic Kingdom has expanded to a week of events held throughout the city, attracting thousands of participants. The benefit to the local economy is estimated at around $150 million.
''It was fabulous to see the sea of people wearing red shirts flooding the Main Street of Magic Kingdom and the other parks,'' recalls Syrel Fadullon. ''I felt welcomed and comfortable. And to me that was amazing and reassuring.''
The red shirts that Fadullon describes have been a tradition since the start of the event in 1991, when participants were encouraged to wear red shirts as a sign of unity.
Fadullon has been to Gay Days twice, in 2009 and 2010, and he loved both trips.
''My friends and I spent all of our time being big kids, bouncing around the parks,'' he says. ''Everywhere we looked, we would see others like us mixing perfectly with the other guests.''
Of course, there was a time when the union between Gay Days and Disney was not as sweet. During the early years, Disney would place warning signs near the entrances to its parks to alert guests that the gays were around. Now, Disney puts out signs to welcome those patrons who once raised the red flag. With the January announcement that a gay man, George Kalogridis, is the new president of Walt Disney World Resort, there might be some extra Tinker Bell love for Gay Days in the future.
Chris Manley, along with his life and business partner, was involved with organizing the very first Gay Day, and began to formalize and expand the event in 2002. It has become a full-time job and passion.
''We are so lucky that Orlando is the top tourism destination in the county," he says. "And our community is just like other tourists and wants to visit Orlando."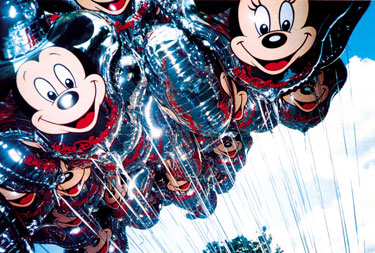 Each Disney park now has a designated ''gay day.'' This year, it's Animal Kingdom on Thursday, May 30; Hollywood Studios on Friday, May 31; Magic Kingdom, on Saturday, June 1; and Epcot on Sunday, June 2.
And while visiting the parks remains core to Gay Days, participants have the option to partake in dozens of parties and events outside of the parks.
Much of Gay Days' non-Disney activities center around the Doubletree by Hilton Orlando at SeaWorld, which recently completed a $35 million renovation. Set on 28 lush acres, it has served as the host hotel for the past three years and has an agreement to continue for at least the next three.
The pool parties at the host hotel are nearly as popular as the Disney parks. Open to hotel guests and non-guests alike, the parties go on well into the wee hours of the morning at three separate pools – divided between men, women and bears – and are headlined by the circuit's top DJs. This year's schedule includes Randy Bettis, Joshua Atom, Nancy Starr, Grind, Barney Philly, Mary Mack and Chi Chi LaRue.
The hotel is also the sight of an extensive multi-day expo of organizations, businesses and destinations seeking to capture the attention of the thousands of attendees.
A newer addition to Gay Days that has proven very popular is a comedy night. This year, Judy Tenuta will perform. No stranger to gays, the accordion-playing comedian received her first Grammy nomination for Attention Butt Pirates & Lesbetarians and appeared in the cult-classic film Butch Camp.
With bookings for the Doubletree already running ahead of last year's numbers, Manley expects more than 160,000 people will take part in this year's festivities.
With so many people coming to Gay Days from all over the world, others have jumped on the Mickey Mouse express with ancillary events. The organizers of One Magical Weekend are hosting a party on Friday, May 31, at Disney's Typhoon Lagoon water park with DJ Manny Lehman, and a ''Retro-T'' at Epcot with DJ Wendy Hunt on Sunday, June 2. And its host hotels include two Disney properties, the Saratoga Springs Resort & Spa and the Coronado Springs Resort.
Promoter Mark Baker has planned a series of pool parties and dances at Downtown Disney's Buena Vista Palace, which is also offering special room rates. He is also hosting a party at Universal Studios that will headline Kevin Aviance on Saturday, June 2.
Daniel Truitt, another Gay Days veteran, loves the fact that Gay Days has stayed true to its Disney roots, but also evolved.
''I rode every ride, from It's a Small World to the teacups. My favorite was taking the Jungle Cruise with a boat full of bears, which was laugh-out-loud fun times,'' says Truitt. ''I also played in the pool at the host hotel. I did the party at Typhoon Lagoon. I danced my butt off at Parliament House. And I had a blast.''
Gay Days Orlando is May 28 to June 3. For more information visit gaydays.com.
Read more:
---