Boots Over Broadway
Billy Porter has many people pumped up about his remarkable, Tony-nominated work in ''Kinky Boots''
(Page 3 of 3)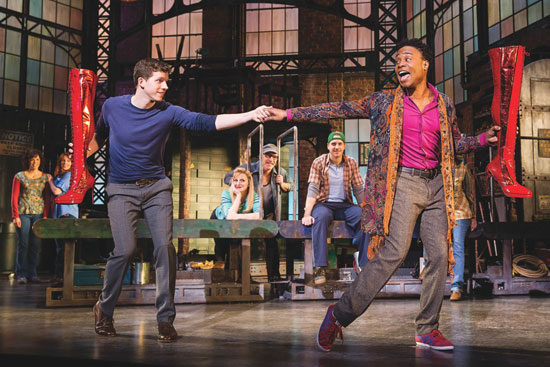 Kinky Boots
(Photo by Matthew Murphy)
MW: Do you plan to record another album?
PORTER: I'm in the process right now of trying to figure that out. And figure out how and with whom and what it's going to be. I think having the audience now of Kinky Boots is going to help launch that for me.
MW: And then there will be the cast album, due out May 28. That's another one to add to your discography.
PORTER: Absolutely. And it's really good too because Cyndi Lauper is one of the album's producers so it sounds really authentically crossover pop. It's a theater piece but it sounds like a pop record.
MW: That's also one of the things I took away from the show itself: It's a musical rooted in contemporary pop. It doesn't sound that much like the traditional Broadway show.
PORTER: Yeah. It's really authentic. And she's a brilliant songwriter and a wonderful, brilliant lyricist. She really came to play and I think she wrote -- it's some of her best work ever.
MW: Do you have a particular favorite of the songs that you sing?
PORTER: The one that is the closest to me, and the one that I think says the most about Lola, the story and myself is ''I'm Not My Father's Son.'' It's the place where you get to learn and discover who this human being is. Initially, when you first meet Lola, you can mistake her for something that you've seen before. You could mistake her for being the over-the-top clown. And then all of a sudden it drops right in to the humanity of this person. And it changes the trajectory, the whole tone of the evening, the whole energy of the room. It's amazing to feel it happen every night.
MW: That song is about the two lead characters' personal struggles going against the family -- and familiar -- grain. You personally had that struggle too, right?
PORTER: I had a very tenuous relationship with both my stepfather and my real father, at best. And you know I think that this play, in a lot of ways, is a healing journey for me. It helps me understand their humanness -- the fact that we're all human, we all make mistakes. It has taught me how to forgive them and to forgive myself, and to grow.
MW: What do you think they make of your success, particularly with this show?
PORTER: They're both dead, so I'm sure they're watching from wherever they are. [Laughs.]
MW: Let's talk about your upbringing. You grew up in Pittsburgh. Did you have siblings?
PORTER: I have one sister who's 10 years younger than me. And I have a couple of aunts and some cousins and stuff like that. I grew up in the Pentecostal Church. I sang in church. That's where I started singing. I was introduced to theater in the sixth grade, at the Reizenstein Middle School. I sort of did my first musical in the sixth grade, and then I saw Dreamgirls on the Tony Awards in 1982. And that was when it was like, ''Oh. Oh, okay, maybe I can do this for a living.'' It was just fun initially, but then I saw that people actually did it for a living. And black people did it for a living. And that was the most significant, seeing all of those gorgeous black people on TV looking amazing in those costumes. And then Jennifer Holliday came out and sang the way that I was used to singing. You know it sounded like the women who sang in my church. It sounded like me. And I was like, ''Oh, okay, there is something out there that exists beyond the church building.''
Then I went to the creative and performing arts high school. I went to Carnegie Mellon University in the drama department. And then I moved to New York the second semester of my senior year to be in the original cast of Miss Saigon. That was in '91.
MW: What was that first musical in sixth grade?
PORTER: It was Babes in Arms. Rodgers and Hart.
It was white people's music. It didn't sound like me. You know what I mean? It's like, I didn't know that I could do that. It was fun to sing, it was fun to be in it -- but it was white people. It felt very white.
MW: Are you still in contact with your sister?
PORTER: Yeah. She was here over the weekend with 30 friends and family that she organized to bring to the show this past weekend.
MW: Sounds like you've got a good support system there.
PORTER: Well, it is now. [Laughs.] It wasn't always. But it is now.
MW: Do you want to have kids at some point?
PORTER: I have to meet the right man first. So let's start with a husband. And then we'll talk about kids.
MW: What do you hope for next, or five or 10 years down the line?
PORTER: I don't know. I'm trying to live in the moment. I'm trying to be present right now.
I have goals. I have dreams. I've written a play that I would love to see mounted here in New York on Broadway and around the world. I've written a television series that I would love to see picked up and produced. I mean, the sky's the limit. I would love to brandish a gun in some action movie. I'd love to win an Oscar. All of those things. But really, in this moment, I'm playing Lola.
MW: Definitely a good moment to be in.
PORTER: It's an amazing moment. And I'm trying to embrace and understand how to really, really do that. I think we as human beings have a tendency to always be looking on to the next thing and we miss the great things that are happening in front of us.
Kinky Boots runs at the Al Hirschfeld Theatre, 302 West 45th St., in New York. Tickets are $77 to $142. Call 212-239-6200 or visit telecharge.com.
---