Boots Over Broadway
Billy Porter has many people pumped up about his remarkable, Tony-nominated work in ''Kinky Boots''
A couple weeks ago Katy Perry raved to her nearly 37 million followers on Twitter.
''Just saw KINKY BOOTS on Broadway & cried w/joy from it's [sic] powerful, beautiful message,'' the pop star Perry wrote in a tweet maxed out to exactly 140 characters. ''Congrats on every of its deserved 13 Tony nominations!''
But Perry wasn't done. A few seconds later she sent a second shorter, punchier tweet: ''AND if Billy Porter doesn't win the Tony for best actor in a musical... There will be words... Trust.''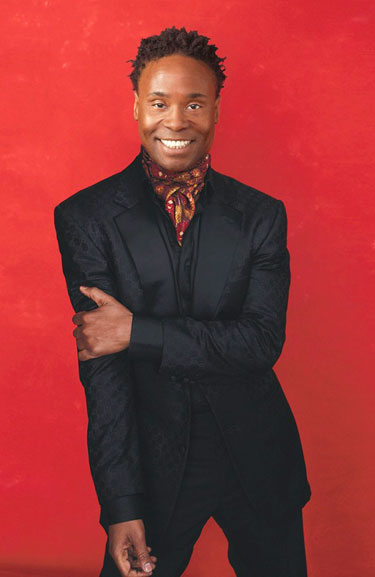 Billy Porter
(Photo by Gavin Bond)
Harvey Fierstein and Cyndi Lauper's musical, based on a 2005 British film about a drag queen who helps save a family shoemaking business, garnered the most Tony nods of any show on Broadway this year. Two of its 13 nominations are for its leads: Stark Sands, who plays Charlie, the straight man, and Porter, who plays Lola, the drag queen. Porter even faces stiff competition from another man who performs in drag -- ertie Carvel, who plays a sadistic ''headmistress'' in Matilda.
Even if the 43-year-old Porter doesn't win -- and Perry follows through with more words -- Kinky Boots is clearly Porter's star-making role. Not that he's anything of a novice: The actor has spent more than two decades on and off the Great White Way, with additional forays into television and film and pop music.
''Billy's such a great performer and a really, really good guy,'' Broadway composer Stephen Schwartz said during an interview with Metro Weekly. Schwartz particularly remembers Porter as Belize in the 2010 New York revival of Angels in America, a role that Porter recalls as a ''a dream role.''
''He was fantastic, I just thought he gave an amazing performance in that,'' Schwartz says. ''And not very surprisingly, he's superb in Kinky Boots as well.''
METRO WEEKLY: Congratulations on the Tony nomination. It's your first, right?
BILLY PORTER: Thank you! Yes it is. It's amazing. I've been dreaming of this for a very long time.
MW: Did you think this would be the one that did it for you?
PORTER: Hmm, I knew that it had the potential. It's the kind of part that sort of screams ''Tony nomination,'' if you can actually get all the pieces in place properly.
MW: How long have you been working on the role?
PORTER: Since July of 2011. I did a table reading, and then we did a workshop in January of 2012. And then we went to Chicago in September of 2012.
MW: You've had a good long while to figure out Lola, the character.
PORTER: Yes. I had a nice long time for it to marinate. [Laughs.]
MW: Not to mention getting used to wearing heels so much of the time.
PORTER: I had walked in heels before, so it wasn't the actual walking in them, but it was the idea of having to wear them eight times a week, and trying to figure out how to build my core strength so that I wouldn't have back problems. I started going to Bikram yoga back in November of 2011 before the workshop. And then they sent me to a boutique gym here in New York.
MW: And so far...?
PORTER: I'm holding up. As of now, I'm holding up. I don't have any back problems. I do physical therapy twice a week and I get a massage once a week, so I'm staying on top of all of whatever the physical issues could possibly be.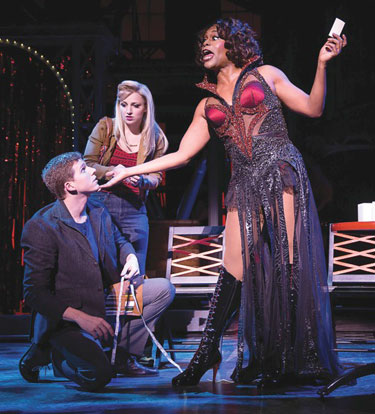 Kinky Boots
(Photo by Matthew Murphy)
MW: Is it true that you ice your feet as part of your show regimen?
PORTER: I do, I do. You've got to pull the blood out of them and redistribute the blood back into the rest of your body. [Laughs.]
MW: You have to go beyond just the typical performing duties of protecting your voice, though you have to do that, too.
PORTER: Vocally, I took really great efforts to create a template where nothing was strained. I would sing through songs and find the key and then I would say, ''Okay, now let's lower that a step.'' So I wasn't always at the tip-tip-top of my range, and didn't have to worry about that. And then regenerative sleep. I try to get at least seven to 10 hours of sleep a night. That really is the biggest key to success, doing eight shows a week.
MW: You mentioned experience wearing heels. This isn't your first drag role, right?
PORTER: I did a film back in the '90s called Twisted, where I played a drag queen. And I did a play where I was dressed up in sort of pseudo drag for a scene of it. But never to this magnitude, and never in this way that's so grand and spectacular. It's designed -- the hair, the wigs, the makeup, the costume. It's just astonishing. I have a whole team that helps Lola come to life.
MW: The Village Voice recently stirred up a little controversy with the character, quoting Harvey Fierstein calling Lola straight, all the while you've conceptualized playing the role as gay, right?
PORTER: For me, yes. But let me be clear that Lola's sexuality is not the point of this play. It's not the point at all. She could be gay, she could be straight, it could be questionable. In terms of how I approach it, as an African-American, out, gay Christian man, my version of Lola is gay. Now if you have a conversation with Harvey Fierstein, he might say something different and that's absolutely fine as well. You have to understand that Lola's sexuality is not the point. It's just not. So it doesn't actually matter.
MW: The point is just respecting yourself and what makes you different or special, as well as respecting others who are different from you.
PORTER: Yeah, learning how to love yourself. Learning how to respect yourself. Learning how to forgive yourself and forgive others. It's a bromance between two men -- an unlikely pair of friends. And one of them just happens to wear a dress.
MW: You've been out your entire career?
PORTER: I have. I was out when it wasn't popular. [Laughs.] And I've taken all the hits that come with that decision.
MW: Obviously you've seen changes since you started.
PORTER: Oh absolutely. The character of Lola could not have existed 20-something years ago when I started in this business. Which is why it's taken me all of this time to have a role that is so revolutionary inside of the [Broadway] paradigm. She's black, and a drag queen, on Broadway. We have not seen that before. And she's not the butt of the joke. She's not a caricature. She's a real, three-dimensional, fleshed-out human being. And you know, no T, no shade, but it's not Madea. And I love Tyler Perry and I love Madea, but it's not that version of drag.
You get to see a third of the piece where Lola is male, out of drag. And you see the inner workings and the dimensions of who this person is. So she's not just the clown, but she's the heart and soul of the piece. And that's a different thing. That didn't exist when I started. The possibility of what I'm doing right now did not exist. It was not an option.
MW: You alluded to it already, but when you started in this business, I'm sure people encouraged you to be in the closet and not be out.
PORTER: Yeah, I was in the music business. I had an album on A&M Records. I was never the type of person that was sort of screaming from the mountaintops that I was gay. I also wasn't the type of person that was so effeminate that I couldn't pass. But I also instinctively, early on, knew that to omit the information was also a lie. So to say nothing -- for me, and that's just for me -- to say nothing and sort of let people think otherwise was also a lie and it wasn't truthful, and I really wanted to find as much truth in my work as I possibly could.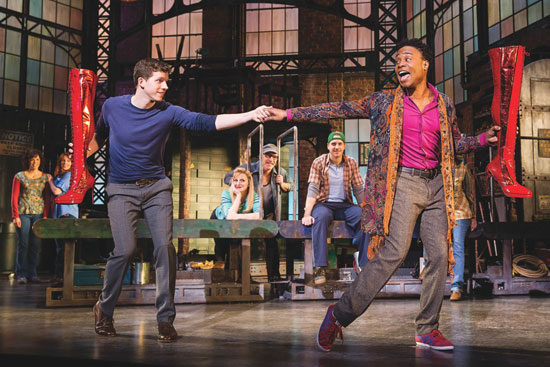 Kinky Boots
(Photo by Matthew Murphy)
MW: Do you plan to record another album?
PORTER: I'm in the process right now of trying to figure that out. And figure out how and with whom and what it's going to be. I think having the audience now of Kinky Boots is going to help launch that for me.
MW: And then there will be the cast album, due out May 28. That's another one to add to your discography.
PORTER: Absolutely. And it's really good too because Cyndi Lauper is one of the album's producers so it sounds really authentically crossover pop. It's a theater piece but it sounds like a pop record.
MW: That's also one of the things I took away from the show itself: It's a musical rooted in contemporary pop. It doesn't sound that much like the traditional Broadway show.
PORTER: Yeah. It's really authentic. And she's a brilliant songwriter and a wonderful, brilliant lyricist. She really came to play and I think she wrote -- it's some of her best work ever.
MW: Do you have a particular favorite of the songs that you sing?
PORTER: The one that is the closest to me, and the one that I think says the most about Lola, the story and myself is ''I'm Not My Father's Son.'' It's the place where you get to learn and discover who this human being is. Initially, when you first meet Lola, you can mistake her for something that you've seen before. You could mistake her for being the over-the-top clown. And then all of a sudden it drops right in to the humanity of this person. And it changes the trajectory, the whole tone of the evening, the whole energy of the room. It's amazing to feel it happen every night.
MW: That song is about the two lead characters' personal struggles going against the family -- and familiar -- grain. You personally had that struggle too, right?
PORTER: I had a very tenuous relationship with both my stepfather and my real father, at best. And you know I think that this play, in a lot of ways, is a healing journey for me. It helps me understand their humanness -- the fact that we're all human, we all make mistakes. It has taught me how to forgive them and to forgive myself, and to grow.
MW: What do you think they make of your success, particularly with this show?
PORTER: They're both dead, so I'm sure they're watching from wherever they are. [Laughs.]
MW: Let's talk about your upbringing. You grew up in Pittsburgh. Did you have siblings?
PORTER: I have one sister who's 10 years younger than me. And I have a couple of aunts and some cousins and stuff like that. I grew up in the Pentecostal Church. I sang in church. That's where I started singing. I was introduced to theater in the sixth grade, at the Reizenstein Middle School. I sort of did my first musical in the sixth grade, and then I saw Dreamgirls on the Tony Awards in 1982. And that was when it was like, ''Oh. Oh, okay, maybe I can do this for a living.'' It was just fun initially, but then I saw that people actually did it for a living. And black people did it for a living. And that was the most significant, seeing all of those gorgeous black people on TV looking amazing in those costumes. And then Jennifer Holliday came out and sang the way that I was used to singing. You know it sounded like the women who sang in my church. It sounded like me. And I was like, ''Oh, okay, there is something out there that exists beyond the church building.''
Then I went to the creative and performing arts high school. I went to Carnegie Mellon University in the drama department. And then I moved to New York the second semester of my senior year to be in the original cast of Miss Saigon. That was in '91.
MW: What was that first musical in sixth grade?
PORTER: It was Babes in Arms. Rodgers and Hart.
It was white people's music. It didn't sound like me. You know what I mean? It's like, I didn't know that I could do that. It was fun to sing, it was fun to be in it -- but it was white people. It felt very white.
MW: Are you still in contact with your sister?
PORTER: Yeah. She was here over the weekend with 30 friends and family that she organized to bring to the show this past weekend.
MW: Sounds like you've got a good support system there.
PORTER: Well, it is now. [Laughs.] It wasn't always. But it is now.
MW: Do you want to have kids at some point?
PORTER: I have to meet the right man first. So let's start with a husband. And then we'll talk about kids.
MW: What do you hope for next, or five or 10 years down the line?
PORTER: I don't know. I'm trying to live in the moment. I'm trying to be present right now.
I have goals. I have dreams. I've written a play that I would love to see mounted here in New York on Broadway and around the world. I've written a television series that I would love to see picked up and produced. I mean, the sky's the limit. I would love to brandish a gun in some action movie. I'd love to win an Oscar. All of those things. But really, in this moment, I'm playing Lola.
MW: Definitely a good moment to be in.
PORTER: It's an amazing moment. And I'm trying to embrace and understand how to really, really do that. I think we as human beings have a tendency to always be looking on to the next thing and we miss the great things that are happening in front of us.
Kinky Boots runs at the Al Hirschfeld Theatre, 302 West 45th St., in New York. Tickets are $77 to $142. Call 212-239-6200 or visit telecharge.com.
---