Pride's Wonder Woman
Other superheroes come and go, but Lynda Carter's smile and twirl make her an icon with staying power
(Page 3 of 3)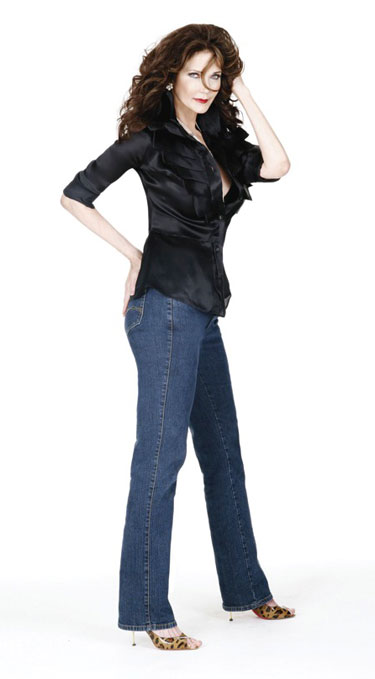 Lynda Carter
(Photo by Karl Simone)
CARTER: I think the main thing is that being gay is just a piece of who you are, it's not all you are. Granted, it encompasses a great deal of your personal life in who you love and how it's accepted. But I think there is still a misconception that being gay means you have to dress a certain way, you have to act a certain way. There are flamboyant gay people and then there are just people who are doctors and lawyers and athletes and such.
MW: You've got Fire Island coming up, I assume that's a gay event?
CARTER: Yeah, Fire Island is totally! And then we're doing this big LGBT thing in Chicago.
MW: Have you ever met a drag queen doing Wonder Woman?
CARTER: Oh, God yes! Oh, I've got some great pictures. Mostly you see them, I bet we will have a zillion of them at the parade. But I want to encourage [everyone to come out].
What I think has meant the most in terms of the regular public, but to see things like Modern Family, some of the TV shows where it's not over the top, it's just regular people. That has changed, I believe, the minds of a lot of people. And I think it's really important for the general population to show up for these things, so that people see that it isn't just some outrageous thing. As much fun as that is!
MW: You've been involved politically on LGBT issues for a long time, but on a more personal level what keeps you wanting to connect with the community?
CARTER: It's a big fan base for me. You know, it is something I feel passionately about, but I also feel a responsibility because of Wonder Woman, because you know I have had the support of this community for a long time, that I feel I owe them something. I've always embraced them, I do embrace them, they've embraced me. It's a mutual respect thing. That's just how I feel.
The Capital Pride Parade is Saturday, June 8. Step off is 4:30 p.m. For a map of the route, please turn to page 42 or visit capitalpride.org.
For more information on Lynda Carter, her album and upcoming tour dates, visit lyndacartersings.com.
---