Icona Pride
Icona Pop's Caroline Hjelt and Aino Jawo are ready to give and feel love at Capital Pride
[Update: Watch Icona Pop perform at the Capital Pride Festival at end of this article.]
Caroline Hjelt and Aino Jawo sing and shout in unison on ''I Love It,'' their hit punky-pop anthem. It's hard to imagine either of the ladies, known collectively as Icona Pop, singing the song solo.
''That's not an option,'' the 26-year-old Jawo says. ''I'm just so happy that we're doing this together.''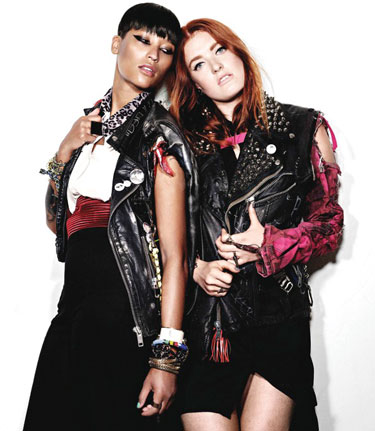 Icona Pop
(Photo by Fredrik Etoall)
''I could not … imagine doing it without Aino,'' seconds Hjelt, 25.
The two have been nearly inseparable since they first met in their native Sweden in 2009. They even describe their relationship as platonic soul mates -- ''a perfect match,'' in Hjelt's words. During a recent phone conversation from Los Angeles, where they were hard at work putting together their debut album, due out later this year, Hjelt and Jawo occasionally stepped in to finish each other's thoughts and sentences -- just as countless soul mates have done before them.
Over the past several years the two have moved from Stockholm to London to most recently New York, putting down roots to properly nurture a global pop-music career. Both ''I Love It'' and the appealing EP Iconic -- featuring five additional dance songs -- were released in 2012. Icona Pop was even heralded as ''Music's Next Big Thing'' by The Daily Beast/Newsweek after taking by storm New York's influential CMJ Music Marathon festival last October.
But it wasn't until this year that Icona Pop started to live up to that billing, catching fire in the mainstream. Just in time for Pride, the duo has released the new girl-power single ''Girlfriend.'' Meanwhile ''I Love It'' remains lodged in the Top 10 of the Billboard Hot 100. The song has become a staple -- on pop radio, in gay bars, even on television. When the duo hits the stage at the Capital Pride Festival this Sunday, June 9, no doubt Pridegoers, facing the U.S. Capitol, will be singing and shouting right along with Icona Pop, expressing the anthem's irresistible mixed message: ''I don't care. I love it!''
METRO WEEKLY: I know you've been working on your album as well as plans for your first headlining tour of North America later this summer. But this weekend you'll take a break to perform at Capital Pride.
CAROLINE HJELT: Yay! It's going to be one hell of a party. We're very honored.
AINO JAWO: We're very excited.
MW: Have you performed at other Pride events?
JAWO: No we haven't done Pride events.
HJELT: We played at the White Party in Palm Springs, and then we've played at gay clubs in New York.
MW: I actually caught one of those, your performance at New York's gay club Splash during CMJ. That was a show after 2 a.m. on a Thursday, after a full day of performances at the festival.
JAWO: Oh yeah!
HJELT: Wow, we were so drunk! [Laughs.]
MW: Well, your enthusiasm for performing was certainly contagious. I remember you made out with a twinky gay boy, right there onstage during the performance.
HJELT: Yes, I did! It was so much fun! He was so gorgeous!
JAWO: That was so lovely! [Laughs.]
MW: So is that what you're expecting from Capital Pride?
JAWO: Oh yeah, totally. You will see us naked with all the gay guys.
HJELT: Yes. That's where we belong!
MW: It is true that while you're now connecting with all of America, you connected with the gay crowd first.
HJELT: Oh, yes.
JAWO: It feels like the gay crowd is almost a little bit ahead of everyone else. And then everyone else comes, I guess.
HJELT: Yeah, and they're not afraid of picking up new stuff. And I also think we make music that people like to dance to. And we've been to a lot of gay clubs, and have a lot of gay friends. And there's always good dancing going on.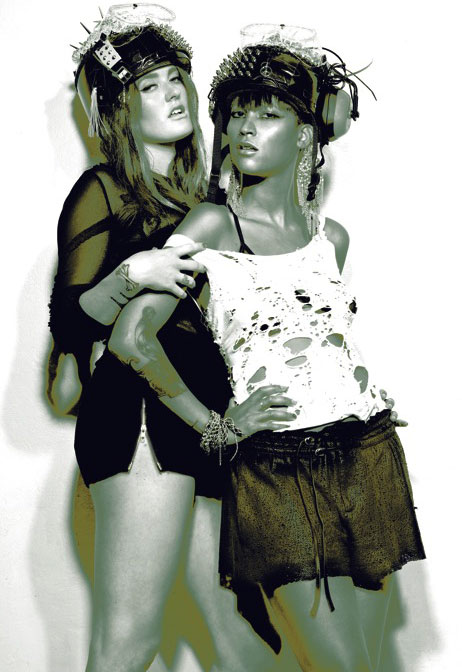 Icona Pop
(Photo by Fredrik Etoalltritone)
MW: I gather that even before you started making music, you guys would go out dancing together.
HJELT: Yeah, well, we were club kids from the beginning. We think it's kind of a romantic thing, the whole club scene. Everybody's there for the music, and everybody wants to feel, or maybe escape reality. You know, it's all about being there in the moment and just -- there's something a little bit romantic about it.
MW: Before you were club kids, you were girls growing up in Stockholm. What were your childhoods like?
JAWO: I grew up in a very musical family, where everyone, except me, went to music school and stuff like that. But I've always loved music. My dad comes from Africa and my mom's from Finland. We listened to everything from classical music to rhythmic world music. And I totally fell in love with pop music of the '90s, because that's when I grew up. And then I started being in different bands. And then Icona Pop happened.
HJELT: It was kind of the same for me. I've also been in a family where we've been listening a lot to all different kinds of music, and always singing. I started in choir school pretty early, and then after that I went to another school. And I was really trying to find my way. I was trying so many different ways, and I was giving my all, but I didn't feel like people could understand what I wanted to do. I was very frustrated, and I couldn't put my finger on what it was. But then when I met Aino I was like, ''Wow, this is how it's supposed to feel like when you're creating.'' Because it felt so natural and so good.
MW: Following up on what you said, Aino, other members of your family were more musical than you?
JAWO: Oh yeah, but I think I started kind of late. My sister and my brother, they were playing violin and trombone, and I was more watching MTV. But I've always been into music. I play guitar and piano. I started playing instruments pretty early.
HJELT: But it's kind of funny that people think that you have to [be trained]. I mean, you can find your own way of creating music. I went to music school for nine years first, and then I was studying music theory for so many years but I could never learn. But I have another way of writing. I found other ways to express [myself].
MW: Who are your influences when making music? What inspires you?
JAWO: We go through a lot of weird situations together. And the only thing we have in the end is each other. So I think both me and Caroline give each other a lot of inspiration. But also love life. You can go back to those times when someone broke your heart, or how your friends have been treated bad. So it's experiences.
MW: What about other artists? How do you feel about Robyn?
HJELT: Oh, I think she's great. She was such a pioneer when it comes to pop music in Sweden. She's really, really good.
MW: I can definitely hear an influence. Just as with a lot of Robyn's songs, your music and lyrics don't always match in mood or sensibility. The music might be a bit carefree or happy while the lyrics are more fraught or emotionally complicated.
JAWO: I think that's the same with a lot of Swedish people. We love the bittersweet feeling about it. I'm very happy that you say that with Robyn. We've been working with the same producers.
MW: What is it about Sweden and today's pop music? The influence goes as far back as ABBA of course, but especially in the past few years producers and artists from Sweden have set the pace for electronic dance music, or EDM. Is there something in the water?
HJELT: [Sings] There's something in the water!
JAWO: I don't actually know. We've been talking about this a lot. I don't know if it's because the winter is so long that people get really -- they go down, under-earth, and they start to work on music.
MW: Aino you mentioned a brother and a sister. Do you both have siblings?
HJELT: I have one sister and one brother.
JAWO: And I have one sister and one brother, and then I have some family in Africa also.
MW: Where in Africa?
JAWO: West Africa. I'm gonna go and visit soon.
MW: Have you performed yet in West Africa?
JAWO: No. I would love to, but I haven't had the time to go there for like seven years, so the next [tour] rotation, I'm going to take Caroline and we're going to record our second album there. And she's going to meet my family.
MW: Your families must be happy with your success.
HJELT: I think we have the best families ever. They've always been so supportive. And even when it's been -- I mean, we've had some really tough times. And it's never been a question that they think that we should do something else. It's just been pure support, and I guess they're very happy now because they see that we are happy. They've seen us very unhappy from time to time, some stuff didn't go our way. Right now I think they would like to see us a little bit more than they do, but still they know that we are happy and that we are doing what we love. We're trying to get home to visit them every time we can.
MW: Where do you make your home these days? Here in the states?
HJELT: Yeah, we are in the states. But we're traveling everywhere. I mean, my home is where Aino is, kind of.
JAWO: I am a big home! [Laughs.]
HJELT: It's really weird just doing the gypsy lifestyle. We don't really have a home. We're based in New York, and we have a lot of stuff in New York. But we don't have a home. We're just constantly traveling.
MW: Is it true that you spend most of every waking day together?
JAWO: Yeah, we do!
HJELT: Even days we're free.
JAWO: When we go back to Sweden and have a day off or something, we're like, ''Hey, we should really hang out and not talk about anything that has to do with work.'' But then again, I don't see music as work. It's more like a passion. But it's fun. We hang out all the time. No one understands me [like Caroline does], I think that's why. You're like a big UFO.
HJELT: I think we created our own little world.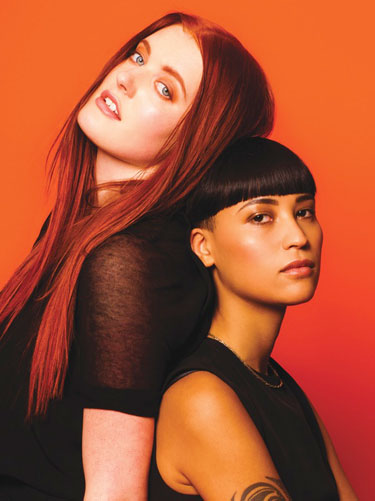 Icona Pop
(Photo by George Harvey)
MW: So you don't get tired of each other? You don't get on each other's nerves?
HJELT: No.
JAWO: Not at least now. And we've been hanging out --
HJELT: -- for four years. And we've been sharing a bed in London, and in Sweden. I think it's because we have such huge respect for each other.
JAWO: Uh-hmm.
HJELT: It's just very [comfortable]. If you're having a day where you don't feel like talking, we can hang out for three days without talking. And sometimes we're talking all the time. It's all about feeling each other's energies, and having a lot of respect for each other. We never fight. We can discuss stuff.
MW: Well, obviously with your career the way it is right now, it's hard to have a love life. But it sounds like it's probably also hard because you're always together. It makes it difficult. Are you able to find time for dates?
HJELT: The only thing we're not sharing is a guy! [Laughs.]
JAWO: Yeah. I would say the same. We do -- you make time for love. If you find someone, which we've done a couple of times, sometimes it doesn't work out, but you make time. And of course it's hard because you're never at the same place [very long].
HJELT: But if you [dwell on] how hard it is, and how hard it's going to be to find someone, then you make it hard. You just have to be very honest to your feelings and to the other person, because you don't have the time. You just have to be like, ''Hey, I like you, do you want to hang out?''
JAWO: ''Hey, I love you!'' [Laughs.]
HJELT: ''Hey, I love you, do you want to marry me?'' [Laughs.]
MW: Well, do you want to get married? Do you want to settle down and have kids?
JAWO: Definitely one day. But now I would feel trapped. I love babies and children. But not right now.
HJELT: No, now is not the time. But in the future, when things might be a little bit more calm, and I have my shit together, then I'm going to have kids.
JAWO: A lot of babies!
HJELT: Yes. But we'll have to have them at the same time: between albums. [Laughs.]
MW: Can either of you imagine doing this without the other?
JAWO: No, that's not an option. I'm so happy that Caroline is with me because there are so many times when we only have each other, and we can always discuss anything. And I'm just so happy that we're doing this together.
HJELT: I could never, no, I could not --
JAWO: -- imagine --
HJELT: -- imagine doing it without Aino.
JAWO: There are so many times that you spend just waiting on stuff. Waiting at airports. There are so many decisions that you have to make, and it's so nice to be me and someone else.
HJELT: When it's fun stuff as well. [But] especially, I mean, when you're going through something that is just so hard for other people to understand, then you have each other and you can talk about it -- like, do you remember that time when we met that crazy blah-blah-blah, fill in the words. You have someone to share it with.
MW: You're describing your relationship as if you were each other's life partner, even soul mate.
JAWO: Yeah!
HJELT: Yeah, but it is like that. It's a very functional relationship. [Laughs.] It's very healthy.
JAWO: And un-sexual.
HJELT: It's not sexual though.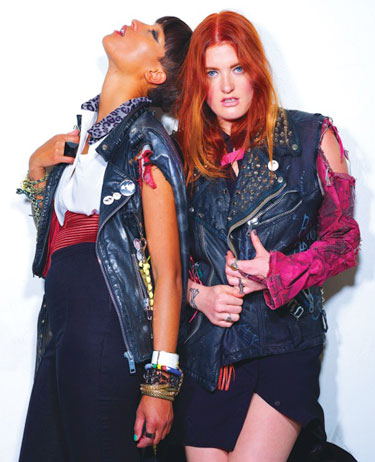 Icona Pop
(Photo by Fredrik Etoall)
MW: I understand you first met by chance at a party.
JAWO: Yeah, at Caroline's place. She was having a party and I was dragged to that party by a mutual friend. And from the first second we met, we just started to talk. And we started Icona Pop the day after.
HJELT: Yeah it was kind of just this electrical feeling. We were both kind of frustrated and down, and then when we met, we felt we had a connection and we just both threw ourselves out there and decided to try to write something together. Because that can be tricky sometimes when you meet people. But we felt instantly, we thought we had the best bond in the world.
MW: How did you come up with the name?
JAWO: That's from Caroline's mom. She was at a dinner with her Italian friends. And they were asking her, ''Oh, so they're going to be the next pop icons?'' And at that time we were searching for a name -- we were nameless for months. They said it in Italian -- icona pop. We thought that sounded so cool. Icona Pop also became kind of like a tribute to all our pop icons.
MW: What languages do you speak? Obviously English and Swedish.
JAWO: And Finnish.
HJELT: Both me and Aino are half-Finnish.
MW: I didn't know that.
JAWO: I don't think people know we're actually a Finnish band. [Laughs.]
HJELT: We're actually a Finnish band!
JAWO: Caroline's dad is from Finland and my mom is from Finland. And I went to Finnish school for six years.
MW: That's yet another reason why you two are an interesting pairing. All your similarities, it's like you were meant to be friends.
HJELT: Exactly. More and more stuff comes up just like, ''Wow, a perfect match!''
MW: Though it was released last summer, ''I Love It'' has really taken off this year in large part, as I understand things, because of HBO's Girls. The show's characters make the song their anthem during one episode. Were you fans of that show before?
HJELT: Oh yeah, we love that show. It's such a cool show.
JAWO: It's amazing that a young woman like Lena Dunham has got a series on HBO. The show is just amazing. It's nice to see a show with a lot of normal girls -- they're not too perfect.
MW: From Girls to a Glee cover -- just to name two shows to have featured ''I Love It'' -- it must be a trip to hear your song used in various media. Or even just catching it on the radio.
HJELT: Oh yeah. Yeah, it's insane. It's really, really -- it's a little bit hard to take it all in sometimes.
MW: I remember falling for that song a year ago. Obviously I have no ownership of the song, yet somehow when I hear it out and about, and people react gleefully the way they always do, I feel a sense of pride and possessiveness. ''Hey! That was my song first!'' Of course at the same time I'm happy that it's come around and become such a big hit.
HJELT: That's how we want people to feel. You have the right to feel like that when you're with a band from the beginning. The ones who picked it up and listened to it and spread it to their friends -- they're the most important ones.
MW: Your career is taking off right now, so you'll be guiding that over the next few years. But in five years' time, say, where do you see yourselves? What do you hope for?
HJELT: I picture us out on a world tour, with a huge production. And we've released a couple of albums. It's been going very well. And we have two huge, gorgeous men on our sides, supporting us.
JAWO: And then we are doing a song together with Prince. From the beginning when we started Icona Pop, Prince was a huge, huge, big thing for us. I cut my hair like him, and we took photos like his timeless photos.
HJELT: We were performing at the Billboard [Music] Awards, and he performed and just killed it. Killed it! We were 10 meters from him, and we were screaming like Justin Beiber fans [Laughs.]. Yeee!
JAWO: If we actually work with him in the studio one day it would be fun, but I think I would be just screaming.
MW: Well, I look forward to hearing them. Anything else you'd want to say about Pride, or what we can expect from the show?
HJELT: We're just so excited to come and dance with all the homosexuals, transsexuals, whatever you are. And just celebrate and have a party.
JAWO: Yeah. And we are expecting a lot of dancing, good movements. And love.
HJELT: A lot of love.
Icona Pop performs Sunday, June 9, at approximately 6:30 p.m. on the Capitol Stage in the 300 block of Pennsylvania Avenue NW. For more details, visit capitalpride.org.
---